This carousel displays a list of buttons that updates the main product image when a button is clicked
Santa Cruz Bicycles
Blur
Carbon CC X01 Eagle Mountain Bike
Item # SNZK19E
Find your size
Note: Actual inseam is not the same as pant inseam.
Recommended Size
We recommend a size in this bike.
Our size calculator is a starting point for finding the right size for you. To get personal advice talk to one of our fit experts at 1.888.276.7130 or chat now
Select options
Cancel

Select options

Aqua, S ($6,499.00)

Aqua, M ($6,499.00)

Aqua, L ($6,499.00)

Aqua, XL ($6,499.00)

Carbon, S ($6,499.00)

Carbon, M ($6,499.00)

Carbon, L ($6,499.00)

Carbon, XL ($6,499.00)
Item #

SNZK19E
Description
Get focused.
For some, the exhilaration of mountain biking comes from top speeds, pointing slacked out machines straight downhill, and ripping through rock gardens — but you're a bit more refined. You see working up long climbs, weaving through aspens, and taking technical lines that require careful consideration and planning as a challenge to tackle, and the idea of lift laps seems like a waste of perfectly good ascents. You'd rather opt for a shorter travel steed that's capable of charging to the podium at your local XC weekend races, like the Santa Cruz Blur Carbon CC X01 Eagle Complete Mountain Bike. Offering steeper angles, and aggressive race-ready geometry, the new Blur shows us that it hasn't forgotten its speedy roots, and is hungry to take on rolling singletrack with a powerful force, and float up climbs like the featherweight ride it is.
We may have a tendency to hesitate when we hear the words "rugged" and "cross-country race rocket" used in the same sentence, but with a one-piece carbon VPP rear triangle we can't help but spot the similarities between the Blur and Santa Cruz's burly DH rigs. Its twin upright architecture gives cues to inspiration from the Nomad and V10, promising a ride that's uncompromising and stiff, but without the bulk to follow. Keeping a good thing going, Santa Cruz carefully constructs a one-piece carbon front triangle to pack in lateral stiffness that provides tracking confidence through blown out, washboard switchbacks and root-latticed climbs. The VPP suspension in the new Blur is much like the VPP you'll find in other modern Santa Cruz bikes, which undoubtedly an upgrade from the previous generation, with smoother ramping mid-stroke to prevent a bottomed out feel as you soak into the suspension, and with the smooth FOX Float Factory shock you'll find that the short 100-millimeters of travel feel so much deeper.
Santa Cruz may have taken a bit of a divergence from the XC scene in the past few years, with the Tallboy being the closest to a cross-country offering in recent time, and geometry stretching to slacker angles year over year, so we're more than excited to not only see the Blur rejoin the lineup, but with geometry that takes a U-turn from the trends, and reverts to true race-ready steep angles. Even steeper than the previous generation, the new Blur features a 69-degree headtube angle, and 74-degree seat tube, perching you on top and in control of your steed while you barrel through miles of singletrack. The wheelbase is stretched slightly, with some help from a slightly stretched chainstay — another unusual stray from trends, but we'll get into that later. This longer wheelbase lends itself to confidence through rough terrain, enabling you to pick the gnarlier line, shaving seconds off of your time as you push towards the podium. The rear end is updated with Boost spacing, stretching things out and stiffening things up, and while we usually see this pairing with tucked-in wheels and extra-stubby chainstays, the chainstays on the Blur move out just under a quarter of an inch to 17-inches, so you can still comfortably get behind the saddle when you need to, without feeling like you're going to go over backwards.
The Blur is built using Santa Cruz's top tier CC carbon fiber construction. By using some of the finest, and strongest, raw materials available, Santa Cruz is able to make its CC level frames extremely lightweight, while maintaining outstanding impact resistance, exceptional stiffness, and just the right amount of finely tuned flex to cancel out trail chatter. Of course, balancing these factors requires true mastery of carbon fiber, and the design team at Santa Cruz has proven time and time again that their command of carbon fiber construction is unsurpassed in the bike industry. The result is a frame that will hold up to years of hard riding, will provide a comfortable ride, and will do so at a very competitive weight.
This build comes with a medley of cherry-picked components to ensure you push ahead with the best ride quality possible. It begins with a worthy suspension package from Fox: a Float Performance DPS air shock and Step-Cast 32 Performance fork, each paired with remotes for quick adjustments on the fly, without obnoxious levers and bolts to twist. This setup offers a supple and buttery-smooth stroke, and easy tuning of their 100-millimeters of travel that gives just the right amount of cushion to the trails harsh blows. SRAM's reliable and snappy X01 Eagle groupset dials you in with a gear for every pitch you pedal into, so you can crush to the top of quad-scorching climbs without bail outs, and turn around to hammer down descents at warp speed, and Level TLM brakes keep you under control with a slimmed down build as you cook it a little too quickly into corners.
View more XC Full Suspension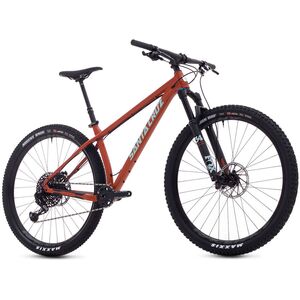 Santa Cruz Bicycles
Chameleon 29 S Mountain Bike
5 out of 5 stars from 1 reviews
5
1
(1)
What do you think about this product?