This carousel displays a list of buttons that updates the main product image when a button is clicked
Ridley
Fenix
SLX Disc LE Red AXS 12 Complete Road Bike
Item # RID00AX
Find your size
Note: Actual inseam is not the same as pant inseam.
Recommended Size
We recommend a size in this bike.
Our size calculator is a starting point for finding the right size for you. To get personal advice talk to one of our fit experts at 1.888.276.7130 or chat now
Select options
Cancel

Select options

Gloss Black/Dark Red, XXS ($7,499.00)

Gloss Black/Dark Red, XS ($7,499.00)

Gloss Black/Dark Red, S ($7,499.00)

Gloss Black/Dark Red, M ($7,499.00)

Gloss Black/Dark Red, L ($7,499.00)
Item #

RID00AX
Description
Fenix SLX Disc LE Red AXS 12 Complete Road Bike
Ridley calls the Fenix its "top all-around" bike and indeed, the pros on Lotto-Soudal count on it when campaigning the tough Spring Classics as its blend of durability, weight, and stiffness have proven advantageous over rough cobbled roads. So for endurance-style riding in all kinds of weather, we feel it's only fitting to bestow the frameset with the disc brake treatment. The improved power and modulation is quite impressive and instills confidence on the descents knowing we can easily scrub speed with just one finger. We always think of Belgium as the spiritual home of cycling and that conjures up images of wet cobblestone roads meandering through the farmlands with a high-speed peloton racing across them with riders jockeying for position to find some sort of protection from the wind. And if there was ever a brand and a bike that epitomized this Belgium landscape and the type of riding that's designed to excel in these conditions, it would be the Fenix SLX Disc LE Red AXS 12 Complete Road Bike from Ridley. Built from a light and stiff blend of carbon fiber and SRAM's all-new eTap 12-speed group, this bike will have you pushing your limits in the toughest conditions.
As a testament as to where Ridley thinks the future of disc brakes are, the rim brake version tops out at with the SL whereas this disc version gets the SLX moniker meaning its DNA includes 60-ton High Modulus Carbon, like we've seen in the Helium SLX, adding a boost of stiffness and a significant weight loss. The 200-gram give-or-take weight loss difference between the disc SLX and the rim SL version should go a long way in making up for the addition of the superior braking. And when you also factor in the stiff, responsive thru axles anchoring the hubs into the frame and fork dropouts, you have a race-ready ride that shares the same spirit as the hardest Flahutes hailing from the region.
Ridley does things a little differently than other brands and it doesn't make concessions if that prevents the bike from being stout enough to handle the riding right outside its front door. Sure weight is still important, however, it strives for a bike that balances weight, strength, stiffness, and comfort. As such, the Fenix SLX is capable in its Flandrian terrain and the addition of powerful disc brakes means it'll handle your most heroic rides in flying colors too. The Fenix is always the go-to choice for the pros at Lotto-Soudal and they appreciate the skillful layup of vibration devouring unidirectional carbon fiber when tackling cobbled classics like Roubaix and Flanders. The addition of 60-ton carbon and the diamond shaped tubing adds an increase of stiffness you'll be sure to notice as you summit the repeated cols and bergs that make up your favorite loops. It employs a blend of 40-ton and 50-ton carbon elsewhere where it adds road-smoothing compliance and strength. Chipseal roads, cobbles, and expansion joint concrete that feel like kidney punches on other lightweight climbing rigs is simply mellowed out with this targeted blend of carbon fiber. And when it comes time to sprint or chase back on during a descent, that tapered head tube does an excellent job of providing a responsive front end with very little wag.
This Fenix SLX shares the same geometry as the rim going Fenix, which Ridley classifies as "endurance". It's a far cry from other brand's definition of endurance with only slight changes made to improve handling over rougher terrain in racing conditions, not necessarily tuned with super slack angles and massively tall headtubes. That's why the Lotto crew's setup resembles that of their Noahs and Heliums without resorting to those -20-degree stems seen on other bikes. Therefore, you'll get a stable footprint over packed dirt and rural county roads while still moving along quite speedily and swiftly. You'll also appreciate its 28mm tire clearance providing maximum plushness and traction across a variety of terrain your rides take you on.
This particular build gets SRAM's all-new Red eTap AXS 12-speed group that sports a host of new improvements namely quicker and faster shifts, stiffer chainrings, a damper on the rear derailleur, revised gear ratios, and the ability to customize the shifting through its AXS app. It rolls on Zipp 302 clincher disc wheels offering an aero and responsive ride, helping you go faster with less effort. A final bit of kit detail includes a carbon 3T Stealth cockpit further dropping mass while matching the frameset's durability needed to tackle your most demanding rides.
Ridley's classics race bike sporting disc brakes for all-conditions
Higher-modulus carbon boosts stiffness and drops grams
PF86 bottom bracket shell offers efficient power transfer
Race/Endurance geometry balances comfort and speed
Tapered head tube tracks in corners and sprints
Flat-mount disc brakes stop with power and modulation
SRAM's all-new AXS eTap 12-speed shifts with precision and accuracy
Zipp 302 carbon clincher wheels boost speed on the flats and stiffness in the sprints
View more Pre-Configured Road Bikes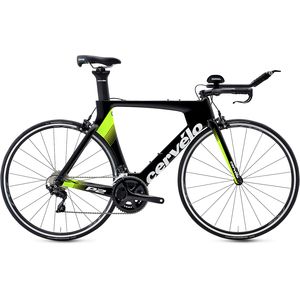 Cervelo
P2 105 R7000 Road Bike
Current price:

$1,999.00
Original price:

$2,900.00
Sale
31%
Off
5 out of 5 stars from 2 reviews
5
2
(2)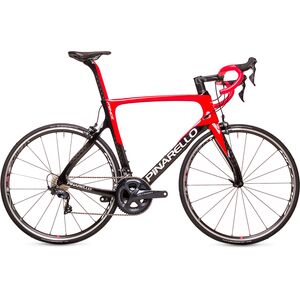 Pinarello
Prince Ultegra Road Bike
Current price:

$3,499.00
Original price:

$4,150.00
Sale
16%
Off
5 out of 5 stars from 2 reviews
5
2
(2)
What do you think about this product?
Why wouldn't you offer a tubeless ready wheel set on this top level bike build. Without tubeless ready wheels this build is a non starter for me.......unfortunately!
Alexander M.
>Rating: 5
October 16, 2019
A SLXY Bike
Familiarity:

I've put it through the wringer
Height: 5'9" (longer legs and shorter torso) Frame Size: Small (could also fit an XS comfortably) First of all, this bike is sexy. It's hard to tell from the pictures, but in low light or inside conditions, the bike seems like a very very deep red, almost black color, except for the fork. You can barely see the Ridley logo it's so dark. However, get this thing out in the light and it completely changes. The red becomes a deep red contrasted against the black, the logo is easy to see and the whole thing looks very cool. Top that off with the slick new AXS groupset and this bike just looks drop dead gorgeous. Onto the bike… The first difference I noticed on this bike was pushing it side by side through the parking lot with my current bike. I noticed how easily the bike rolled. Comparatively to my 2016 frame, the Fenix felt like it just wanted to move forward. When I first got on this bike, I was coming off of my lightweight frame. So initially I was concerned that the handling didn't feel as snappy as I was used to. However, once I got into some of the technical descents we have here in Utah, I realized that I had nothing to worry about. This bike handles like a dream. It's not so dulled that it feels sluggish, but it's also not too jittery that you feel like you'll lose control of it. It's right in that sweet smooth spot where you can just go down and enjoy the road instead of worrying about the handling. Additionally, because this is an endurance frame it absorbs the road extremely well. All of these things combine for a bike that feels fast, but very smooth on the ride. On one of the rides I rode for this bike I took it up into a road that was riddled with cracks, bumps and gravel patches. This bike handled all those things extremely well and felt very smooth for all of it. Another pleasant surprise on this bike was how well it climbed. The Fenix isn't the lightest bike in the road world by any means. But what it lacks in weight, it makes up for in smoothness. It moves, descends and climbs like a dream. What more can I say? It's a fun ride! Sizing: This frame runs large. Make sure to check sizing before purchasing the frame. I usually ride a 54 size frame and rode a Small in the Ridley Fenix. Even on that size, I felt like I was a little stretched out (i.e. the small felt like a 56). Components: A sexy bike needs a sexy groupset. And AXS fits the bill for this one perfectly. If you haven't tried SRAM's new 12s groupset, then you are missing out on something really great. I personally have never been a huge fan of how Di2 feels. But I absolutely loved the feel of AXS. It is super simple to use and configure to your needs using their app on your smartphone. The only downside is the integration into the hoods has a little bump on it which for me personally wasn't comfortable, but that some people might actually find more comfortable than a flat integration. The seatpost on this build is really convenient and easy to adjust. I loved the Selle Italia Sp-01 saddle and found no trouble at all with the disconnected sides. And of course there are the ever popular Zipp 303 wheels to top it all off. Overall: This is a very fun bike. It rides smoothly and handles really well through the turns compared to other endurance frames. . It moves over the kickers without losing too much speed or momentum. The components to match on this frame go really well on it and don't feel out of place at all. With an awesome exclusive paint job to go with it, you really can't go wrong with this bike.
Crozier Kimball
>Rating: 5
August 12, 2019
Quick and Nimble
Familiarity:

I've used it several times
This Fenix SLX Disc build is a curation that was well thought out and rides wonderfully. I fall right between a small and medium and sizing down to the small made for a more responsive and aggressive fit. The carbon was stiff but forgiving and I really felt it excel when I hammered on it out of the saddle. It still felt really comfortable on longer rides and handled well when the roads got rough. For a racy, one bike quiver, this would be a great choice. I wasn't sure at first if I liked the frame colors but it looks so good in person. The branding is subtle and the black really shines. Coupled with the Zipp wheels, this is a bike that people stop to admire and looks completely custom. The SRAM AXS groupset brings it all together. Shifting is smooth, quick and effortless. I don't think I'll be going back to mechanical anytime soon.
Louie
So Good
Familiarity:

I've used it several times
I had a chance to take this bike out on a few rides and loved it. The paint job looks amazing in the sunlight, excellent handling, smooth ride quality that really works well to reduce road buzz and amazing shift quality. I personally own a Fenix SL rim brake version and it has been a great ride, smooth on rough pavement, stiff for great power transfer and minimal flex. This SLX Disc is even nicer, lighter frame, even better ride and the excellent stopping power and control offered by disc brakes. Ridley's tend to run long. So take that into account when looking at the sizes, I would look at the effective top tube, stack and reach of your current bike and compare to the Ridley to get the right size, but it is pretty easy to figure out. The new SRAM AXS shifting is amazing. I have a little over 1000 miles on Shimano Di2 and a few hundred on the original eTap from SRAM and I have to say the new AXS makes it hard to go back. The original eTap had an ever so slight delayed feel between hitting the button and the shift. Di2 felt quicker. Mind you this was very slight, but I felt it was noticeable. With AXS the delay is gone, it shifts incredibly fast and is incredibly easy to set up. Plus with the hydraulic clutch mechanism built into the rear derailleur, there is no longer any chain slap against the chainstay over rough terrain. I would call that a win. These Zipp wheels provide just the right amount of aerodynamics without being too deep or heavy for all around use, wind, and extended climbs. If I were purchasing this bike, I would call or chat in and request a different saddle (whatever has been working for you) and I would run this bike with a 28c tire instead of the 25c I am 5'6" and rode the Small but would have purchased the XS since the reach on the small was a little long for me.
Forrest
Aaron C Cook
July 15, 2019
What is the tire clearance for the frame of the Fenix SLX Disc LE Red AXS 12 Complete Road Bike, front and rear tires?