This carousel displays a list of buttons that updates the main product image when a button is clicked
Quarq
DFour91 Power Meter Crank Arms - BB30
Sale
50%
Off
$590.00
$1,179.00
Item # QRQ001N
Select options
Cancel

Select options

Carbon, 162.5mm/110 Asymmetric BCD ($590.00)
Free Shipping on orders over $50
Item #

QRQ001N
Description
DFour91 Power Meter Crank Arms
Welcoming a new member to the SRAM family, Quarq breaks out the BB30 DFour91 Power Meter Crank Arms. Designed to amplify your Dura Ace 9100 riding experience, the DFour91 provides you with the power you need to up your training regimen and collect the information that's critical to pushing yourself harder, and further. While the DFour had older Dura-Ace and Shimano riders covered, it felt like those with a 9100 drivetrain were left on the back-burner, searching for a power solution that lands at the happy medium between price and precision, but fortunately those of us with an affinity for Japanese drivetrains and the most modern components can now grace our bikes with the leader in performance cranks with an economic price point. The DFour91, like the DFour, use a SRAM Exogram hollow carbon crank to ensure ultimate stiffness, but are set up with a 4-arm spider and the illusive Shimano 9100 BCD for running the chainrings you want.
The DFour 91 encompasses five precisely placed strain gauges throughout its spider to measure exactly how many newton meters you're putting out when you put the hammer down. With in-factory calibration, they are designed to accumulate data within 1.5% of total accuracy —a claim landing 0.5% more accurate than most power meters on the market. Accurate power is well and good, but what makes it even better is the fact that the new design eliminates the requirement of constant calibration and zeroing offsets when the weather changes. Since race days may start early with frosty dew, and end in warm afternoon sun, or send us from warm meadows into drafty canyons, the ability for the internals to self-calibrate reduces the amount of time we need to spend coasting, or messing with our head units, so we can stay focused on the road ahead.
These temperature calibrations are achieved thanks to Quarq's 10K Dynamic temperature compensation technology. It uses 10,000 data points that collect information on how the unit responds to temperatures fluctuating from zero to 130-degrees Fahrenheit, so the unit its self can determine where it needs to be in different weather and create an auto-adjust schedule based on atmospheric details. This lets the power meter figure out where it needs to be for you, so you experience minimal drift and can keep your focus on spinning the crank, not babysitting it.
Because changing temperatures are often paired with changing weather, Quarq demonstrates its penchant for being overly thorough by ensuring that the unit's internals can handle ridiculously extreme conditions, from raging monsoon rains to a winter blizzard apocalypse. The system is completely waterproof for up to 30 minutes when submerged under a full meter of water, giving you the confidence you need to bang out the base miles on the wet and dismal days.
The DFour91, like its sibling, the DFour, uses the same meter as the DZero model, but drops a bolt to fit a Shimano drivetrain— specifically, Shimano Dura-Ace 9100 . Unlike its predecessor, the DFour, the D9100 is not compatible with Dura-Ace 9000, Ultegra, or 105 groupsets, though it is able to run Ultegra R8000 chainrings. With the exception of the difference in compatibility, the DFour91 includes all of the technology of the DZero packed into its spider, most importantly the power meter itself. The power meter saw some hefty reworking, with Quarq claiming 150 documented improvements, asserting leaps and bounds of advancement above previous models, with the most significant enhancements made to the strain gauges and measurement circuitry in the heart of the meter.
Gracing us with their presence again are Power Balance and Omnical. Power Balance records data to tell us our total output, and output for each leg individually, enabling us to better focus on a single side of the pedal stroke if needed. Omnical lets us swap rings when needed without the need for recalibration or impeding accuracy of our data. The DFour91 gives us total confidence with the use of any head unit thanks to both ANT+ and Bluetooth communication, unlike previous models that only used ANT+, meaning that its compatibility expands to pair with near any computer for seamless data transfer.
With all of the tech that's loaded into the DFour91, its no surprise that its topped off with the bells and whistles. It includes AxCad accelerometer, which provides cadence information, sans extra magnets and sensors to make sure you're not missing out on any additional data you crave. The system is compatible with a host of training programs, like Golden Cheetah, Strava, Training Peaks, and Training Peaks WKO+. The DFour91's Bluetooth compatibility also allows you to synch up to the Qalvin BLE app, enabling easy firmware upgrades, tuning, tweaking, and setting zero offsets.
Elevate your training with a 9100 compatible power meter
Strain gauge system is redesigned for increased precision
Exogram carbon fiber crank arms offer lightweight rigidity
Provides power data for each leg individually, or together
Communicates with ANT+ and Bluetooth for easy pairing
Requires less correction for better data and longer battery life
Easily swaps between frames and chainrings
Battery can be changed by home mechanics without tools
View more Powermeter Cranksets - Road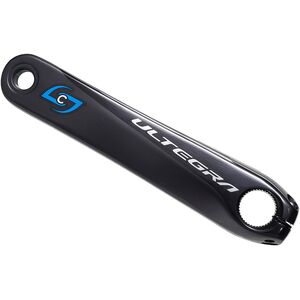 Stages Cycling
Gen 3 Shimano Ultegra R8000 Single Leg Power Meter Crank Arm
4.5 out of 5 stars from 3 reviews
5
3
(3)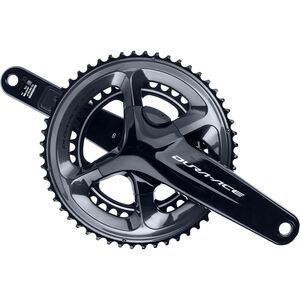 Shimano
Dura-Ace FC-R9100-P Power Meter Crankset
5 out of 5 stars from 1 reviews
5
1
(1)
What do you think about this product?
>Rating:
February 29, 2020
Can this be set with my Giant propel advanced 2017? Or the crank size is totally different?
Seyed
>Rating: 5
January 31, 2018
Same Quarq reliability
I've owned or had experience with every power meter on the market and theres no beating the value, reliability, accuracy, or weight that Quarq offers. Sure, there are cheaper single arm power meters, but all they do is double the power on the left side. If you pick one up without knowing of a possible leg imbalance (I personally have a 54:46 split because of a past injury), your power numbers may be 10% high or low, which negates their claimed 2% accuracy. Quarqs also have a proven track record. Many of the newer companies out there have only had their product out for a few years, and many are on their second or even first versions of public release units. The DFour91 is the culmination of 10 years of technology at Quarq, and it is their third major release, fixing a few small issues that were present on the previous Elsa and Riken. The DFour91 has a +/-1.5% accuracy which means you can trust your power numbers. I've used other power meters in the past which claim +/-2%, but all their numbers have always seemed at least 5% off from my Quarq numbers. The last thing you need when you are training is to not be confident in the data you have, it just takes away one more variable.
Tommy Liao
Kyle Billingsley
December 22, 2019
Tommy regardless if the power reading is 10% off due to the one leg, as long as it's consistently off there is no issue, bc you'll be measuring against the same thing.
John Ruppert
June 11, 2020
Does it work with Ultegra r8000 as well?