This carousel displays a list of buttons that updates the main product image when a button is clicked
Quarq
DFour Power Meter Crank Arms - BB30
Sale
66%
Off
$399.99
$1,179.00
Item # QRQ0017
Select options
Cancel

Select options

Carbon, 177.5mm/110 Asymmetric BCD ($399.99)
Free Shipping on orders over $50
Item #

QRQ0017
Description
DFour Power Meter Crank Arms
Though Quarq is technically part of the SRAM family (SRAMily? No, we wouldn't do that to you.), the BB30 DFour Power Meter Crank Arms prove that the brand doesn't take a Hatfield/McCoy approach to inter-brand compatibility. The DFour is, essentially, the DZero model but with one fewer chainring bolts and a bolt circle diameter (BCD) that fits Shimano's latest generation of 11-speed road chainrings, specifically Dura-Ace 9000, Ultegra 6800, and 105 5800. That means that, with the exception of the latest Dura-Ace 9100, the DFour is compatible with every 11-speed road drivetrain Shimano has engineered to date, so fans of the Japanese company aren't relegated to choosing between more expensive or less accurate power meter options.
The BCD may be Shimano, but the crank arms themselves are all SRAM. They're built with the same Exogram construction process used in the brand's top groupsets, so they're around 200 claimed grams lighter than the aluminum model. The BB30 version of the DFour also ships with the spacers and wave washer hardware required to install it in a BB386EVO bottom bracket—a bottom bracket standard that the aluminum DZero isn't compatible with.
Except for that compatibility difference, the DFour incorporates every piece of technology Quarq crams into the DZero. Chief among these is the power meter itself, which saw a healthy amount of retooling. Overall, Quarq claims that "150 documented improvements" inform the evolution from the previous models to DFour, but the most important is to the heart of the meter itself: the strain gauges and measurement circuitry.
It still incorporates five strain gauges strategically placed throughout the spider in order to measure the Newton meters you're throwing into the pedals. It's also still got the same claimed accuracy of +/- 1.5%, so its numbers are 0.5% more accurate than most meters, but the new design requires less correction in order to maintain accuracy in drastic temperature changes. Fewer corrections mean the DFour also better rations battery life than Quarq's previous power meter models, though when the battery does go out, you can still change it without tools or having to ship the whole thing to the manufacturer.
As with the DZero model it's based on, the DFour system's accuracy is further boosted by the return of Quarq's 10k dynamic temperature compensation technology, which alleviates the need for constant, mid-race zeroings in variable conditions. Even if it's just coasting for a few seconds or toggling through your head unit to the proper option, it can still be the difference between winning and losing. It's also obnoxious as hell. The DFour is equipped with an auto-adjust schedule based on a constellation of around 10,000 data points that chart how the unit responds to temperatures ranging from zero to 130 degrees Fahrenheit. This lets the power meter figure out the atmospheric details for you with minimal drift, so you can focus on turning the crank, not babysitting it.
Power Balance and Omnical are two additional returning features that record total output and output for either leg individually (Power Balance) and let you swap rings without recalibrating or negatively impacting accuracy (Omnical). As with previous Quarq models, the DFour communicates to your head unit via ANT+ wireless, but Quarq also adds Bluetooth to this generation. Up till now, we've always tempered the obligatory head unit-compatibility statement by writing that your current computer is likely already compatible with the power meter; now, we can just state outright that it is compatible.
We recognize that there is value in cycling components that can stand up to the elements we often encounter throughout the course of a year of training, but Quarq demonstrates its penchant for being overly thorough by ensuring that the unit's internals can handle comically extreme conditions. The system is waterproof for 30 minutes while submerged under one meter of water, a feature that will come in handy on days you take your bike on the swim leg, too.
Since the DFour is effectively a catch-all for almost every bit of tech Quarq has thrown at the power meter problem over the past decade, it includes the AxCad accelerometer, which provides cadence information without any additional sensors or magnets. The DFour is also compatible with training software suites including Training Peaks WKO+, Training Peaks, Golden Cheetah, and Strava. Unlike previous versions, the DFour's Bluetooth compatibility lets it sync with the Qalvin BLE app to easily tune, tweak, and set zero offsets.
Add power metrics to your 11-speed Shimano drivetrain
Redesigned strain gauge system is even more precise
Provides power for each leg individually
Exogram carbon fiber crank arms mean no loss in stiffness
Broadcasts via ANT+ and Bluetooth protocols
Requires less correction for better data and longer battery life
Easily swaps between frames and chainrings
Battery can be changed by home mechanics without tools
View more Powermeter Cranksets - Road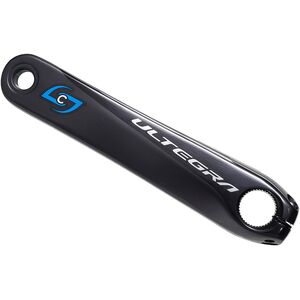 Stages Cycling
Gen 3 Shimano Ultegra R8000 Single Leg Power Meter Crank Arm
4.5 out of 5 stars from 3 reviews
5
3
(3)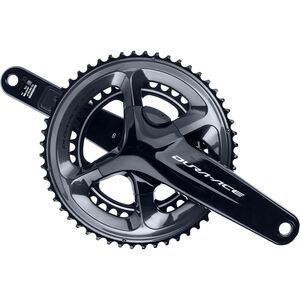 Shimano
Dura-Ace FC-R9100-P Power Meter Crankset
5 out of 5 stars from 1 reviews
5
1
(1)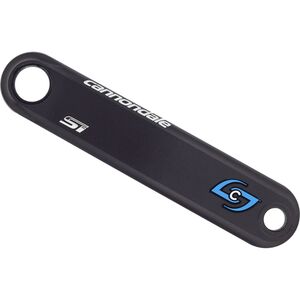 Stages Cycling
Cannondale SI L Gen 3 Power Meter Crank Arm
5 out of 5 stars from 1 reviews
5
1
(1)
What do you think about this product?
I just want to clarify - this does require that I replace my PF30 Bottom Bracket with a SRAM DUB PF30 bottom bracket?
Scott Boyle
I have a Lapierre aircode 500 -2015 the bottom bracket is a shimano SHIMANO KSMBB7241B PRESSFIT is this the correct product for me?
bpreiss1474253
Cancell order
Please help me to cancell this order i repder the same product
Octavio Garcia