This carousel displays a list of buttons that updates the main product image when a button is clicked
Pivot
Switchblade
Carbon 27.5+ Race X01 Eagle Mountain Bike - 2019
Sale
35%
Off
$3,649.00
$5,599.00
Item # PIV006V
Find your size
Note: Actual inseam is not the same as pant inseam.
Recommended Size
We recommend a size in this bike.
Our size calculator is a starting point for finding the right size for you. To get personal advice talk to one of our fit experts at 1.888.276.7130 or chat now
Select options
Cancel

Select options

Gloss Blue, XS ($3,649.00)

Matte Black, XS ($3,649.00)

Matte Black, S ($3,649.00)

Matte Black, M ($3,649.00)
Item #

PIV006V
Description
Switchblade Carbon 27.5+ Race X01 Eagle Mountain Bike
With the explosion of plus-size tires on the market, it was only a matter of time before the boundary-pushing designers at Pivot designed their very own trail machine with voluminous rubber for steamrolling every line in sight. In 2017, Pivot took the plus-sized tires and BOOST axle standards to entirely new realms with the Switchblade, and it's back for more this year with the Switchblade Carbon 27.5+ Race X01 Eagle Complete Mountain. This beastly bike blurs the line between trail weapon and all-mountain destroyer with its 135 millimeters of rock-gobbling DW-Link suspension mated to a long, slacked-out front end for high-speed composure down steeps and rowdy sections of trail. The longer 150-millimeter fork also lends a bit more margin for error when you've bitten off a bit more than you can chew, in terms of line choice and descending speed, and this year they bring the X01 Race option to the table, for those of us thirsty for the beefy 12-speed cassette of Eagle, but looking to pinch pennies where we can.
The Switchblade's DW-Link suspension is a tried-and-true platform employed on all of Pivot's full-suspension machines. This comes as no surprise, seeing DW-Link's ability to claw up the steepest, chunkiest climbs and smooth square-edge hits on the descent. The Switchblade's 5.3in of DW-Link travel remains quick to surge forward with every pedal stroke, yet it's surprisingly confident on the descent, mainly due to the DW-Link's unflappable composure on successive hits and burly rock sections. Another thing to note, the Switchblade's DW-Link suspension uses a Phoenix-inspired, double-wishbone rear triangle that stiffens both the pedaling interface and linkage design.
Pivot takes Boost axle standards to entirely new realms with the advent of their Super Boost Plus rear axle spacing. Poking fun at the upward escalation of hub spacing, "Super Boost Plus" refers to Pivot's choice to employ a 157-millimeter rear axle, which in turn allows for increased tire clearance and incredibly short chainstays. Super Boost Plus adds an additional 9 millimeters of room to the rear axle, which results in 12mm of additional tire clearance. Essentially, it combines a DH chainline with a typical 5-inch bike's Q-factor and heel clearance.
One of the main benefits of Super Boost Plus lies in Pivot's ability to chop down the chainstays to a mere 16.85-inches, which is a ridiculously short dimension that embarrasses bikes with standard BOOST rear axles. These trimmed-down chainstays equate to incredibly nimble handling through switchbacks and tight sections of trail. Another benefit to Super Boost Plus is the ability to swap between the voluminous 27.5+ wheels provided for quick-rolling 29er wagon wheels; In fact, this wider axle standard readily accepts up to 27.5 x 3.25 inch tires, meaning you can drastically improve traction and bump compliance, especially across loose, drifty corners and jarring rock gardens.
Delving into the geometry figures, the Switchblade is relatively slack in 27.5+ form with its 66.8-degree head tube angle (with a 17mm cup) providing just the right balance of steering precision and downhill composure at higher speeds. The snappy-short rear end makes for quick turning when you're slaloming around tight corners and negotiating sketchy sections of trail where instantaneous response is necessary. It's both long and low-slung for descending confidence, with a generous reach keeping things comfortable, so you're not crammed in the cockpit.
And to ensure consistent geometry if you choose to swap between wheel sizes, Pivot supplies a 17mm headset cup that keeps the bottom bracket height and head tube angle consistent between both 27.5+ and 29er configurations. It adds additional height to the bike's front end in 27.5+ form, slacking it out and raising the bottom bracket to keep it consistent with the 29er's geometry. You can ride with this 17-millimeter cup in 29er form, you'll just notice the bike sits a bit higher and gets extra slack.
Aggressive trail bike with snappy-short chainstays
135mm of DW-Link travel for efficiency and bump compliance
150mm of front travel for smoothing out big obstacles
Long and slack geometry conquers rowdy lines
Super Boost rear axle for extra tire clearance
Elements of the DH Phoenix reinforce the rear linkage
Plus-sized tires for incredible traction and smooth ride
High-modulus carbon frame is light, stiff, and strong
Warning
California Proposition 65
Warning:
More Switchblade builds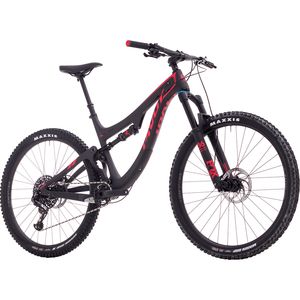 Pivot
Switchblade Carbon 29 Race X01 Eagle Mountain Bike - 2019
Current price:

$3,649.00
Original price:

$5,599.00
Sale
35%
Off
5 out of 5 stars from 2 reviews
5
2
(2)
View more All-Mountain & Trail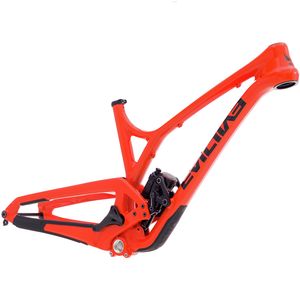 Evil Bikes
The Following MB Mountain Bike Frame
Current price:

$1,899.00
Original price:

$3,299.00
Sale
42%
Off
5 out of 5 stars from 4 reviews
5
4
(4)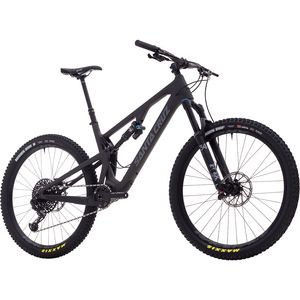 Santa Cruz Bicycles
5010 Carbon 27.5 S Mountain Bike
Current price:

$4,164.00
Original price:

$4,899.00
Sale
15%
Off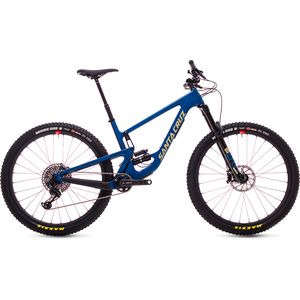 Santa Cruz Bicycles
Hightower Carbon CC X01 Eagle Reserve Mountain Bike
5 out of 5 stars from 1 reviews
5
1
(1)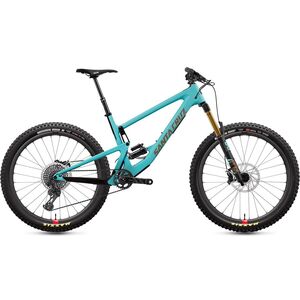 Santa Cruz Bicycles
Bronson Carbon CC 27.5+ XX1 Eagle Reserve Mountain Bike
Current price:

$8,074.00
Original price:

$9,499.00
Sale
15%
Off
4 out of 5 stars from 1 reviews
5
1
(1)
IF Quiver Killers Exist...
Familiarity:

I've put it through the wringer
This is a review on the Carbon Switchblade, I have the X01 build, been on it for 8 months, but only addressing the frame and ride characteristics of the bike here. The X01 build package is sturdy, reliable, and you can't beat the range of Eagle. Additionally, the FIT4 Fox 36 and X2 shock offer an infinite amount of tunability to your suspension setup. Both shock and fork have performed exceptionally well (coming from a Rockshox guy) once you take the time to get your settings dialed. Look to those components specifically for detailed reviews of each.
Here we go! First off, no one comes close to the quality of a Pivot frame. They come at a slightly higher price point than most brands but once you see one or better yet, ride one, you immediately realize what the hype is all about. The frames are just OVERBUILT. Super large bottom bracket reinforcement, large head tubes, down tubes, and top tubes. The beefiest rear triangles of any bike on the market paired with Super Boost+ makes it the stiffest frame I've ridden. Pivot NAILED the geometry on this bike with reach, head tube angle, and chain stay length making it a 29er that can climb, descend, and rip tires off rims when corning. The stiffness allows the bike to track through turns with precision and confidence. No wonder the bike is unchanged for a few years running. What has changed with the 2019 version is an upgraded rear shock (from DPS to DPX2) and front fork (from 150m 51m offset to 160m 44m offset). Still perplexed on the fork change, this bike feels perfect and well balanced with a 150 up front.
You'll find the DW Link on other manufacturer's bikes but Pivot reserves the best version of the design for themselves. Keeping the bottom pivot point low for unmatched square edge hits, this thing laughs at Moab tech climbs and harsh big hits down Whole Enchilada. The pedaling efficiency of the DW Link system is downright impressive. You'll experience ZERO pedal bob, you can even stand and mash this bike and it only lurches forward rather than blowing through the travel like other designs. Shock and fork lockouts are handy, but you won't need or use them on a DW equipped bike.
27.5+:
This is the setup I use for sloppy, wet, less than ideal conditions. I've got a set of Reynolds Black Label wheels wrapped in 2.8 tires to deal with the slick mud and roots. When rain rolls in on race morning, these wheels and tires go on the bike. Not only that, you can lower the PSI and do some riding in the snow. In dry conditions, the Switchblade feels a bit more nimble vs the 29" wheels and the added grip will give you the confidence to push a little harder through turns and down steep descents. The wider rear tire with the DW Link offers insane traction on climbs. Despite the added weight of the + wheelset, short techy climbs are much easier when you don't have to worry about spinning out.