This carousel displays a list of buttons that updates the main product image when a button is clicked
Pivot
Mach 6
Carbon Race X01 Eagle Mountain Bike - 2018
Sale
25%
Off
$4,149.00
$5,499.00
Item # PIV006X
Find your size
Note: Actual inseam is not the same as pant inseam.
Recommended Size
We recommend a size in this bike.
Our size calculator is a starting point for finding the right size for you. To get personal advice talk to one of our fit experts at 1.888.276.7130 or chat now
Select options
Cancel

Select options

Aqua Blue, L ($4,149.00)

Dark Silver, L ($4,149.00)
Item #

PIV006X
Description
Plush and squishy, light and speedy, enduro-ready trail machiney.
Many bikes boast all-mountain capabilities, but few follow through with the true prowess of the 2018 Pivot Mach 6 Carbon Race X01 Eagle Complete Mountain Bike. This mountain-conquering machine has a knack for gobbling up the most precarious rock gardens, and taking on technical climbs in with grace and power, thanks to its 155-millimeters of plush DW-link suspension that soaks up the rocks and chunder without compromising its anti-squat when it's time to turn around and pedal back up to the top. Now, we won't deny that we've long held a candle to the Mach 6, and its previous generations may have had us boasting its versatility, but with the newest generation we are left scratching our heads, wondering whether it's the redesigned downhill-specific DW-link that's rekindled our love, or the slacker geometry that handles descents like a boss, or, hell, maybe it's just that Chris Cocalis has been around the proverbial block a few times, and knows a thing or two about how to make a fun bike, but whatever the case, we find the new Mach 6 to be even more capable than before, and beckoning us back in for another ride.
When you approach the 2018 Pivot Mach 6 head-on, you'll first find a slack 65.75-degree head tube angle that boasts confidence with its relaxed posture, begging you to point it downhill and test just how capable it is. The bike's slacked geometry pulls you into the cockpit when you descend, maximizing your stability and control at high speeds, enabling you to roll through chunky boulder gardens and rooty treelines, and all without sacrificing stability for agility. The forward nature of the cockpit helps maintain lively handling of the bike, so you can weave through trees and tail-whip off of rollers with nimble playfulness as you charge down the mountain.
With a bike that feels so good going downhill, there's just one dilemma — how to get back to the top for another lap. Fortunately, Pivot partners with DW-link to dial in exceptional suspension design for a climb to the peak that's free of pedal bob and squat, even when we're mashing up tight switchbacks and working our way up rocky faces. Pivot's engineers ensure that you won't be stuck behind the back wheel when you're pushing your way to the top by pairing the slacked out head tube angle with a steeper seat tube angle to keep you forward on the bike for better transfer of power, and more control when you have to crank on the bars for that last push up a steep punch. The cockpit is also a bit roomier than previous generations, which helps keep the front wheel on the ground and traction engaged through steep pitches, enabling better power transfer when you maneuver up techy uphill features.
The maker or breaker of a full-suspension bike is its suspension design, which can be the difference between a cumbersome climb full of bumps and squat, or supple support that eats up small bumps without bouncing you about when you're on your way up. Pivot is a fan of DW-link for its ability to soak up the chunder without compromising pedaling, and we are too. The Mach 6 uses an iteration of DW-link that's been dialed in for long-travel applications to provide a variable wheel travel path that offers phenomenal square-edge bump absorption and soaks up big hits on technical descents, all the while delivering the famous anti-squat support that allows non-stop traction on steep climbs. These two characteristics combine into one machine that climbs like a short-travel bike, and descends with power and authority.
An absolutely essential part of your rear suspension is what shock you pair with the linkage. Pivot doesn't skimp on the Mach 6's shock, setting you up with 155-millimeters of buttery-smooth Kashima-coated travel from the Fox Factory Float DPX2 shock with EVOL air sleeve. The shock features the X2 oil flow design, but in a lighter weight and better pedaling package designed for superior performance in aggressive trail and enduro applications, while maintaining individual tune-ability so you can dial in the shock perfectly for your own riding needs. The Float DPX2's air sleeve reduces the force needed to initiate travel, which means faster and smoother absorption when it comes to small bump compliance, and better bottom-out resistance. The shock is adjustable on-the-fly with the Open, Medium, and Firm options, and additional high-speed and low-speed compression adjustments when in Open so every rider can get find a setting that best compliments their riding. On the front end the bike is spec'd with 160-millimeters of travel from the Fox 36 Performance fork. While it might not have the same ultra-smooth Kashima coating as the rear suspension, you'll find that its 36-millimeter stanchions still offer supple support, and it tracks through big lines with power and control to keep you riding hard.
Last, but certainly not least is Pivot's carbon fiber. Pivot uses an exclusive hollow-core internal molding process, paired with exceptional materials and highly skilled workmanship, to create a nearly flawless product. This unique molding process applies outward force against the mold while the carbon is cured inside, reducing resin pooling and securing the layup between an internal bladder and CNC machined mold. The bladder is removed as soon as the curing process is completed, so there is no additional weight on the inside of the frame once the process is completed. Since the Mach 6 Carbon is designed to not only be lightweight, but near bombproof as well, its designers borrowed some carbon layup techniques from the Firebird and Phoenix to increase the level of stiffness and strength, adding large-tube cross sections, a double-wishbone rear triangle, and ultra-stiff clevis to ensure that the bike can handle the abuse that gravity-centric riding puts on bikes.
An enduro-sled for charging up and down mountains
Stalk lines like a trail monster with slacked geometry
Enduro-tuned DW-link suspension powers up climbs
Kashima-coated FOX DPX2 Evol shock is supple and smooth
Spacious cockpit keeps your front wheel planted when climbing
Stiff and light carbon fiber with flawless layup techniques
SRAM Eagle drivetrain offers massive gear range, plus bailout cog for treacherous climbs
Warning
California Proposition 65
Warning:
More Mach 6 builds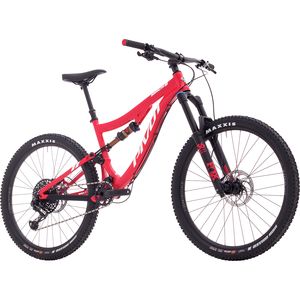 Pivot
Mach 6 Race X01 Eagle Mountain Bike - 2018
Current price:

$3,199.00
Original price:

$4,299.00
Sale
26%
Off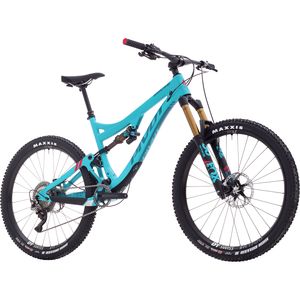 Pivot
Mach 6 Carbon Pro XT 1x Mountain Bike - 2018
Current price:

$4,499.00
Original price:

$6,199.00
Sale
27%
Off
View more All-Mountain & Trail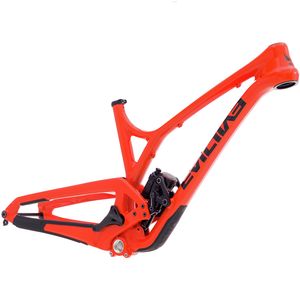 Evil Bikes
The Following MB Mountain Bike Frame
Current price:

$1,899.00
Original price:

$3,299.00
Sale
42%
Off
5 out of 5 stars from 4 reviews
5
4
(4)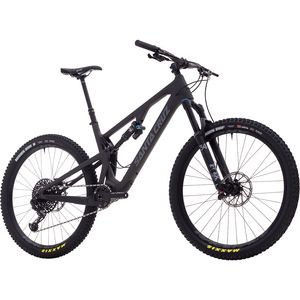 Santa Cruz Bicycles
5010 Carbon 27.5 S Mountain Bike
Current price:

$4,164.00
Original price:

$4,899.00
Sale
15%
Off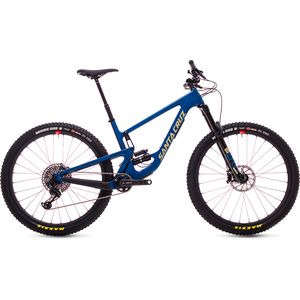 Santa Cruz Bicycles
Hightower Carbon CC X01 Eagle Reserve Mountain Bike
5 out of 5 stars from 1 reviews
5
1
(1)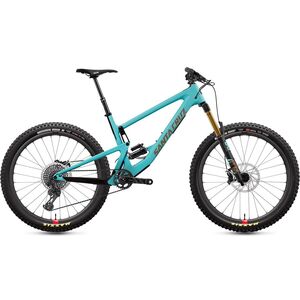 Santa Cruz Bicycles
Bronson Carbon CC 27.5+ XX1 Eagle Reserve Mountain Bike
Current price:

$8,074.00
Original price:

$9,499.00
Sale
15%
Off
4 out of 5 stars from 1 reviews
5
1
(1)
Unanswered Question
Is mach 6 compatible with a rear coil shock? What size?

Can you run 29 inch wheels on the Mach 6 ?

Nope, you can't run 29 inch wheels on the Mach 6. If you are looking for a Pivot 29er the Switchblade would be the closest to the Mach 6.