This carousel displays a list of buttons that updates the main product image when a button is clicked
Pinarello
Gan
Gan 105 Road Bike
Temporarily Out Of Stock
Item # PIN005V
Don't get too bummed. This item is on the way and will be available for purchase as soon as it rolls into the warehouse.
Can't wait? Consider one of the other Pre-Configured Road Bikes we have in stock.
View Similar Products
Description
Gan 105 Complete Road Bike
The cycling industry is a funny place. It's a world where the Gan 105 Complete Road Bike is considered entry-level in Pinarello's line of racing bikes. Pinarello calls it a "less extreme" version of the Dogma F10; we call it a far more extreme frame than the ones that were ridden to grand tour victory over most of the two decades. The grade of materials, stiffness-boosting layup, and even the "workhorse" drivetrain (Shimano's new 105 R7000) are actually equal to or better than what guys like Sastre, Schleck, and Evans were riding during their respective Tour wins. So despite not being the current top of the heap, we think the Gan may be the best bet for the self-sponsored racer and the ambitious recreationalist alike. The way we see it, you can easily double the price of this bike without seeing much improvement in frame construction or drivetrain.
The Gan's frame stacks up so well against far pricier frames because it shares the design philosophy and many of the key structural features that define Pinarello's current super bike, the Dogma F10. The differences are that the frame's asymmetrical elements are slightly more subdued and the material used is of a lower grade—Instead of the Dogma's superlative T11001K carbon fiber, the Gan uses T600. This involves a small weight gain and a slight loss of stiffness, but it still represents a frame that the likes of Thomas or Froome would've considered an upgrade during their early careers. There may be some cyclists who are strong and savvy enough to note the difference while hammering up an HC climb, but we suggest that they're few and far between. (We'd also assume that, like Froome, they're not paying for their own machines.)
The Dogma genotype manifests virtually unchanged in the Gan's FlatBack tube shaping, which was originally adapted from the 65.1 Dogma, updated for the F8 and F10, and then trickled down to the Gan line. FlatBack is the result of 70 possible frame configurations and 300 CFD analysis cycles spent finding the most versatile aerodynamic tube shape. A cross-section of FlatBack tubes reveals an ovalized face paired with an abruptly truncated trailing edge. Pinarello claims that this shape manages the detachment of turbulent lamina at multiple yaw angles, reducing the drag effect of dead air in the tubes' wake at the 5 - 20° angles that we typically ride and race in. All of the aerodynamics in the world mean nothing if they only benefit the rider in the wind tunnel, and FlatBack addresses many of the stability and drag issues pure NACA shapes encounter when set loose on the road.
In two final touches that demonstrate Pinarello's dedication to incorporating only the best frame design elements in its racing bikes, the Gan is finished with seamlessly integrated internal routing (though it doesn't feature the Dogma's Think2 routing) and a threaded Italian bottom bracket. It's hard to imagine anything but universal accord over the bottom bracket choice, as it eliminates the creaks and imperfect tolerances of the ubiquitous PressFit standard. Carbon manipulation has improved exponentially in the past several years, but it still can't match the precision and reliability of CNC-machining. A bike that feels this good under the pedal stroke should sound, good, too—and by "sound good," we mean nothing but the light whir of a well serviced drivetrain and the hum of tires on tarmac.
A race bike that makes Pinarello pedigree affordable
Aggressive race geometry proven in sprints and high mountains
Asymmetric design sheds grams without compromising efficiency
Aerodynamic tubes originally developed in partnership with Jaguar
Internal routing for mechanical and electronic drivetrains
The threaded bottom bracket provides tighter tolerances than PressFit
Shimano's latest 105 R7000 group is trickledown royalty
Pinarello's luxurious frames make invaluable racing companions
Warning
California Proposition 65
Warning:
View more Pre-Configured Road Bikes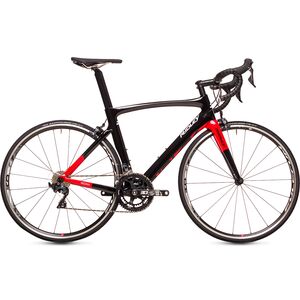 Ridley
Noah Ultegra Road Bike - 2019
Current price:

$2,399.00
Original price:

$3,999.00
Sale
40%
Off
4 out of 5 stars from 1 reviews
5
1
(1)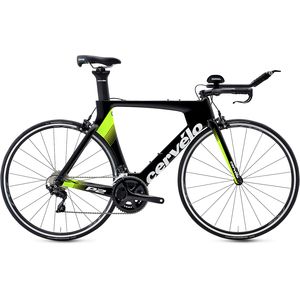 Cervelo
P2 105 R7000 Road Bike
Current price:

$1,999.00
Original price:

$2,900.00
Sale
31%
Off
5 out of 5 stars from 2 reviews
5
2
(2)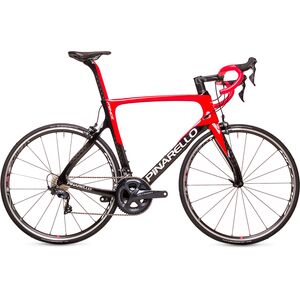 Pinarello
Prince Ultegra Road Bike
Current price:

$3,499.00
Original price:

$4,150.00
Sale
16%
Off
5 out of 5 stars from 2 reviews
5
2
(2)
What do you think about this product?
The real BB Right
Familiarity:

I've used it several times
"It's hard to imagine anything but universal accord over the bottom bracket choice". Yeah, no kidding. I will not even look at a frame that has a press fit, clusterflop BB that, at best, creaks and pops like a cheap, crapped-out flophouse mattress and, at worst, flys apart like a tissue paper shack in a hurricane. It is astounding that even after so many years, bike companies have insisted on cramming a billion inferior BB "standards" down everyone's throat. They save a nickel on machining a threaded shell and pass it on as a feature rather than a bug and then blame the inevitable cacophony on imprecise installation and/or operator error. So, kudos to Pinarello for sticking with a classic threaded BB interface. If I decide to add a new carbon-framed bike to my stable, they will be at the top of my list (and maybe the only company on it).
BRANDY Y.
myp1775264270
July 12, 2019
I have 5 Bikes with PressFit30 or BB30, and they are all fine.
Hoogle Da Boogle
September 26, 2019
Yeah, a threaded BB is good but it still has internal cable routing and, worst of all, is made out of plastic. Also, on this complete bike they cheese out on the brake calipers by specifying house-brand crap instead of genuine Shimano. I've never really understood that strategy on these price-point bikes— "let's save a nickel by using garbage brakes"— as brake feel is just as important part of rider feedback as anything else. Someone thinking they are buying an "upgrade" to their aluminum-frame bike that has Shimano brakes are likely to be disappointed. So maybe save the house-brand schlock for the "finishing kit" but make sure the brakes and drivetrain are the genuine article. Pinarello are evidently selling plenty of $7000 frame sets to the rich pretend-racers out there so surely they can afford to give real brakes to the not-as-rich ones who might buy this one.
BRANDY Y.
September 27, 2019
So, yeah, Hoogle i'd rather have 105 brakes than the MOST ones but it really ain't that big a deal. Those are easy to upgrade later if one so chooses. The threaded BB and a frameset that is "close enough to Dogma" for most regular Joes are the reasons to get something like this bike. The internal cable routing I can take or leave. It's another non-issue and a tiresome luddite ranting point. As for it being "made out of plastic", so what? I like metal bikes too but— news flash!— carbon fiber reinforced plastic is THE material for bike frames in the 21st century. It is hardly novel, rare, exotic, or mysterious any longer and, when done right, is superior in every way to all the other materials (setting aside personal aesthetics, nostalgia, etc.). This Pinarello seems like a decent buy for a newish roadie enthusiast who still wants to eat and has bills to pay,
>Rating: 5
January 4, 2019
Great and reasonably priced!
Familiarity:

I've used it several times
I bought this bike for my dad for Christmas and this is what he had to say about it: "I have had the pleasure of riding this bike about 200 miles since I received it. The bike is all I hoped for in a reasonably priced bike. It is lighter than my other road bike and really cruises up hills. It is a little less secure going down twisting hills but part of this may be my sizing down to a 56 from my usual 58. I am sort of between a 56 and 58 but overall like the 56 a little more so far. For the price, the bike is an incredible value. For a moderate price increase, one could get disc brakes but that is a personal choice. I have also changed the rear cassette and the rear derailleur does not hav ea long cage, so if one wants a 32 or 34 cassette, the derailleur will have to be replaced. In summary, this is one great bike for the price. Definitely recommend.
Maggee VanSpeybroeck