This carousel displays a list of buttons that updates the main product image when a button is clicked
Light & Motion
Taz 1500 Headlight
Item # LTM000H
Free Shipping on orders over $50
Item #

LTM000H
Description
What do you see? More importantly, while cranking along a trail in the middle of the night at 20 miles per hour, what do you not see? Find out, and in doing so, speed up, with the outrageously bright Light & Motion Taz 1500 Headlight. Let all 1500 lumens neutralize the factor of night so you can focus on your lines.
Few cycling lights come with the pedigree of those from Light & Motion — a company that has been designing lights for more than 20 years. But, not always bicycle lights. In fact, the small Monterey, Calif., company cut its teeth making ocean-proof diving lights that adhered to some of the most stringent safety standards in consumer products. The DNA for safe, highly visible and weatherproof lights for cycling was already in place, and thus, we have incredible pieces of engineering like the Taz 1500.
For the sake of comparison, a traditional car headlamp puts out around 700 or 800 lumens. Do the math for the Taz 1500, and then realize that it weighs a mere 216 grams in an entirely self-contained, handlebar-mounted unit. In case you haven't checked in with light technology in a year or so, that means no more battery pack in your jersey pocket or swinging to and fro on your top tube. The Taz's beam illuminates not only what lies ahead on the trail, but everything in a wide 45-degree arc relative to your movement. This puts in clear view any major direction changes of the trail, obstacles, or any wildlife considering crossing in your path. The Taz 1500 sits at the top of Light & Motion's "crossover" range, meaning it's also designed for touring or commuting use, and as 1200 lumens might blind an oncoming driver or cyclist, you can dial the light's output with the medium or low flash settings, reducing its output to 750 (medium) and 350 lumens (low), respectively.
The Light & Motion Taz 1500 Light will run for a full hour and a half on the highest, full 1500 lumen setting and for 3 hours on medium. Both of these settings should be more than enough to get you through your leg on a 24-hour relay, or a long, darkened stretch of your commute. One of the coolest features of the Taz 1500 is its Race Mode, which cycles between only the high and medium brightness modes, letting you quickly change modes as the trail opens up without demanding too much of your hands' attention. The flash setting stretches the battery life out to an impressive 16 hours.
Handlebar-mounted light is perfect for road and trail riding in the evening
1500 Lumen output paired with a wide beam supplies powerful light
One-touch "race mode" allows easy toggling between output modes
Amber sight lighting increases visibility to motorists while on the road
Waterproof design is prepared for all varieties of adventure
View more Headlights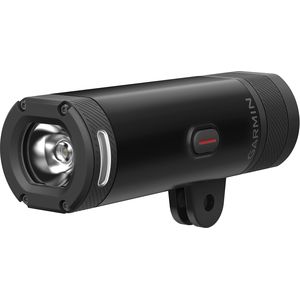 Garmin
Varia UT800 Smart Headlight
5 out of 5 stars from 2 reviews
5
2
(2)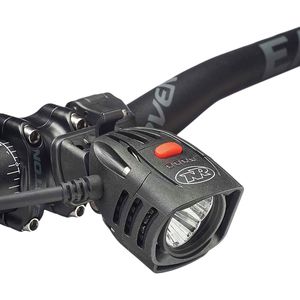 NiteRider
Pro 2200 Race Headlight
5 out of 5 stars from 1 reviews
5
1
(1)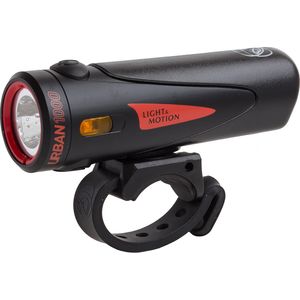 Light & Motion
Urban 1000 Headlight
5 out of 5 stars from 1 reviews
5
1
(1)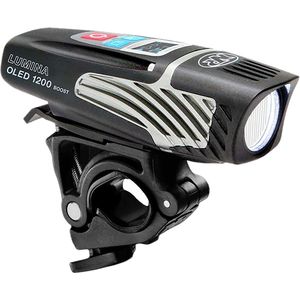 NiteRider
Lumina OLED 1200 Boost Headlight
3.5 out of 5 stars from 3 reviews
5
3
(3)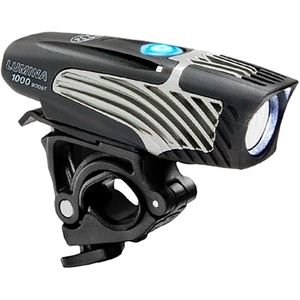 NiteRider
Lumina 1000 Boost Headlight
5 out of 5 stars from 2 reviews
5
2
(2)
What do you think about this product?
Bright, but...
Familiarity:

I've put it through the wringer
The TAZ 1500 is a bright light. But only for 1.5 hours. To get long life, you have to use dimmer settings. Pulse mode is not effective at getting drivers to notice -- there should be an intense strobe mode also. Also, the product specs say it's waterproof. Not so. Even when plugging the charging hole, an overnight rain can cause it to get stuck "ON." This happened to me at a 140.6 where I had to check the bike in the night before.
Don Muchow
>Rating: 5
November 27, 2016
Let There Be Light
Familiarity:

I've used it several times
With many choices of lights in a crowded market, I chose the L&M Taz 1500 based on price, brand reputation, and needs. Primarily bought this for mtb night riding and first few rides I was truly impressed. Adequate lighting and good burn time enabled me to do 2 hour rides at low wattage. Able to scan ahead during single track romps and lighting the way for quick descents opened up a whole new world of riding. Easy to charge and use on the fly, the Taz 1500 is a solid choice.
John McKone
>Rating: 5
August 12, 2015
The reference light for MTB use
Familiarity:

I've put it through the wringer
There are a handful of companies that make good bike lights, but Light & Motion is universally regarded as one of the very best by bike shop employees and experienced riders. There is a reason for this. Great company, great design, performance, experience, and quality. Light & Motion is based in Monterey CA, just south of MTB icon the Santa Cruz Mts. For self-contained MTB lights, these 1200/1500 Taz lights (cool name!) by L&M are IMO the best lights available. I have found that a wide throw (multi bulb) light is best to effectively illuminate the width of the trail and all the twists and turns involved in trail riding. This light features top-of-the-line cree illumination and is extremely high quality all around. Durable, water-resistant, swivels. Great light for the road too. You can run it at 750 or 350 lumens for road use. Btw, 750 is a lot of light for trail (or road) use! I usually save the 1,500 setting for descending in the dark (awesome). One potential issue for roadies: The light is very easy to mount and dismount on your bar, but sometimes the strap is a little hard to work under tightly taped (horizontal) brake and shift cables on some road bikes. I wish the light also came with an optional fixed clamp mount. Remember, this is not an issue for MTB bars.
Jonny Heinken
Commuter Overkill! (that's good)
Familiarity:

I've used it several times
I purchased the Taz 1500 primarily as a commuter light, wanting something that would not leave me wishing for more light or a wider beam on dark commutes. Mission accomplished! I'm sure I will end up using it off road at night, but for the time being it is a stellar "stand-out-in-traffic" unit. The functionality is easy, intuitive and the switchable amber side lights are a big plus and match the amber side markers on the Light & Motion Vis 180 I use on the rear. The only negatives so far are the bulk and the fastening band (in my opinion). The rubber band stretches fine and has plenty of length to go around just about anything you might need to attach it to, but the peg that goes through the holes in the band leaves me feeling less than 100% secure that it won't fall off. So far, so good however! Like its rear mounted counterpart, the Taz also has a pulsing strobe setting that seems to provide a bit more constant illumination while functioning as an alert to on-comers. The all-encompassing design is refreshing as I've only used remote batteries in headlamps up until now. Great battery life too!
Ed Kilbourn
What's the burn time for MEDIUM setting on this, 3 hours-ish?
Ryan Conklin
William P.
July 30, 2015
3 hours is correct! Just called L&M, and they confirmed.
Ryan Conklin
July 30, 2015
BOOM! Thanks, Bill!
>Rating: 4
November 8, 2014
compact and bright
Familiarity:

I've used it several times
I use this as a bar mount in conjunction with my helmet mount for MTB night rides, OR as a back up light if I am riding at dusk and might need a little extra light towards the end of my ride to get back to my car. I love the all-in-one battery and light integration. No more wires running down the frame, or awkward battery mounts. On my mtb bars I do not have any trouble attaching this light or keeping it in position. I am guessing the issues other ppl have come when using a smaller diameter bar. Mine are 35mm diameter. I have yet to test the exact run time, but it does seem like it hits the low battery indicator in it's brightest light setting faster than expected. It hasn't been a huge issue for me though, since I am usually using it with another light. It's nice to have the dimmer settings as an option, I use these for climbing, and turn it to full power for the descent or faster sections of trail. The battery/overall unit gets hot to the touch, but hasn't been a problem for me at this point. I will usually turn it off and let it cool down before removing from my bike. I have even left it attached while driving home with the bike mounted to my roof. So the mount is definitely solid! I also have the Urban 800. For comparison... the Urban is more compact, but the 1500 is definitely a bit brighter. Otherwise very similar. The 1500 has an actual flash mode, and the 800 has more of a slow pulse mode. The 1500 has a slightly whiter light, and the 800 is a slightly warmer light.
Re Wikstrom
>Rating: 5
November 2, 2014
Exceptional headlight
Familiarity:

I've put it through the wringer
I'm a daily commuter, and for most of the year, ride to work in full dark (early morning) for the peace and quiet of nearly empty roads. I've been using the Taz 1200 for about 8 months now, it has been flawless for me. On higher speed full dark stretches I use the high setting, for slower climbs and in areas where there is light from street lamps or buildings I drop to medium. I never use flash or pulse. When I get to work, I simply remove the light from my handlebars and recharge it, taking about an hour or 2, then reinstall it. It does take some effort to get the rubber strap tensioned to the correct hole, but really, it isn't hard to do. Once correctly tightened, I do not have issues with it moving. All in all a fantastic light.
Mike S.
kevin.gt2248759
July 5, 2017
Check out the "race mode" on the light. When you turn it on, hold the power down for a few seconds instead of just pressing the button once. In this mode the light will cycle between "race high" and "race low" when you press the button. That's the mode I run in 95% of the time. It's not very well documented, but "race high" is somewhere between med and high, and "race low" is between low and med.
>Rating: 4
October 29, 2014
Wide Beam Pattern - Tons of Light
Familiarity:

I've used it several times
I have had great luck with Light and Motion products. I've owned the Vis 180 and Vis 360's since 2010. Both are going strong with daily commuting usage during the winter of about 1.5 hours roundtrip. I love the build quality and premium feel of their stuff. I've only had the light for two weeks, but have used it daily since it is already dark going and to and from work. Some things I've noticed. 1)The light isn't detachable from the latch, this is a pain especially since the latch really has to be cranked down to keep it from moving. I probably need to use the provided sticky rubber things, but since use it on three different bikes, that is a pain. Also it makes it less commuter friendly if you need to remove your lights from the bike. 2) Light output is awesome. In the city I use to lowest level so I don't blind riders. On back roads the 1500 lumens is awesome. 3) The beam pattern is pretty wide, almost too wide for my liking and maybe not as helpful on the trail since it makes it hard to focus on what is in front of you. 4) The unit has a really solid feel and seems like it will hold up for a long time. 5) The light has good adjustability in light output. Anyway, the light isn't perfect, but it is pretty darn good.
Cameron
>Rating: 2
October 15, 2014
Great features, not much actual light
Familiarity:

I've used it several times
Everything about this is superb (very light weight, exceptional side safety, good buttons, good beam output level choices, good build quality, mount was strong but hard to adjust up/down) except the actual light output and battery life. Very broad flood beam with little depth and I doubt my unit is above 1000 lumens. Cateye Volt 1200 very noticeably brighter and much more distance lighting. Lezyne 1200 has twice the distance, although with a narrow beam pattern. Cateye allowed 25+ mph on dark downhill street, this sharply limited my comfort level, perhaps 18mph. Even if you like a very a broad beam pattern, this simply does not put out enough light to justify the price. And I hit red warning low battery level after 37 minutes of high beam use although it took 15+ minutes after that to noticeably weaken. Perhaps mine was defective, but then quality control is an issue.
Eric H.