The Gravel Bike Dream
Our Experts Talk Rigs, Setups & Their Journey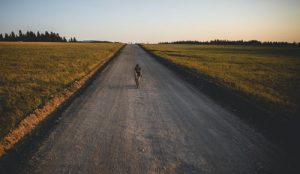 Since gravel is no longer the secret of a few adventure-seeking privateers in the northern Midwest, we sat down with in-house experts Hannah and James. Since they're both from what are arguably the original homes of gravel (Wisconsin and Minnesota, respectively), they have miles of wisdom on upgrading and finding new gravel rigs to pass along to new and seasoned gravelers alike. 
Gravel: You Do You
With surfaces ranging from twisty, rooted singletrack to rutted fire roads, unmaintained byways, and wide-open pristine limestone groads, gravel has no definitive, standard setup—it's an experimenter's playground. Yet both Hannah and James understood early on that durability and utility were two essential boxes to check. 
Hannah built out her first gravel rig—a steel 29er with drop bars—for a bikepacking race. "My focus was on something that would be durable and allow the gearing needed for loaded riding over mountain passes," Hannah explains. She felt as though she could go anywhere on her "monster truck," riding the pavement, singletrack, and gravel paths leading back home "with ease." She recommends that both new and experienced riders take the time to research the routes and conditions they'll encounter to inform gravel bike purchases. 
"I always swap to Salsa Carbon Cowchippers; no one will change my mind." —Hannah D.
Living on two-wheels in Minneapolis, James needed his first gravel rig to be the "most utilitarian drop-bar bike" he could find. He wanted a bike that was swift and durable without being burly, while boasting the most tire clearance possible. On his Surly Straggler, he "couldn't carry the iron skillet,"—or the kitchen sink—but was able to ride just about anything, in any weather. 
The Gravel Bike Upgrade Story
The farther you ride, the greater the itch becomes to upgrade components, wheels, accessories, or maybe the entire rig. But how quickly you upgrade is highly individualized, as Hannah explains: "I kept my gravel bike as-is for about four years before changing anything out." When she did decide to upgrade, she focused on the drivetrain—which, other than wheels and tires, is one of the most impactful improvements you can make. She took her 2x10sp drivetrain and swapped to a single-speed setup, and eventually to a newer 2x11sp group. 
Like Hannah, James approaches upgrades within reason. Working in a "fancy boutique" bike shop, James was surrounded by "bespoke builds" that stoked his upgrade dreams, but he felt his environment was a Catch-22 at times. "New stuff is nice and has benefits," James says, "but if you're always thinking of what would make your ride better, you won't enjoy the one you're on." Considering the cost of keeping your rig current, we can appreciate his "run what you brung and have fun" mentality.   
What To Upgrade & In What Order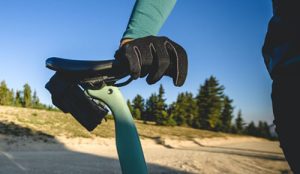 Hannah and James agree that gravel bike upgrades should start with comfort components (cockpit and saddle), then move on to performance components (wheels and drivetrain), before finally marking New Gravel Bike Day on your calendar. A personal favorite comfort upgrade of Hannah's is the Lizard Skins 3.2mm bar-tape, which takes the sting out of punishing rides. She wraps those around some of the best handlebars in the off-road biz: the Salsa Carbon Cowchipper. But if she's bikepacking or questing on rougher surfaces, she steers with the Woodchipper.
"I have been stoked on my Specialized Power saddle." —Hannah D.
Although Hannah's bike came with the Power saddle, you not might take to the stock saddle as easily, and it's the first place James recommends for an upgrade. After that, he recommends springing for new "light, responsive and tubeless" wheels. They should be laced to hubs from trusted names like DT Swiss and Industry Nine that complement the wheelset with fast engagement and easy servicing. 
It's Really Time To Hide (Ditch) The Cables
Today's drivetrains come with several off-road specific features and benefits that should be on every rider's upgrade list. Hannah attributes at least some of her success in bikepacking and gravel racing to a dedicated 2x GRX drivetrain—her current setup—that offers the gear range she needs to keep cruising when surfaces get rough and lumpy. Hannah recommends finding a gravel frame that offers internal routing or, at minimum, keeps the cables away from storage and pack bags, for convenience. 
James's own experiences out there in the heart of gravel country left him with a strong position on internal vs external cabling. "Gravel can ruin a mechanical drivetrain," James warns. "I've seen bikes come back from rainy gravel races with a fresh set of cables and housing destroyed." He insists you'll spend a lot less time making repairs in the shop with internally routed cabling and recommends modern electronic (Shimano Di2) and wireless (SRAM Etap AXS) drivetrains to reduce corrosion and damage from the elements.
The Gravel Bike
If you are looking for an entirely new gravel bike, James and Hannah share their final tips—and firstly, it's all about the fit. It's the easiest way to fall in or out of love with a bike, and worth the steps to make sure you've got it dialed. 
Second for James is ride quality. "I can make ride quality with proper wheels and quality tubeless tires," he says. However, he adds that carbon is preferred over aluminium as a frame material because ability to engineer compliance and stiffness where needed to enhance comfort and performance—pillars of ride quality.
For freedom to roam, Hannah recommends only considering bikes with over 40mm of tire clearance—with limited clearance, you can't experience the vastness of the gravel landscape. Her tire setup depends on the conditions. Most of the time, she runs 40mm, but swaps to as large as a 47mm for rougher terrain and mud.
"What I love about gravel riding is that it's just riding in the purest form. Whatever works best for that individual will make the ride." —James C.
The beauty of gravel cycling is that we are all still figuring it out, whether that's how to dial in the perfect rig or route-finding your way on the journey.
Meet The Experts
Hannah (Content Producer)
-Considers the Driftless region of Iowa, Wisconsin & Minnesota to be the best gravel.
-Eats whatever is hot and nearby on gravel rides.
-Always has a windbreaker stashed for long rides that go past dark.
James (Graphic Designer)
-Believes gravel is anywhere the stars are seen, the dogs give chase, and getting lost is as easy as pedaling forward.
-Enjoys savory waffles on every ride.
-Recommends a multitool, quick links, tubes, and a frame pump whenever on gravel.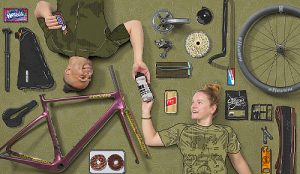 Ready to ride? Check out our Gravel Guide to get started! 
For all your cycling questions, connect with a Gearhead using the chat feature, call 1.888.276.7130 or email sales@competitivecyclist.com