This carousel displays a list of buttons that updates the main product image when a button is clicked
Lake
CX402 Wide Cycling Shoe - Men's
Temporarily Out Of Stock
Item # LKC000Q
Don't get too bummed. This item is on the way and will be available for purchase as soon as it rolls into the warehouse.
Can't wait? Consider one of the other Men's Road Bike Shoes we have in stock.
View Similar Products
Description
Big and custom.
Lake's line-topping men's CX402 Wide Road Shoes are certainly worth all the praise that's been heaped on them from industry publications, professionals, and category racers alike. The fact they're available in a special wide last means that the big-footed among us can also enjoy the customizable fit and sleek, understated aesthetics.
Lake worked long and hard on building the CX402's ultra-efficient Custom Fit carbon fiber sole. You may have had carbon-soled shoes in the past that didn't quite fit, and if that's the case, you recognize that ultimate power transfer is meaningless if your feet are in agony. But you can say goodbye to the era of compromise, as these puppies are heat moldable, ensuring perfect fit and incredible heel hold. Best of all, with a personalized fit, you won't have to crank them down to keep your feet in place.
The dual BOA closures only enhance the fit. By employing two Boa dials, Lake enables you to keep your heel locked down, without requiring undue pressure on the forefoot. And as you already know, that means better blood flow, and greater comfort.
The BOA closures are hidden underneath the sleek kangaroo leather upper, which promises fantastic service life. Better yet, since kangaroo leather is among the thinnest, most durable types of leather around, they're incredibly supple and only get better with time. The perforations work in conjunction with mesh panels to maximize airflow, so your feet stay cool, instead of getting clammy.
Accommodate your wider foot in a top-end racing shoe
Durable, soft kangaroo leather uppers mold to your foot
Perforated kangaroo leather liner ensures air reaches your feet
Heat-moldable carbon sole for uncompromising power transfer
Dual BOA dial closure delivers infinite fit customization
View more Men's Road Bike Shoes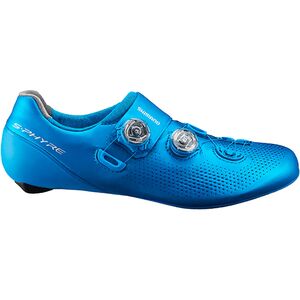 Shimano
SH-RC9 S-PHYRE Cycling Shoe - Men's
4.5 out of 5 stars from 15 reviews
5
15
(15)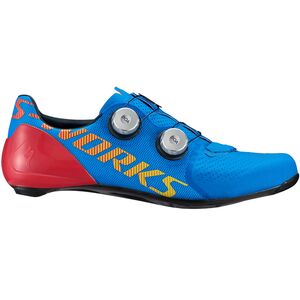 Specialized
S-Works 7 Cycling Shoe
1 out of 5 stars from 1 reviews
5
1
(1)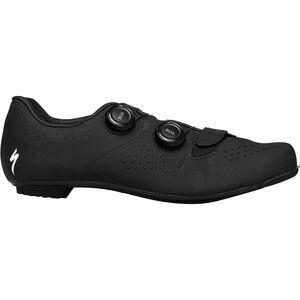 Specialized
Torch 3.0 Cycling Shoe
4 out of 5 stars from 2 reviews
5
2
(2)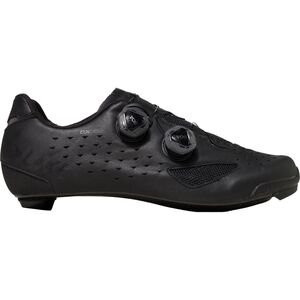 Lake
CX238 Wide Cycling Shoe - Men's
4.5 out of 5 stars from 4 reviews
5
4
(4)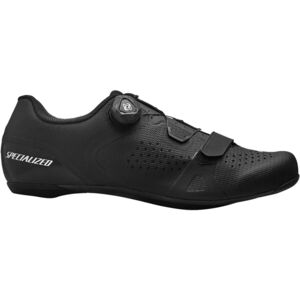 Specialized
Torch 2.0 Cycling Shoe
5 out of 5 stars from 1 reviews
5
1
(1)
What do you think about this product?
Not Quite what I expected
Fit:

True to size
I have a wide foot therefore decided to try out Lakes wide shoes. The shoes are wide as expected, but I was not able to get the custom fit the manufacturer claimed possible through heat molding. Because of the extra width, the shoe rubs on the cranks, so the cleat position becomes more difficult to locate to avoid this problem.
gilbert Y.
Mike B.
April 24, 2019
You may want to try Dura Ace 9100 pedals. They are available with a 4mm longer spindle and you can add a few more 1 m washers as I do because of wide foot and shoes. It does the trick and you should have a lot of clearance, if you so desire.
Offensively comfortable...
Familiarity:

I've used it several times

Fit:

True to size

Size Bought

45

Height

6` 0"

Weight

235 lbs
These shoes have one considerable flaw... They'll make you hate every other shoe you own. These aren't the most comfortable cycling shoes I own, they're the most comfortable shoes I own... full stop. The combination of the heat moldeable surround, kangaroo leather, and whatever padding they use for the insole is just amazing. They just disappear on your feet. My one criticism, if it can even be called such, is that they don't make a variant of the shoe that's both wide and four hole drilled for speedplay cleats. You can get four bolt OR wide but, for some unfathomable reason, they don't make a four bolt wide. Coming from Sidi's with four hole soles, it's a noticeable difference in stack height but the shoe itself is outstanding. One other thing completely unrelated to performance but worth pointing out... the shoe runs very large, not in terms of sizing but in terms of the volume of the shoe itself. Sat beside my other cycling shoes, these look to be a size or two larger than the others... they don't feel bulky or anything and, unless you put them beside some other shoes it's not noticeable at all, purely an aesthetic thing.
Troy B.
Peter M.
May 15, 2019
I ordered a custom CX 402 in a wide size with four hole speedplay sole in black. Just $50 more. When you are spending an insane amount of money anyway whats another $50? :)
Excellent cycling shoes--not for walking
Familiarity:

I've put it through the wringer

Fit:

True to size
Extremely comfortable and supportive wide cycling shoe. No problem with heel comfort. Regarding walking comfort--these are not walking shoes. Their structure supports the cycling foot posture--not unlike Assos jerseys which are cut for the cycling posture vs standing up. If needed, the shoes have a moldable carbon support base. The instructions clearly detail using a oven to heat the shoes and then mold them. For wide toe/foot area, these are great shoes. The Kangaroo leather is also comfortable and the Boa tighteners are easy to use. When open, no shoehorn is necessary. Highly recommended.
Robert A.
So, So Bummed!
Familiarity:

I returned this product before using it

Size Bought

43 Wide

Height

5` 7"

Weight

170 lbs
After my fitter told me, "YOU MUST GET NEW SHOES, Madam Ridiculously Wide Foot!" Well, alrighty then, new, and very expensive shoes, it shall be! After doing the research (and not being able to buy locally, sadly) I swooned over these shoes; wide AND kangaroo?! MUST HAVE!! They came in yesterday and, while the forefoot area is a fit like I've never felt before - so comfortable - that romance was quickly dispelled while realizing that the rear of my foot felt like it was in a vice grip! What the heck? Why would a wide shoe have such a narrow, tight heel cup! I just don't see any way to make these work, it hurts just putting them on, let alone walking to my bike 10 steps. I'm still wiping away the tears that have fallen on my return shipping label. GRRRR!! Back to the drawing board. Shi*.
richcoast
MIN P.
June 7, 2017
I have the same problem with the narrow back part of the shoe. I heat molded the shoe 3 times and the heel actually got a bit wider. No issue after the heat molding
John E.
January 29, 2018
My exact experience!
Troy B.
April 30, 2018
You heel cup, and the majority of the rear of the shoe is heat moldable... put in the over for five minutes at 205 degrees, plop your foot in the shoe, and that vice grip will become a bespoke cradle surrounding your heel.
Peter M.
May 15, 2019
Should have tried heat molding/expanding the heel cup area first.
Amazing Fit - Full Stop
Familiarity:

I've put it through the wringer

Fit:

True to size
These shoes have ended my search for the world's most comfortable cycling shoe. The kangaroo leather upper is softer than my expensive winter leather gloves, and forms perfectly around my foot. The real star of the show, however, is the heat-moldable carbon fiber sole and heel cup. I have pretty wide, gnarly feet (accessory navicular, tailor's bunions, Haglund's protrusions, etc) from 26 years of wearing ice hockey skates six times per week. I purchased custom hockey skates four years ago and have been bouncing between cycling shoe brands since then to replicate the pillow-like comfort of my hockey skates. These shoes, once baked and broken in, are perfect. I baked the shoes twice, added my custom footbeds, and immediately put 4 rides in them. Aside from fiddling with cleat position, they've been perfect. I cannot recommend them highly enough. My feet settle into these shoes in a way that no other brand of cycling shoe has come close to replicating. Yes, these are expensive, but they've been worth every penny for stopping my foot pain while on the bike.
Tyler G.
Excellent Shoe
Fit:

True to size

Size Bought

Wide

Height

5` 11"

Weight

165 lbs
After the initial fit, and the the way these shoes "seem" tight, I wasn't sure about them. The thing is, what I thought was tight, was actually the shoes fitting my whole foot, which is alien to me. I've never had a shoe fit my foot correctly, so this is new territory to explore. Once I rode and raced with them, I'm a total fan. They're comfortable, no after-race foot pain that I'm usually accustomed to, and they appear to be very well constructed. As an added bonus, Kyle contacted me by email shortly after placing my order, and the level of customer service he and Competitive Cyclist exhibit, is second to none. I'm completely satisfied with the product and service.
Lloyd J.
Good shoe
Familiarity:

I've put it through the wringer

Fit:

True to size

Size Bought

43

Height

5` 10"

Weight

183 lbs
I have a very wide foot, EEE, and have always found it very difficult to find a shoe that fits correctly. Usually I have to buy too big to get the toe room. On Lake's website they have a sizing chart. It is very accurate. Use it. I didn't on my first urchase and ended up returning them for the correct size. My last shoes that were Shimano were 45s. The correct Lakes are 43. The insoles that come with them don't have the highest arches so you may need otehr insoles if you have very high arches. The molding process take a few times to get the fit correctly. I contacted Lake about this because I followed the instructions to the dot and couldn't get the molding right. They told me to up the cooking time in 60 secnd increments until the shoes were moldable. Every oven is different. Construction is good. My only dislike at this point is the read bolo dial. I can feel it through the shoe on both feet where it sits on the top side of the foot.
Chris F.