Shape-Shift Water Reservoir
---
Shape-Shift Water Reservoir
Why settle for an average, run-of-the-mill hydration reservoir, when you can have an innovative design and added capacity without bumping up the price? That's just what you're getting with the HydraPak Shape-Shift Water Reservoir, thanks to its adjustable center baffle that keeps things slim when you need a low profile in your pack, then expands to give you more storage when increased water capacity takes precedent. You'll also get a self-sealing bite valve with a twisting on/off bar to ensure that your precious H2O doesn't leak on the trail. A Plug-N-Play connect system makes it easy to connect and disconnect the hose, while an auto shutoff valve instantly works to prevent leaking when disconnected. This reservoir also is fully reversible for easy cleaning and drying, and features a durable, abrasion resistant, and stretchy TPU material to keep it going for many an adventure.

Details
Versatile hydration reservoir with an innovative design
Center baffle unlocks to give you added water capacity
Durable TPU construction is BPA- and PVC-free
Self-sealing bite valve prevents wasted water
Plug-N-Play system makes it easy to connect the hose in a flash
Reversible design makes it easy to clean and dry
Wide Slide-Seal top makes for easy filling and leakproof security
Item #HPK001J
Material

TPU, HDPE, silicone

Volume

2L, 3L

Hose

Hydraflex

Valve

self-sealing

Dimensions

[2L] 13 x 6.5in, [3L] 17 x 6.5in

Claimed Weight

[2L] 4.7oz, [3L] 5.3oz

Manufacturer Warranty

lifetime
Reviews
Q&A
Overall Rating
4.5 based on 26 ratings
What do you think about this product?
View
Selecting an option will reload the available reviews on the page
5 out of 5 stars
September 18, 2023
Working great!
Working great! I'm on the Camino Santiago and this has been working flawlessly!
Originally reviewed on HyrdraPak LLC
5 out of 5 stars
October 10, 2022
Great quality
Fits my old Hydrapak perfectly . An upgrade over the old original bladder.
Originally reviewed on HyrdraPak LLC
4 out of 5 stars
September 26, 2022
What's with the change?
This is my third HydraPak bladder. I think the older ones are easier to fill. I don't get the new design with it's smaller opening. It's harder to fill at my kitchen sink. It's harder to add ice cubes in the summer. Otherwise, I think HydraPak products are the best in the field.
Originally reviewed on HyrdraPak LLC
5 out of 5 stars
July 24, 2022
Shape shift 3
Great overall. Lightweight and easy to clean!!!! Would buy again
Originally reviewed on HyrdraPak LLC
1 out of 5 stars
March 20, 2022
Plastic taste is horrible!
I bought this last year and I have tried to get rid of the horrible plastic taste to no avail. I have even filled it with lemon juice and soaked it for over a week. The intense plastic taste remains!
Originally reviewed on HyrdraPak LLC
5 out of 5 stars
March 17, 2022
HydraPak Shape-Shift
The flexible coated handle allows for easy pouring and carrying. It packs away nice and easy.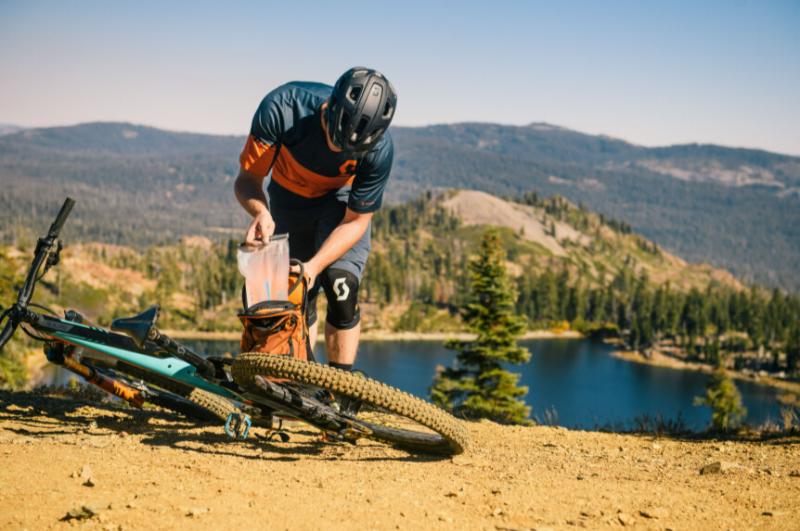 Originally reviewed on Backcountry.com
3 out of 5 stars
November 30, 2021
Impossible to reseal baffle!
Everything about this water bladder is great, except it's main feature that separates it from a lot of the competition which is the resealable baffle. I loved this bladder and thought it fit great it all my packs until I cleaned it and unsealed the baffle. This would otherwise be an amazing feature because it allows you to clean the inside really easily, but since you can't reseal the baffle (I literally tried for an hour to no avail using various lubricants and methods) it leaves it being a really awkward shape. Maybe it's not as much of an issue with the 2L, but the 3L becomes very long and bulky and makes it hard to pack around because the reservoir protrudes so much. I'm not sure if mine is due to quality control or this is just an inherent feature of the bladder, but it'd be great to hear from Hydrapak about how to actually reseal this thing and make it usable again. It also is really prone to staining, if you use Aquamira it'll turn the reservoir an unpleasant yellow, I also spilled coffee on mine and there's a stain, but it doesn't impact the performance so really not a big deal. Otherwise it lives up to expectations, it's survived many days smushed into my pack full of climbing gear, sandwiched between carabiners and belay devices so it's definitely tough. The sliding seal at the top also makes for easy emptying and refilling. Other than the shape I much prefer using it to the more traditional camelbak reservoirs I've had in the past.
Originally reviewed on HyrdraPak LLC
1 out of 5 stars
August 20, 2021
Inside ripped before I filled first time.
I had to look up how to open and inverse to clean. A bit tough because I thought I'd break it. Directions say, "With a firm grasp of both the front and rear handles, pull the two handles apart from each other in opposite directions. A fair amount of force may be necessary so pull hard. Our reservoirs are tough. They can take it!" No, they apparently can't. I never even filled it with water. Good concept? Maybe. Needs some more work.
Originally reviewed on HyrdraPak LLC
5 out of 5 stars
August 13, 2021
Outstanding Customer Service
I spend a lot of time in the backcountry and had to make an emergency purchase of the shape shift 3L at a local store after my older one (different company) started leaking. I really like that it has baffles that helps with the sloshing around when it's not all the way full, or that you can open up the baffles to allow even more water into the reservoir. Plus I am thrilled that you can turn it inside out and stick it on the top rack of the dishwasher for easy cleaning. Unfortunately, my very first time taking it out on the mountain mine developed a hole at the top of the reservoir. I don't know if this way due to it having a pressure point by the way it sat in my pack, me setting my pack down to roughly, or a manufacturer defect. Regardless, I filled out the warranty claim (I figured it was worth a shot) and within 24hrs I had a response letting me know my claim was accepted, and within 48hrs I had a new reservoir being shipped to me. Great customer service speaks volumes to me, and they went above and beyond what most companies are willing to do! Now with all that being said the Shape Shift was the only 3L one in the store with no other options, and I was leaving that day for a trip so I was desperate. After seeing all of Hydrapak's other products I think the HydraSleeve 3L would be a better all around option for me.
Originally reviewed on HyrdraPak LLC
4 out of 5 stars
June 21, 2021
This reservoir mitigates sloshing and cleans easy
I recently used the Shape-Shift 3L for the first time on a 20k hike up Mt. Cucamonga in Southern California. It worked great. I used it with the baffle closed and it helped eliminate the usual sloshing that occurs as the hike goes on. And I love how easy the Shape-Shift is to clean: just turn it inside out and rinse it off. The included hang tab also helps with drying. As with my other HydraPak products, the construction seems sturdy and I expect it will withstand a lot of use. My only criticism so far is that it is slightly more difficult to fill than reservoirs with a screw top. That said, the ease of cleaning out weighs that small flaw.
Originally reviewed on HyrdraPak LLC
Need Expert Advice?
Our Gearheads Can Help