This carousel displays a list of buttons that updates the main product image when a button is clicked
HED
Jet Plus Black Disc Wheel
Item # HED001S
Description
The epitome of speed.
As with most things wheel-related, HED proved itself an (extremely) early adapter when its late founder launched a disc wheel almost three decades ago. HED being HED, since that first unveiling, the Minnesota-based manufacturer has been constantly tinkering with and updating the profile, structure, hub, brake track and every other aspect of the wheel. The Jet Plus Carbon Disc Wheel is the latest iteration, bringing the increased stability, comfort, and rolling speed of an expanded rim width to a wheel that HED calls "the epitome of speed."
The secret to the Plus build's ride quality lies in the expanded tire volume afforded by a the wider, 25mm rim. Since the tire's bead sits fatter, the tire itself follows suit, which serves to make a plusher ride with less PSI required while reducing rolling resistance by putting a healthier patch of tire on the tarmac. It also straightens the sidewalls, which means you'll also have more tire contact while cornering, a benefit that goes some way toward addressing the handling issues associated with disc wheels and TT bikes. The tire also sits more flush with the rim, creating an unbroken plane that better manages air flow across the tire/wheel transition, improving yet further on the aerodynamic benefits of a disc wheel.
As with every other Jet model, the Jet Disc Plus is built with a carbon fairing sandwiching 24 14-guage spokes and attached to an alloy spine. The benefits of this construction are immediately obvious to anyone who has experienced dodging carbon brake tracks when the pace is interrupted by a crash in the group or the advent of a sudden obstacle. The Jet Disc Plus' aluminum brake track grabs with more confidence and provides better modulation. It also doesn't scream under hard braking like its carbon counterpart, which both you and anyone in the vicinity will appreciate on pre-work training rides on an otherwise silent, peaceful morning.
The one drawback to this construction model is weight, but since disc wheels typically prove most useful in long, flat events, the aluminum spine's slight addition of weight won't hinder a time trialist or triathlete up a climb. In fact, once the wheel is spun up, its slightly higher weight means that it's got more inertia, so it actually helps you maintain cruising speed by carrying extra momentum through its rotation.
In terms of aerodynamics, the Jet Disc Plus obviously crushes the standard 32-spoke wheel and bests every deep section wheel out there. HED's research has found that the wheel does best at yaw angles in excess of five degrees, with the sweet spot ranging from 15-20 degrees. To quantify its speed, HED claims that the wheel has 25g of drag at 15-degrees of yaw when riding at 40kph. That's 195g less drag than a conventional wheel ? an estimated 18w savings for every second you're riding.
For the Jet Disc Plus, the skewer graduates from the non-plus model's steel to a lighter titanium. HED also includes rim tape, the omission of which was a strange oversight on the previous generation. A valve extender is included and, given the rim's width, HED recommends using that extender to inflate tires that are 22mm or wider, but we see no reason to not take advantage of the comfort of riding 23 or 25mm tires. HED also recommends a max tire pressure of 100PSI.
View more Clincher Wheels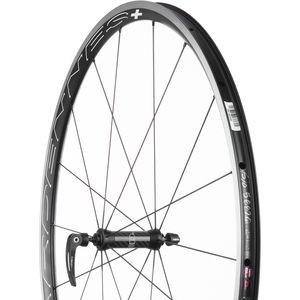 HED
Ardennes Plus SL Road Wheelset - Clincher
Current price:

$849.99
Original price:

$1,200.00
Sale
29%
Off
4.5 out of 5 stars from 10 reviews
5
10
(10)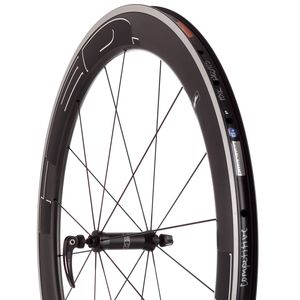 HED
Jet 6 Plus Carbon Road Wheelset - Clincher
Current price:

$999.99
Original price:

$1,599.95
Sale
37%
Off
5 out of 5 stars from 23 reviews
5
23
(23)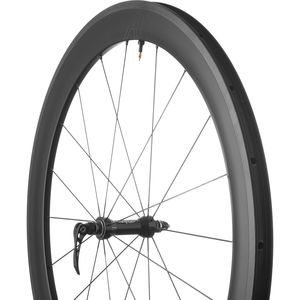 Mercury Wheels
A5C Wheelset - Clincher
Current price:

$1,199.99
Original price:

$1,999.00
Sale
40%
Off
5 out of 5 stars from 7 reviews
5
7
(7)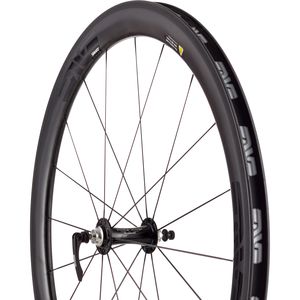 ENVE
SES 4.5 Carbon Clincher Road Wheelset - Chris King R45 Hubs
5 out of 5 stars from 1 reviews
5
1
(1)
What do you think about this product?
>Rating:
November 11, 2019
So is this the Jet Plus or the Jet Black? Most places sell a Jet Plus OR a Jet Black, I have not seen a "Black Plus" listed elsewhere. The description does not mention the black anodized braking surface from the Jet Black and only talks about the "Plus" features, while the picture looks like it is from the Jet Black. Thanks
Frederick M.
Robert Jensen
November 14, 2019
Hi Frederick, This is the Jet Black model with the textured braking surface that increases stopping power.
Is the disk available with the XDR freehub?
Joe Company
Matt Conn
July 18, 2019
Hey Joe, Thanks for your question. At the moment, it is not going to be available with the XDR driver. If you have any other questions, feel free to reach out to me directly at mconn@competitivecyclist.com
Flagged as inappropriate or irrelevant to the product. Click here to view.