Chain Butter Dry Lube Refill
---
Chain Butter Dry Lube Refill
Chain Butter has gone XL. This new shop size will make running out of your beloved Chain Butter a thing of the past. Lets face it, oily, nasty chains attract dirt. Our's doesn't. Chain Butter is like no other lube on the planet. Try it, you'll see.
Volume

4oz

Recommended Use

bike maintenance

Manufacturer Warranty

30 days
Reviews
Q&A
Overall Rating
5 based on 6 ratings
What do you think about this product?
View
Selecting an option will reload the available reviews on the page
5 out of 5 stars
December 7, 2021
Movie Theatre Butter for your bike
Familiarity:

I've put it through the wringer

Weight:

null
Aside from the fact that this stuff smells delightfully like a fresh tub of popcorn at the movie theatre, it works really well. Keeps my drivetrain quiet and shifting smooth but, almost most importantly, clean. I ran this all year on my bike in dry Utah conditions and it worked fantastically, but the most impressive part was how clean my drivetrain stayed. Like really clean. Like suspiciously clean. If I was extra diligent I would apply the lube the night before and then wipe it off right before my ride. That happened like 25% of the time, the rest of the time I would apply at the trailhead and not even bother wiping off the excess. This is not a good thing to do, and speaks to my inability to plan ahead, but I was always surprised by: 1. Not having a greasy nasty chain... EVER and 2. how little (if any) dirt the lube attracted to the chain. Is it the lowest friction lube on the market? I have no idea I am not a scientist, but it feels fine to me. Will I keep using it next year? Absolutely I will. If I had any 1 complaint it would be that I have to reapply more frequently than I have in the past with Dumond Tech Light, but it is a really minor complaint for how clean my drivetrain stays. It also isn't stellar in wet conditions and if you have a bunch of stream crossings on your rides, I would probably look at the heavier "All-Weather" lube. But for dry dusty conditions, this stuff is magical.
5 out of 5 stars
May 24, 2021
The smoothest
Familiarity:

I've put it through the wringer

Weight:

null
This stuff is thiiiiiick and smooth. I was super worried at first that it would attract a lot of dust due to being so thick, but I am pleased to announce that this isn't the case IF applied correctly. If it's not applied correctly, then dust will be attracted to it. After some trial and error, I've come up with the best method to make this one of the longest lasting/smoothest chain lubes you can use. First off, I'll typically put the lube on the night before a ride. I'll put a generous amount along the chain, then without wiping it off, let it soak in overnight. Then the next day before the ride, I'll go through with a shop rag and clean each individual link and pieces connecting to make sure that no lube is left on the outside. What matters for any chain and lube is that you get it in between the links where the chain pivots, so this insures that and keeps the remaining lube off of the outside of the chain to avoid dust clinging. Overall, it's not quite necessary to do this for the chain lube to perform well. However, this is the best method I've found for this lube to last long and give a super smooth ride. Although it seems like a lot of work, doing this will make the chain lube one of the best you can buy and take away one more aspect that you don't have to worry about so that you can enjoy your ride instead.
5 out of 5 stars
May 11, 2021
The Sound of Silence
Familiarity:

I've used it several times

Weight:

null
Listen closely. Do you hear that? That is the sound of silence after using Hardcore's Chain Butter for the first time. I have always been a big proponent of the "if it ain't broke" theory when it comes to chain lube but after giving this formula a try I am completely hooked. If you are looking for a dry lube to minimize drivetrain noise this is one of the safest bets out there.
5 out of 5 stars
May 10, 2021
Makes for a quiet drivetrain
Familiarity:

I've put it through the wringer

Weight:

null
I've been using this lube for just over a month now and have found this to be the quietest lube I've used so far. It put it through the wringer riding the gravel roads of Routt Co, CO made famous by the SBT GRVL event. The fine dust generated from riding these gravel roads has little effect on this chain butter. (It has a butter fragrance too) As with most lubes I will reapply before each ride; but have gotten away with two 2.5hr rides on one application. Towards the end of the second ride the drivetrain was just starting to make some noise, but nothing too concerning. I do follow the instructions and apply it liberally and give it some sit time before wiping it down and heading out on a ride. I plan to stick with this lube for awhile. I had been using ProLink wet/dry lube; but that never gave the quietness in the drivetrain this lube does.
5 out of 5 stars
May 6, 2021
Probably the best lube I've used
You're not a real cyclist until you have a favorite lube. This stuff dethroned mine. "Jack of all trades, master of none" is an overused cliche, and I'm happy to report that it doesn't apply to Chain Butter. I'm comfortable saying "Master of all trades." This stuff really is the Assos/SRM/Pinarello of the lube world. It's the fastest, cleanest, easiest lube I've ever had the pleasure to use, and it's probably going to be my go-to moving forward. It's a touch more expensive than some other options, but the extra five or six bucks is worth it, and given the fact that this stuff lasts two or three times as long per application (even in heavy dust), it's honestly pretty economical.
5 out of 5 stars
April 13, 2021
The lube we needed but didn't deserve
Familiarity:

I've put it through the wringer

Weight:

null
So after a thorough cleaning of my bike with the bike hardcore products, I was stoked to try this chain lube out. I'm currently running it on both my gravel bike and my road bike and the results have been astounding. I've tried a lot of chain lubes in the last while and found that for the dusty desert we live in here in Utah, I always end up needing to reapply chain lube every couple of rides for road or every 10 miles on the gravel. When I go to apply them, I always find that my chain is disgusting and then I end up just piling on more lube on top of filth. Not so with chain butter! Comparatively, my chain stays pretty clean in between applications and the chain butter has my drivetrains running SILENT compared to other brands. For road, I went well over 150 miles before re-applying my lube, but likely could have done another 150 before really needing to. If you're in need of a dry lube... this one is for you. Just be aware. You might not ever want another one if you do!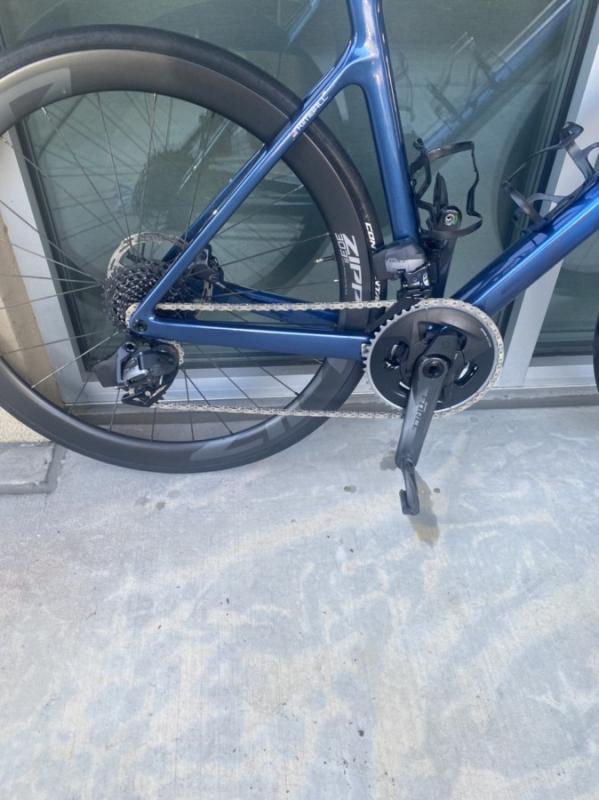 Need Expert Advice?
Our Gearheads Can Help