Sale
$149.96
$199.95
25%
Off
Item # GIR0402Past Season Colors
Select options
Select options

Matte Dazzle, S ($149.96)

Matte Dazzle, M ($149.96)

Matte Dazzle, L ($149.96)

Matte Charcoal Frost, S ($149.96)

Matte Charcoal Frost, M ($149.96)

Matte Charcoal Frost, L ($149.96)

Matte Blue, S ($149.96)

Matte Blue, M ($149.96)

Matte Blue, L ($149.96)

Matte White/Silver, S ($149.96)

Matte White/Silver, M ($149.96)

Matte White/Silver, L ($149.96)

Matte Black/Bright Red, S ($149.96)

Matte Black/Bright Red, M ($149.96)

Matte Black/Bright Red, L ($149.96)

Matte Black, S ($149.96)

Matte Black, M ($149.96)

Matte Black, L ($149.96)

Giro Aeon Helmet $199.95
Item #

GIR0402
Description
Cooling comfort.
In the never-ending quest for helmet lightness, one fact makes us rest easy: Even the most feathery helmets must pass the CPSC safety standard for impact resistance. If, for example, you've ever picked up a Giro Prolight or Aeon helmets, you know why this is a concern. It seems impossible that a near-weightless thing like these helmets offers adequate protection. Amazingly, though, they pass the CPSC testing just fine.
The Prolight tips the scale at 200 grams, nearly 50% lighter than most alternatives in its $200 price range. Its lightness comes thanks to several factors, the most noticeable of which is its lack of fit adjustment hardware. Its Roc Loc SL is made from elastic and offers none of the fine-tuning of other Roc Loc models. Furthermore, the strap buckles beneath your ears are fixed and non-adjustable on the Prolight. And while this might seem like a reasonable price to pay for lightness, if you ever choose to wear a cycling cap or winter hat beneath your helmet, the resulting tightness around your head is a bummer.
Enter the Giro Aeon. With the Aeon, Giro's goal is to offer the next generation of superlight helmet design. The Aeon marries the breathtaking lightness of the Prolight and the fabulous ventilation and adjustability of the Ionos.
At 218 grams (size Medium), the Aeon is in the same weight class as the Prolight, but it offers far more fine-tunability to the fit. It comes with Giro's all-new Roc Loc 5 retention system. For starters, the indexed Micro Dial lets you adjust the tension with a two fingered twist. And its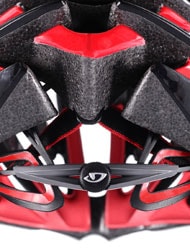 three position bracket allows 15mm of vertical adjustment in the retention basket -- enough to fit any head shape comfortably. In another improvement over the Prolight, you get clever strap management. The retention basket has strap holders to ensure that they'll be right where you want them by the time the helmet falls into place on your head.
The Aeon uses in-mold construction to fuse the foam liner to the abrasion and puncture resistant polycarbonate shell as other Giro helmets. However, Giro uses a low-density EPS liner for the Aeon that performs the same important task of absorbing impacts, yet it's 15% lighter than the foam they used previously. Giro took advantage of that weight savings by foregoing the composite reinforcement found on the Ionos. Instead, a thermo-formed SL Roll Cage reinforces the Aeon for maximum safety, yet it's 49% lighter than the Ionos' composite sub frame.
The Giro Aeon Helmet has 24 massive Wind Tunnel vents to suck cool air in the front and flush warm air out the back, even at relatively slow speeds. The Giro Aeon is available in the sizes Small, Medium, and Large and in the colors Highlight Yellow/black, Matte Black, Matte Black/white, Matte Black/color fade, Matte Black/yellow Livestrong, Matte Blue/black texture, Matte Red/black, Matte Titanium, and Matte White/silver.
Roc Loc 5 adjustment system
SL Roll Cage maintains helmet's integrity in the event of a crash
24 Wind Tunnel vents move air in, through, and out of the helmet
Tech Specs
Shell Material:
polycarbonate
Ventilation:
24 Wind Tunnel vents
Recommended Use:
cross-country, road cycling
Manufacturer Warranty:
1 year
Weight
Weight
Claimed Weight
Claimed weights are provided by the vendor.
Have questions? Chat with a Gearhead
Size Chart
Giro
Adult Cycling Helmets
S
S/M
M
M/L
L
XL
Adult Universal
Women's Universal
Head Circumference
20 - 21.75in
(51 - 55cm)
20 - 22.5in
(51 - 57cm)
21.75 - 23.25in
(55 - 59cm)
21.75 - 24in
(55 - 61cm)
23.25 - 24.75in
(59 - 63cm)
24 - 25.55in
(61 - 65cm)
21.25 - 24in
(54 - 61cm)
19.75 - 22.5in
(50 - 57cm)
Cipher
XS
S
M
L
Head Circumference
20 - 20.75in
(51 - 53cm)
21.25 - 22in
(54 - 56cm)
22.5 - 23.25in
(57 - 59cm)
23.5 - 24.25in
(60 - 62cm)
How to Measure:

For best results, use a tape measure to measure around your head where your hat would fit comfortably.