This carousel displays a list of buttons that updates the main product image when a button is clicked
Factor Bike
O2
Road Frameset - 2018
Sale
42%
Off
$2,899.00
$4,999.00
Item # FCB0003
Find your size
Note: Actual inseam is not the same as pant inseam.
Recommended Size
We recommend a size in this bike.
Our size calculator is a starting point for finding the right size for you. To get personal advice talk to one of our fit experts at 1.888.276.7130 or chat now
Select options
Cancel

Select options

Burnt Orange, 56cm ($2,899.00)

Burnt Orange, 58cm ($2,899.00)
Select package
Cancel

Select package

Frame Only

Shimano Dura Ace Di2 R9150 (Standard)

Shimano Ultegra Di2 R8050 (standard)
Item #

FCB0003
Description
Rarefied.
Despite its status as a relative newcomer to the industry, Factor Bikes is already known primarily for its willingness to depart from traditional frame limitations in pursuit of on-road benefits. The O2 Road Frameset represents a different kind of departure for the British brand, eschewing much of the aerodynamic wizardry that defines Factor's flagship models with a more classic design and some always-appropriate weight loss. Given the fact that so many of the pros at One Pro Cycling are choosing the O2 for all-purpose race applications ranging from the fast courses of Britain and Korea to Utah's grueling mountains, we believe the results speak for themselves.
The O2 doesn't have the OTIS head tube/fork construction or Twin Vane down tube of Factor's flagship model, but it does feature the same uncompromising carbon lay-up and an angel-of-the-mountains-worthy 740g of claimed frameset weight. The low weight and deceptively responsive drive spine seem mutually exclusive, but Factor manages to bridge the divide while maintaining an admirable amount of long-mile comfort. It's not as smooth as an endurance-minded steel frame, but the O2 doesn't have the ass-on-asphalt punish factor so common in the sub-800g, high-mod category.
The O2's characteristics are the product of a collaboration between some big names in the cycling industry and a big name in automotive aerodynamics. The project was started by bf1systems, a motorsport firm that dabbled in cycling with the revolutionary (and non-race-legal) Factor 001 and Vis Vires framesets. A group of two-wheeled visionaries recognized the potential of bf1systems' designs, snapped the Factor name and technology up, and have since translated it into race-legal framesets with the ultimate aim of sponsoring a World Tour team.
Though not as pronounced as the One and One-S models, the O2's aerodynamic benefits are still readily apparent to the naked eye. The vertically oriented tubes' bullet-nose face and truncated tailing edge will be no surprise to anyone staying abreast of industry advances because the shape babysits airflow from the point the frame encounters it till long after it's detached and dissipated into wake. The abbreviated rear face is especially important for two reasons. First, it reduces the negative vacuum of trailing drag that traditional NACA tube shapes produce. Second, it doesn't turn into a destabilizing parachute when crosswinds and road conditions shift the yaw angle outside of a NACA profile's near-zero comfort zone.
The frame's aerodynamic features extend to such subtleties as a hidden seatpost clamp, tucked-away seatstays, internal cable routing, a Di2 junction box, and the inclusion of an integrated stem/bar unit designed to work as part of a drag-reduction system with frame and rider. Frankly, we expect this roster of wind-cheating features from high-end aerodynamic road frames; given Factor's penchant for going above and beyond what's expected, it's no surprise that they're all represented here.
The fact that the aerodynamics don't come at the cost of comfort is a surprise, though. We've got to stress again that the O2 isn't as buttery smooth as a classic, lugged steel frame or a heavy, carbon cobbles machine, but it does transmit a lot less harshness than the non-traditional tube shapes and seatpost would suggest. Maybe this is because of the low chainstay juncture and shape, or maybe it has something to do with the EM2 RGicarbon lay-up. Given one that one of Factor's co-owners has a 15+ year pedigree producing carbon frames for an impressive list of boutique brands, we suspect the latter might play a significant role. The O2's EM2 RGicarbon construction involves three different carbon moduli that balance the vibration damping and durable compliance of lower and middle moduli with the unyielding stiffness of Pitch Fibre, a material that is as unabashedly stiff and light as its name is unabashedly British.
Since it's the star material in EM2 RGicarbon, we'll linger a bit on Pitch Fibre. Factor isn't shy about claiming that Pitch Fibre is the lightest, stiffest material that can be shaped into a bike frame, so you might assume three things here: 1) Pitch Fibre is extremely difficult to work with, 2) it's very expensive, and 3) Factor jealously guards the exact details of its lay-up schedule. You'd be correct on all fronts. The one insight Factor gives into its process is the use of a program called Fibersim, which Factor uses to "ensure that we put the waste into the garbage can and not into the frame." Fiberism helps keep material to a minimum, resulting in fabric cuts and construction as discerningly meticulous as the wardrobe of brand-ambassador and sartorially gifted cyclist David Millar.
The frame is also accessorized like a bespoke tailored suit. In addition to the fork and seatpost, Factor packages the O2 with a Ceramic Speed (yep, ceramic) bottom bracket, a Cane Creek 40 headset, a compression plug, steering tube spacers, a spare derailleur hanger, bar tape, and a few other unlooked for but indispensable items. Though the tires aren't included, the O2 enjoys generous clearance, allowing 28mm tires and opening up terrain possibilities that were previously unimaginable for a race bike like this.
An all-new racing frameset that's already proven at the pro level
Carbon lay-up targets weight loss and wattage firepower
Aerodynamic design with European motorsport pedigree
One-piece carbon bar and stem keep the cockpit aerodynamic
Black Inc. carbon seatpost and integrated clamp mechanism
Ceramic Speed bottom bracket included
Internal, sheathed routing makes for easy cable install
Generous tire clearance accommodates up to 28mm donuts
Not compatible with mechanical groupsets
View more Custom Road Bikes & Frames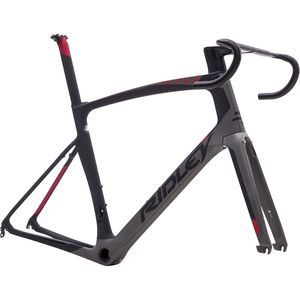 Ridley
Noah Fast Road Frameset
Current price:

$2,249.00
Original price:

$4,499.00
Sale
50%
Off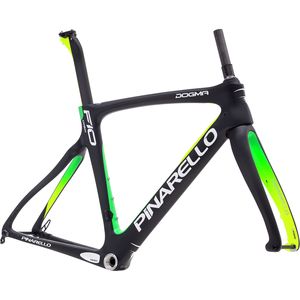 Pinarello
Dogma F10 Disk Road Frameset
Current price:

$3,798.00
Original price:

$5,999.00
Sale
37%
Off
5 out of 5 stars from 2 reviews
5
2
(2)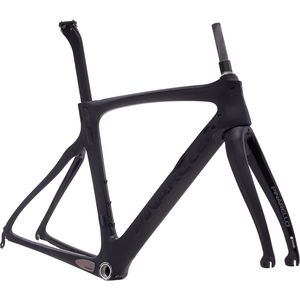 Pinarello
Dogma F10 Road Frameset
$3,798.00

-

$3,999.00
Sale
37%
Off
5 out of 5 stars from 1 reviews
5
1
(1)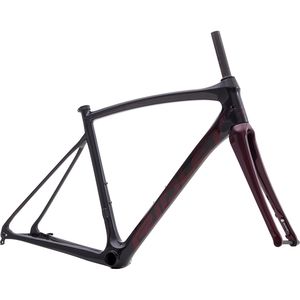 Ridley
Fenix SLX Disc Limited Edition Frameset
Current price:

$1,599.00
Original price:

$3,499.00
Sale
54%
Off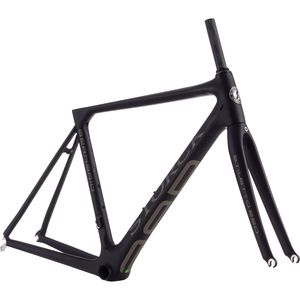 Storck
Aernario Platinum Road Bike Frameset - 2018
Current price:

$2,999.00
Original price:

$5,999.00
Sale
50%
Off
5 out of 5 stars from 3 reviews
5
3
(3)
What do you think about this product?
>Rating: 5
November 13, 2019
first Factor
Familiarity:

I've used it several times
I picked the 02 over the one because I'm more of a weight weenie than aero guy. That being said the 02 isn't the lightest frame out there but when you're climbing you'd never know. When you stand up it goes, the frame if very lively and that's what I loved about it. It's stable at high speeds, at 50 mph downhill it's about as secure as I've felt and that's with some fairly deep dish wheels. Factor is not the newest frame out there but they've moved way up to the top of the field for good reason. I was actually surprised how much I liked riding the 02 being a lightweight rim brake guy. This is up on my list of new frames to build over the winter now.
Kyle Br
>Rating:
January 28, 2019
hi...i see a big big difference between the claimed weight of 740 grams and your weight of over 900 grams...cant believe the paint would weigh that much...can u explain?? cheers and thanks
Joe E.
>Rating:
September 14, 2018
Does this frame take any standard 27.2 mm round seatpost ? Or do we have to use the one that ships with the frame ?
Chris Dahms
Kyle Br
November 13, 2019
the frame comes with a post but you can replace with any 27.2, it's a standard post.
Hello - is there a stem/bar included with the 2018 frameset? I don't see it in the checkout process, in 2017 it used to ask for stem length and bar width. Thanks.
10kman
Hello, I am thinking of buying the O2 in disc version, one concern i have is the short chainstays (40.5cm) and DA di2 disc combo. Is there any issues and concerns with disc and DA Di2 working properly and quietly and flowlesly with such short chainstay, is there a bigger cross chain issue here then you would like???? I think Shimano recommends minimum 41.5 cm lenght for the Di2 Disc setup.
Gerard K.
>Rating:
October 19, 2017
Do you have an idea when the disc version will be available?
Shannon M.
Tommy Liao
October 19, 2017
As far as I know, they're available now. Feel free to reach out if you want to talk about the O2 disc.
Best bike I've ridden.
Familiarity:

I've put it through the wringer
First, there's the response. Every input results in forward motion. Climbing is a bit quicker, a bit less strenuous than other bikes. On a long climb these assets add up. I'm comparing my 02 to my Scott Addict (2009) and my Look 695 (2012). Descending is scary because I'm not scared (until I sneak a glance at my Garmin). Wow, 3-5 mph faster through the corners. Is the bike that much better, or does its agility spur me to acts of insanity? Who knows, but it works. Ride is fine for a racing bike. I feel every road texture, but the road doesn't beat me up. I've ridden up to 4.5 hours in the three weeks I've owned the Factor, and I'm fine (relatively) when I finish. The matte black frame is beautiful in a fighter-jet way: focused, purposeful; it says "let's go fast." Last, the company president personally responded to my questions about equipment and set-up. Who does that?!
Mark C.
Mark C.
May 30, 2017
Update May 30. I got 3rd in my age group (65+) at the Iron Horse in Durango, CO. I noticed I was having some speed shimmy problems over 40 mph, and I lost some time to the first two finishers. Even with the descending problems, I did 2:56:39. Under 3 hours is good for someone almost 70 years old. When I got home, I changed out the 3t bars and the 110 stem I'd been using - and installed the integrated 90 mm Factor bar/stem that came with the frame. I had thought I wouldn't like it. The new stem is shorter, and suddenly the bars are under me and I'm in control! After 12 years of using a too-long stem, I finally found the root of my recurring
Mark C.
January 6, 2018
Update Jan 6, 2018. On Sept 1, 2017 I "dropped" my front wheel into a gap in a storm drainage grate. I suffered four broken cervical vertebrae, six broken ribs, two skull fractures, a broken hand, a broken front tooth, torn muscles and ligaments, and the loss of most of the skin on my jaw. My Factor suffered one minuscule paint chip. On a black carbon bike, the chip is invisible. The saddle and the handlebars weren't even twisted. Amazing. I spent three months on my indoor trainer, and I'm out riding again. The bike does whatever I can do without drawing attention to itself. That is the highest praise I can offer. The bike is a part of my body (the part that isn't 68 years old). Great bike. Great support from Competitive Cyclist.
Love my new Factor O2......
Familiarity:

I've used it several times
I have now had the chance to ride my Factor O2 a couple of times out on the road and absolutely love it. Have received numerous compliments on my "beautiful bike" and now can say that it rides beautifully as well. The bike is tight, responsive, fast, and comfortable. Spent some time with a bike fitter getting it really dialed in and the frame feels great. Bill Sherman @ Competitive also worked with me to put the perfect components together. I went with ENVE wheels and the SRAM red wireless package. The combo has been awesome. It all feels and rides great. The folks at Factor have also been super helpful. Rob and Baden, the founders as well as Walter on the production side has been awesome. Thanks again, Alan
Alan T.
With the Black Inc. seat post, does it come with hardware for both carbon and metal seats? I typically use oversized rails.
Douglas B.
Bill S.
April 18, 2017
Yes, you can use oversized rails with this. Feel free to call me direct if you have any other questions. 801.204.4545
Is the O2 frame available in the grey and turquoise color scheme?
Christopher H.
Bill S.
April 18, 2017
Christopher, we will be getting the Turquoise color in. It is not "live" on the site yet, but happy to get the wheels rolling if you are interested;) Give me a call if you have any other questions.
>Rating: 5
February 24, 2017
Factorized
You probably haven't heard of these boys yet, but you will shortly. They will certainly be a highlight at the tour this year. Out of the Factor lineup this is the workhorse in my opinion. The O2 is the most versatile and delivers comfort and beauty. The clean lines really differentiate Factor from the crowd and this comes at a great time when riders are looking for something new. The ride is what you would expect from a high-end carbon bike manufacture - smooth. It does have asymmetrical chainstays, which will balance out chain pull and help with power transmission. At least that's what all the engineers stay, and of course Pinarello says that as well. Nevertheless, the 3 different types of carbon they use to build this frame where certainly put in all the right places because it climbed great and was definitely stable on the curvy descents here in Salt Lake. One thing I would like to see changed is the integrated stem and bar. I have never been a fan of this since most bar/stem options never work due to angle and length, but they are gorgeous. One plus, is Factor Garmin Mounts are included with the framesets. If you use a Wahoo or another brand the best bet is to do a top cap mount. Here the measurement for the Bar/Stem setup per frame size: O2 49cm 400x90 52cm 400x90 54cm 420x110 56cm 420x110 58cm 440x120 61cm 440x120 Please give me a call if you have any questions on this - happy to help out and build something up custom for you. Measurements: 5'-10" - Saddle Height 71.5 - 54cm fit perfect. Bill Sherman Customer Account Manager-Bike Office: 801-204-4545 bsherman@backcountry.com
Bill S.