This carousel displays a list of buttons that updates the main product image when a button is clicked
Evil Bikes
The Following
MB X01 Eagle Mountain Bike
Sale
41%
Off
$3,999.00
$6,799.00
Item # EVB1SPP
Find your size
Note: Actual inseam is not the same as pant inseam.
Recommended Size
We recommend a size in this bike.
Our size calculator is a starting point for finding the right size for you. To get personal advice talk to one of our fit experts at 1.888.276.7130 or chat now
Select options
Cancel

Select options

Drunk Olive, M ($3,999.00)

Drunk Olive, L ($3,999.00)

Drunk Olive, XL ($3,999.00)

Smashing Pumpkin, S ($3,999.00)

Smashing Pumpkin, M ($3,999.00)

Smashing Pumpkin, L ($3,999.00)

Smashing Pumpkin, XL ($3,999.00)
Item #

EVB1SPP
Description
The Following MB X01 Eagle Mountain Bike
Anyone who says you need a lot of travel to have a lot of fun has yet to ride the Following MB (More Better'er). This diabolical shredder can do so much more than its 4.7-inches of rear travel would have you think, punching way above its weight class and giving bigger bikes a serious run for their money. In fact, that's the Following's M.O., to show you that less can be more—especially when it comes to having more fun, logging more miles, and sending more lines that are outside your comfort zone. And though Evil's bikes tend to gravitate toward the gravity spectrum, this is one that we wouldn't hesitate to pedal all day long, seeing as it's comfortable and efficient enough to do so without leaving you totally gassed by the time the sun sets. The truth is, we like the bike so much that we've put together this in-house build using a mix of reliable yet cost-effective components, all with the hope that more of you can see for yourself why the Following MB has earned such widespread critical acclaim across the industry.
The Following MB's versatility is the secret to its black magic. We've built this one up with a 130mm Fox Factory fork and with the geometry flip-chips in the low position, you have a bike you can pedal all day and even give the XC crowd something to worry about. But if you flip the chips to x-low (extra low), you'll have an all-mountain ripper that won't back down from rugged enduro stages and can tackle trails most 4.7in travel bikes have no business being on. We generally subscribe to n+1 when making a new bike purchase but the new Following is a serious quiver killer. Oh yeah, we almost forgot to mention that the Following MB is 27.5+ compatible. At first glance Evil reserved judgment and chalked up plus tires as just another industry ploy to sell more bikes. After spending some serious time on plus bikes, Evil feels like they definitely have a place. After all, Evil's head honcho, Kevin Walsh, wasn't immediately warm to the idea of 29ers when developing the Following but after getting it dialed in and spending some saddle time, he and most of the Evil crew almost always reach for the Following or Wreckoning depending on the conditions. Evil doesn't see plus replacing conventional tire sizes anytime soon and acknowledges that they are a lot of fun in the right conditions.
The Following MB's geometry customization allows a short travel trail bike to ride like a mini-DH bike if the pilot wishes. The frame's linkage includes flip-chips that alter both the bottom bracket height and the head and seat tube angles. With a 130mm fork and dropped to the x-low setting, the bottom bracket is a berm slashing 12.99in from terra firma. The head tube has the ability to slacken out to 66.8 degrees with a 130mm fork also in the same x-low setting. Geometry this aggressive was unheard of on a 29er when the original Following launched 3 years ago and was reserved for 27.5in enduro machines. Once enough Followings were released into the wild and reviews surfaced, journalists, riders, and even other bike brands realized how much fun could be had on big wheels and slack angles. When the dust settled, several bike brand's engineering teams began burning the midnight oil in an attempt to replicate the fun had on the Following. Evil brings a mosh pit to the woods and the new Following isn't afraid to get rowdy. The bike eggs you to push the pace and get out of your comfort zone. Hell, its great fun to scare yourself a little and get the heart racing similar to watching horror flicks the brand so idolizes. Although there is an additional 20mm of reach on the MB compared to the original Following (opening up the cockpit a bit and providing a longer, more stable wheelbase), Evil's signature short 430mm chainstays still exist encouraging riders to jib off any feature you can find on the trail and manualing (or attempting to at least) down the trail whenever you get a chance.
Compared to the original Following, the leverage rate on the MB has been slightly updated to handle those days full of bigger hits and harsh landings. Evil increased the frame's clearance to support various piggy-back, coil, and inline shocks so you can build a lightweight XC/trail slayer or all-mountain/enduro shredder. A newly designed Trunnion mount works flawlessly with the new metric shock standard and the upper shock bolts run on bearings for a super sensitive initial stroke that is much smoother and more active throughout the travel. The assembly appears overly complicated, but it's actually a single pivot configuration at heart using short links between the swingarm and the shock so a dual leverage rate curve can be achieved. Riding the bike, we notice a supple beginning stroke that ramps up for improved pedaling. Further in the travel comes a great linear feel before ramping up to avoid harsh bottom outs. Dave Weagle is responsible for the amazing suspension kinematics and is most likely some sort of sorcerer as every suspension design he has touched (DW-link, split-pivot, and here with Evil with the DELTA) is pure gold. DELTA is an acronym for Dave's Extra Legitimate Travel Apparatus and we feel DELTA is appropriate, because after pedaling the bike around, we are fairly certain Dave Weagle, and not Robert Johnson, sold his soul to the devil in the Mississippi Delta in exchange for his suspension design prowess. There's simply no other explanation for how versatile, adaptable, and surprisingly capable DELTA renders the bike's 4.7-inches of travel driven by the RockShox Super Deluxe RCT shock. While bikes featuring a DW-link four-bar design are pretty well rounded, much of the focus is still placed on pedaling efficiency. Given the Following MB's intentions, pedaling efficiency is still great and the bike we have here does indeed pedal quite well, but where the design really shines is the level of adjustability on offer from the linkage-driven single pivot. Shock tune is important on a DELTA bike, maybe more so than on any other suspension design, and thankfully Evil added a fancy integrated SAG meter on the non-drive side Delta Link to make suspension set up easy. Simply push it forward, sit on your bike, adjust air pressure to 30% sag, then shred.
The Following MB's DELTA pivot location reduces the need for excessive shock damping and you can ride the included RockShox Super Deluxe wide open for rock crawler like traction on water bar-laden singletrack climbs or hucking into root-riddled gaps. Since the Following doesn't have to run an abundance of damping and with the increased sensitivity from the trunnion-mounted metric shock, the DELTA design gives you a perfect balance between a supple, light-off-the-top early stroke and a mid-stroke that keeps the rubber glued to the trail. As you get closer to pegging the fun meter, the travel arc ramps up to maintain a bottomless feel and you will forget you only have 4.7in to play with.
DELTA suspension isn't the only star of the show here. The carbon fiber and special construction methods allowing Evil to craft the Following to such exacting tolerances deserve a mention. Weight savings, increased stiffness, and long term durability became achievable once Evil found the right factory and materials. All of Evil's carbon frames are laid-up in EPS and silicone molds known by One Piece Molded construction. A blend of T700 and T800 carbon, which are high-modulus and unidirectional from the carbon experts at Toray, is laid up and compacted from the inside and out, resulting in uniform wall thickness and eliminating excess resin pooling, imperfections, and structural weaknesses that may have plagued Evil frames of yesteryear. Worry no more. A move from a Pressfit to a threaded shell will get you nothing but praises from us as we prefer the creak-free performance and reduced maintenance that comes with the threaded unit.
With dual wheel compatibility and the ability for geometry manipulation, the new Following MB Mountain Frame from Evil really allows for four bikes on offer from one frame. Build it up to whatever serves your evil intentions but know that the dark soul of this frame is bent on slashing everything in sight and leaving charred remains in its wake.
A short-travel 29er built for a menacingly good time
Versatile handling can tackle XC rides or black diamond trails
120mm of highly capable DELTA travel designed by Dave Weagle
130mm Fox Factory fork makes quick work of the rough stuff
Longer reach increases confidence in steep and fast terrain
Flip-chips let you tweak the geometry to suit the trail
Sag meter makes suspension set-up so easy a zombie could do it
Carbon monocoque construction keeps things light and stiff
More The Following builds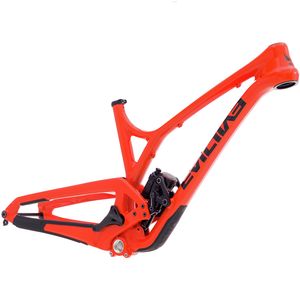 Evil Bikes
The Following MB Mountain Bike Frame
Current price:

$1,899.00
Original price:

$3,299.00
Sale
42%
Off
5 out of 5 stars from 4 reviews
5
4
(4)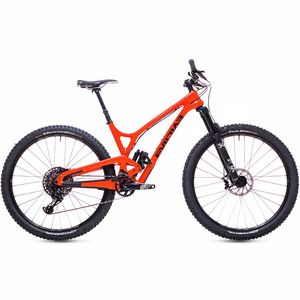 Evil Bikes
The Following MB GX Eagle Mountain Bike
Current price:

$3,499.00
Original price:

$5,799.00
Sale
40%
Off
View more All-Mountain & Trail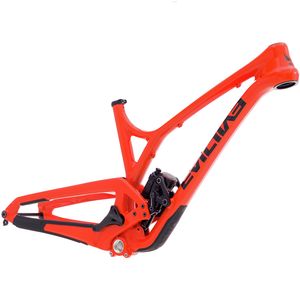 Evil Bikes
The Following MB Mountain Bike Frame
Current price:

$1,899.00
Original price:

$3,299.00
Sale
42%
Off
5 out of 5 stars from 4 reviews
5
4
(4)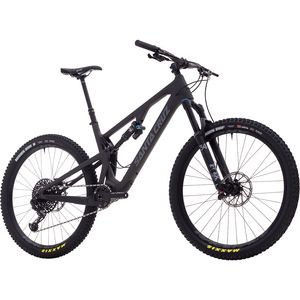 Santa Cruz Bicycles
5010 Carbon 27.5 S Mountain Bike
Current price:

$4,164.00
Original price:

$4,899.00
Sale
15%
Off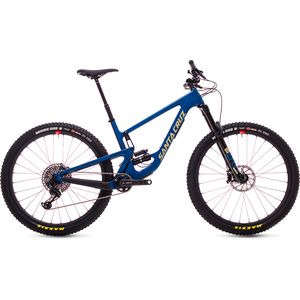 Santa Cruz Bicycles
Hightower Carbon CC X01 Eagle Reserve Mountain Bike
5 out of 5 stars from 1 reviews
5
1
(1)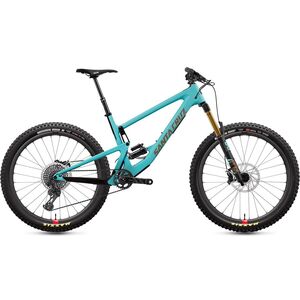 Santa Cruz Bicycles
Bronson Carbon CC 27.5+ XX1 Eagle Reserve Mountain Bike
Current price:

$8,074.00
Original price:

$9,499.00
Sale
15%
Off
4 out of 5 stars from 1 reviews
5
1
(1)
Unanswered Question
What is the weight on a size small with this build?

Thanks