This carousel displays a list of buttons that updates the main product image when a button is clicked
DAKINE
Pickup Pad DLX
Item # DAK016O
Free Shipping on orders over $50
Item #

DAK016O
Description
Pickup Pad DLX
Bikes and trucks go together like peanut butter and jelly. It's hard to compete with the ease of tossing your trusty steed into the bed of a pickup to bust out laps at your local trailhead. The Dakine Pickup Pad DLX is the perfect tool to get it there safely, and protect your carbon frame from the tailgate, or the tailgate from steel scratches and dings along the way.
The fleece lined padding is covered with a thick layer of 1000D polyester for serious durability, and it's topped with a UV- and weather-resistant coating, so you can leave the pad on your truck all season long, always ready spontaneous shuttles. Four straps wrap around your tailgate to keep the pad secure, and two lockable grommets enable you to run a cable lock through all of your bikes, keeping them secure when you stop for your post ride pilsner and pizza. An over-sized access flap enables use of a back-up camera, and accommodates the different sizing and locations of modern day tailgate handles.
The Small pad, intended for a mid-sized truck, carries up to five bikes, the Large fits full sized trucks and can haul up to seven. Regardless of size, the pads include secure bike anchors to keep your machines in place. This may make you the victim to more shuttle requests, but at the end of the day, who can complain about a day of riding with your crew?
The perfect pad for slinging your bike to the trailhead
Sizes for mid-sized or full-sized trucks
Microfleece lining keeps your truck scratch free
1000D polyester is durable and can withstand the elements
Individual bike anchor straps hold each bike securely
Large access flap for tailgate access and rear-view cameras
Works best on new tailgate designs
View more Truck Bed Racks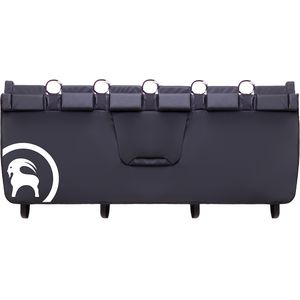 Backcountry
Getaway Goat Tailgate Pad
5 out of 5 stars from 3 reviews
5
3
(3)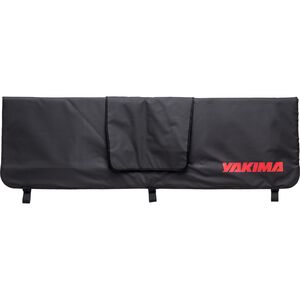 Yakima
GateKeeper Tailgate Pad
4.5 out of 5 stars from 11 reviews
5
11
(11)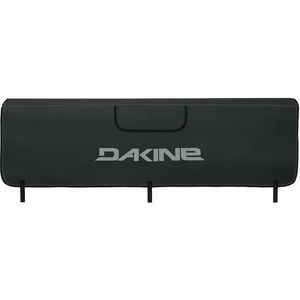 DAKINE
Pick-Up Pad
5 out of 5 stars from 8 reviews
5
8
(8)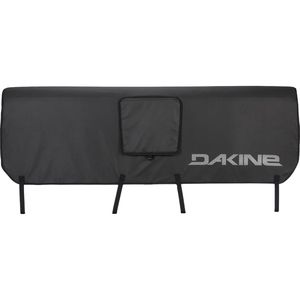 DAKINE
Pickup Pad DLX
What do you think about this product?
>Rating: 5
August 27, 2019
pretty cool
Familiarity:

I've used it several times
I'm running the size large on my 2012 f-150 fits nicely and holds bikes great it does block my back up camera but no big deal the straps are great qualty. I really like the soft liner on the inside of the pad so there's no risk of scratching the paint. I'd highly recommend.
Lane C.
This pad, be bad. IN A GOOD WAY!
Familiarity:

I've used it several times
I've had this pad on my 2019 Tacoma for about a month now and am seriously impressed. I also have a rolling tonneau cover (made by Tyger) and am able to fit the pad underneath when I roll the cover back and THEN shut the tailgate (even with the back-up flap flipped up!). With the straps properly snugged down the pad won't move at all. I recently got into some impromptu off-roading with some rough terrain and the bikes stayed completely locked down and steady. Highly recommend!
Tanner Huffman
Sarah S.
November 20, 2019
Hi Tanner. Did you get the size small or large for your Toyota Tacoma? Thanks!
Great Pad
The size large works great on a 2015 Tundra. The large flap on the back doesn't block the backup camera which is nice. Holds bike super secure as well.
Chad Cordell
Great Tailgate Pad
Familiarity:

I've used it several times
I use this tailgate pad on my 2016 Toyota Tacoma and have no issues. It has lots of padding/coverage so your bike will not scratch your paint or bumper. The straps are very secure and bikes stay secure even when driving over bumps or on the highway. If you have a truck, I highly recommend this pad. The only negative is that I cannot close my tonneau cover with the pad on the tailgate.
Jacob A.
>Rating: 5
October 5, 2018
Help my items to be protected
Is the perfect tool to get your items safely
America V.
>Rating: 5
September 9, 2018
Does what it is supposed to
Familiarity:

I've used it several times
Protects the bikes (I have used for mountain and road), protects the truck. The velcro on the straps is such that I need 2 wraps on the bike frame to make the sticky parts match, seems to hold the bike fine though, maybe designed for a thicker frame tube? Overall very satisfied- much easier than receiver type racks, and overall vehicle length is not increased (much). Pad is full sized. Good fit on 2004 F150.
phred
Tough and secure
Familiarity:

I've used it several times
Researched a lot of tailgate pads and decided on this one. Bought this to replace a 5 dollar blanket. Some people are fine with that, but not as secure as a tailgate pad. The flap for the back up came works well with the newer truck. I use it on a 2015 f-150. There are 7 Velcro straps ( size large) on the inside to help secure the bikes. They worked well on bumpy dirt roads. This pad is great for those shuttle trips with big groups.
Nick F
For the Tacoma
Fits pretty good on the truck, does the job, and fits infer the camper shell window (kinda). The only thing that I don't like about it is that it is super thick/stiff and given I have a camper shell I need to keep finding something to do with the handle flap (I like using the rear view camera). I might just cut the flap off.
Sebastien L.
Ben
May 23, 2019
Is your camper shell the taller size or the regular size that is flush to the top of your truck? Why I ask is I'm trying to figure out if my bikes can fit under my shell and till hang over the tailgate.
Backup Camera Ready!
Familiarity:

I've used it several times
I really like this new truck pad from Dakine. My only complaint about my old Yakima pad was that I was unable to use the backup camera on my truck. Dakine fixes that problem with a large window that latches to the back of the pad to keep the camera clear. I will say however that the folds in the pad take some time to break in and properly conform to your truck bed. But other than that it's a great pad. Also, although not shown in the pictures online, there are bike fasteners on the pad to secure your bike.
Nick Chan
>Rating: 5
February 13, 2018
Couldn't be better
Familiarity:

I've put it through the wringer
We have gone through a lot of pickup pads but Dakine lasts the longest and with the best protection for our bikes! Really helpful that this accommodates a backup camera!
Maggie
>Rating: 5
November 30, 2017
Big improvment
Familiarity:

I've used it several times
Have been using the regular truck pad for years but just bought a new Tacoma and the original pad just didn't fit right. This pad works with the thicker tailgates and the new access flap is much better as there is a clip to hold it up so you get much better veiw from the camera if you have one.
Steve O