This carousel displays a list of buttons that updates the main product image when a button is clicked
Continental
Grand Prix 5000 Tire - Clincher
Sale
38%
Off
$49.57
$79.99
Item # CON005O
Select options
Cancel

Select options

Black, 23mm, Black Chili ($49.57)

Black, 25mm, Black Chili ($49.57)
Free Shipping on orders over $50
Item #

CON005O
Description
Grand Prix 5000 Tire
The all-new Grand Prix 5000 Tire from Continental is a worthy successor to its Grand Prix 4000 S II, a tire that stood atop its road clincher tire range for a dozen or so years and a favorite among cyclists worldwide. What made the GP4000 so universally loved was that it was truly a competition-worthy tire in terms of weight, grip, and rolling resistance, but unlike typical racing rubber, the tire was actually durable enough to fend off debris so you could train on it daily, while also lasting quite a while so you could rack up some miles before the threads began to show.

We'll start with its rubber compound as it continues to use Black Chili balance. The rubber compound is critical because it defines the tire's grip, rolling resistance, and longevity. Typically, you can't alter one without it affecting the other which is exactly where Black Chili shines. Using the latest knowledge of polymers and raw material research, Conti uses special synthetic rubbers along with proven natural rubber, creating a high-performance mixture. To it, it adds super-tiny carbon black particles, optimized in shape and surface properties.
The complex compound technology is so exclusive that Conti only manufactures tires using Black Chili compound in its Korbach, Germany plant. The tiny size of Black Chili particles allows them to mold to variable road surfaces more readily. It gives the tire greater ability to conform to imperfections in the road surface for excellent grip in demanding situations, such as high-speed cornering, while also reducing rolling resistance. Since the Black Chili particles are so small, more particles fit into the contact patch of the tire, reducing wear and increasing longevity.
A clincher racing tire that you can train on
Black Chili compound reduces rolling resistance, increases grip
Active Comfort Technology lessens vibrations for a smoother ride
Vectran breaker technology reduces puncture risk
Lazer Grip etching improves cornering traction
Conti's GP5000 ushers in a new era of road clincher tire dominance
View more Road Clincher Tires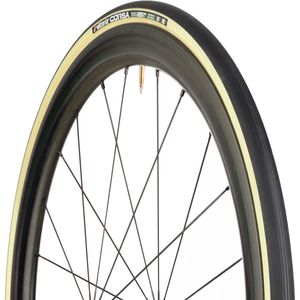 Vittoria
Corsa G Plus Tire - Clincher
Current price:

$39.99
Original price:

$69.00
Sale
42%
Off
4 out of 5 stars from 58 reviews
5
58
(58)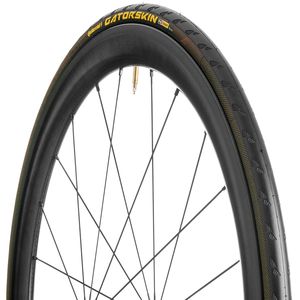 Continental
Gatorskin Tire - Clincher
Current price:

$35.97
Original price:

$59.95
Sale
40%
Off
4.5 out of 5 stars from 107 reviews
5
107
(107)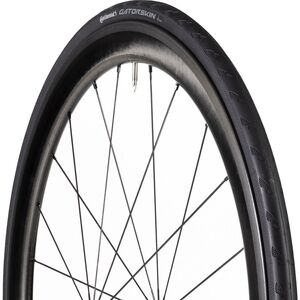 Continental
Gatorskin Tire - Black Edition
Current price:

$35.97
Original price:

$59.95
Sale
40%
Off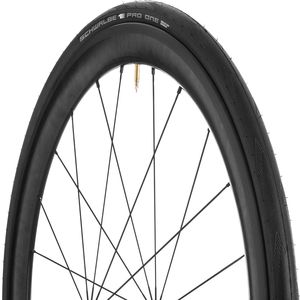 Schwalbe
Pro One Tire - Tubeless
Current price:

$34.34
Original price:

$85.60
Sale
60%
Off
3.5 out of 5 stars from 47 reviews
5
47
(47)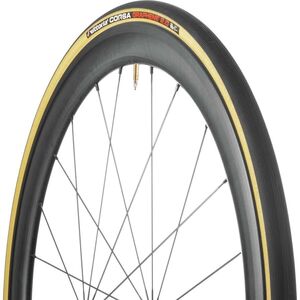 Vittoria
Corsa G2.0 Tire - Clincher
Current price:

$55.19
Original price:

$68.99
Sale
20%
Off
4 out of 5 stars from 2 reviews
5
2
(2)
What do you think about this product?
200 Miles - - so far so good
Familiarity:

I've put it through the wringer

Fit:

True to size

Height

5` 7"

Weight

160 lbs
I've always heard that one of the smartest and best enhancement to a bike is to get new tires. I now concur! I picked up 3-4 mph, depending on the road. Smooth, fast and grippy. It runs tight so fitting it into the rim will take a little bit of time and some sweat. Don't let the other reviews regarding the size scare you. It'll fit, just work with it.
Abner Sabino
Yes, shorter than you think!
Familiarity:

I've used it several times

Fit:

Runs small

Size Bought

25mm and 28mm

Height

5` 10"

Weight

146 lbs
I bought a 25mm 5000 series Conti to replace a Michelin Pro 4 on my front wheel. I was immediately surprised by how much "shorter" the Conti was than the Michelin. This was a big deal as I ride a 10 year old Fondriest DF2, which I love but was a bit sad that I had to go with the narrower tires popular back in the day, because the wider tires were too tall for the frame and fork. After riding on the new tire I was very surprised to find that it actually had a "silkier" ride as proclaimed in other reviews. I usually attribute such claims to the excitement of putting on new rubber or the difference between a new tire and an old used one. However, I can say emphatically that the difference was more than subtle, although I may be falling into the same trap I just described. In any case I ordered a 28 mm for my front wheel and moved the 25 mm to the rear (spacing is more confined than the front fork) and I am now enjoying the lovely road feel of the wider (but not Michelin tall) Conti tires. Now, there is a caveat to all this as the wheel width can have an effect on the "tallness" of the tire, I believe. So buyer beware, your wheel-set may be an issue. But for me, I get to keep a frame I love for awhile longer than I anticipated.
Ken
Does this come with a pair of tires or are these sold individually?
alexander burgazzoli
Velo Junky
May 1, 2020
Individually
32mm Road Tires for the Win
Familiarity:

I've used it once or twice and have initial impressions
As a recreational sport rider, my main focus on road rides is going far and exploring new roads. Im in no way someone who's concern is all about speed. That said, first impressions, I was shocked at how fast the 32mm felt on the road. Coming from 28mm, this wasn't a huge shift but the added comfort on inconsistent New England roads was very welcome. Im 133 lbs and ran these with pretty low pressures (55 front/60back), they still felt a touch stiff so I might try less pressure on my next ride. I've got less than 50mi on these but id def buy these again.
Jinda Phommavongsa
Sticky
Familiarity:

I've put it through the wringer
These tires are great, super tacky and roll well. Since they are very supple, they are heavily prone to getting nicks from small rocks/road debris if you ride in such areas. Overall flat protection is good.
musa
>Rating: 4
February 26, 2020
much truer to size than GP4000
It will be another month before the roads clear for riding (so my 4 star grading doesn't mean much), but I can comment on the width of these. I went with the 700x25 clinchers, and mounted them on my DTSwiss ERC 1100 rims with 19mm internal diameter. Using a micrometer, the GP 5000s at 90 psi measured out to 25.8 mm width. This compares to the 700x25 GP4000s which measured out to 27.45mm on the same rims.
David M.
>Rating: 3
January 13, 2020
Good tires / not very supple
Familiarity:

I've put it through the wringer
I use these for their good durability and grip. I do find them strangely 'hard' and often think I've run over something or am having a flat due to this harshness.. I normally ride on tubulars (Vittoria and Veloflex) so I'm spoiled for ride quality and road feel. But these are also not even as supple as Vittoria clinchers .. Still I like the no-flats and long-life factors, so continue to use them on daily training where performance isn't really the main issue. If you're looking for finesse and a true race-day tire, and feeling connected to the road, go with Vittis or Velos.
Bonnie K.
Scott Justesen
January 19, 2020
I agree. My 5000's were very flat prone. Went back to the Corsa G's.
>Rating: 5
January 12, 2020
Great tires
These are low rolling resistance tires with great grip and puncture resistance. And they last long for a lightweight racing tire ihave used these for a couple years with excellent experience.
TIM R.
>Rating: 5
December 18, 2019
GP 5000
Seems to be a great tire. Rolls fast and smooth.
Stoney S.
>Rating: 5
October 14, 2019
My friend Loved Them
Familiarity:

I've used it several times
I got this for a friend. He loves the Contis! He has tried other tires, but these are by far the most flat-resistant and longest lasting tires out there he says. The new 5000s provide a very, very good ride and should last for thousands of miles.
Kristopher King
>Rating: 2
September 23, 2019
Bring back the 4000
Familiarity:

I've put it through the wringer
Fast tire, but otherwise a big step down from the 4000. Tire completely squared off after 500 miles. I used to get 3,000 miles out of the 4000's. This has gone from a great all around road tire, to a race day only tire.
Christian S.
Alan B.
December 12, 2019
Thanks, I have heard that from a few people. I stocked up on the 4000s whenever they are on super sale. I have about a dozen in my garage.
>Rating: 5
September 8, 2019
Great so far
Familiarity:

I've put it through the wringer
I run these or Vittoria Corsa G's. They seem better made than the Vittoria's where I literally peeled off the tread from the tube the other day.
1245
>Rating: 2
August 22, 2019
terrible sidewall strength
Familiarity:

I've put it through the wringer
bought two sets a few months ago. Two tires have sidewall tears already, each less than 500mi. The tops are wearing quickly too. It could be shitty western PA roads, but still. I wanted to love these but I'll have to switch to something else.
MikeZ
John B.
April 29, 2020
I agree. I bought 2 of these last year and loved the way they rode. Quickest way to make your bike feel more responsive. The first one blew a sidewall on my third ride and needed a folded dollar bill to cover the hole and get back. I replaced the second after about 12 rides but am not sure the tire was at fault.
>Rating: 5
August 17, 2019
Great Tire
Had to buy these in a jam (long story) when there were no GP 4000's available. I put them on my HED Jet 6 Plus wheels and rode them for a few days and they felt so good I raced them on the Salt Lake Downtown Crit which was a rough, technical course. They were supple and smooth and very stable. I weigh 185 lbs and ran / run them at 81 pounds rear and 79 pounds front. It has been a month since then and I have had no problems in 1000 miles. I am very confident on them and they do not seem to be as susceptible to side-wall cuts as the 4000s are.
Scott M.
Sidewall split... walk home event
Familiarity:

I've used it several times
Excited to try the new 5000 (25mm) tires on my Rolf Prima wheel set. Great feel and fast... last 8 years I have been on the 4000/4000ii, and these were easy to install - my new fav tire... until they were not. Yesterday, 40 miles in, at the turn I had a front flat... smooth pavement (110 lbs, 205 rider weight). I changed the tube - hole was easy to find - no wire on the inside of the tire... odd, no pinch impact. Was about to start start back and saw the grape - sidewall failure. In 10 years of IM training I have had lots of flats... but never a sidewall failure. With a number of long/fast descents I called for a ride... sure, could have deflated and put a gu wrapper to the inside... but why risk it... it was a training ride. Disappointed <200 miles on the tire... I expected better.
Leo B.
Larry Hutchinson
August 13, 2019
Hi Leo, that doesn't look good, would definitely have a talk to Conti about that. I'm similar weight (210#), I'm running the 28C's on Zipp 404's at 98-100 psi. I have hammered the crap out of these for ~3,000 km so far, including chip seal, short gravel sections, lot's of back roads, highway shoulders littered with junk at racing speeds, and some serious high speed mountain descents and I've not experienced anything like that. In fact I've found mine to be more cut/nick resistant than the Schwable Ones that have been my standard for years.
1245
September 8, 2019
wow, that's impressive. I wonder it was a defective tire to begin with.
Roy Palad
July 4, 2020
I've purchased one from LBS and found one like that after i just installed it. Took it back off right away and exchanged it for a new one. Possibly a bad batch. I'd still buy them though. Great deal here. I just needed one asap to get riding.
New "Go To" Tire for Training & Racing
Familiarity:

I've put it through the wringer
I've been a Schwalbe fan for years and a Schwalbe One Clincher fan in particular in both 25C & 28C. After reading a lot of reviews I decided to give the Continental GP 5000's a go despite the fact that I had some bad experiences with some gravel kings a few years back. Back to back on the same bike, wheels, tubes, pressures the GP5000 28C's are marginally faster over my well traveled training routes and they do in fact feel more "supple" vs. the Schwalbe One. After about 2,000 km of training rides over my usual routes they are showing no more/less wear vs. typical for the Ones and the cut/nick resistance seems to be better. I typically wash my tires after every ride (seldom <70km) and inspect and superglue any nicks/cuts before my next ride so I'm pretty rigorous on inspection and I do think these are less damage prone. I have had one flat doing a 135km ride on Mt. St. Helens, puncture on a sharp bit of debris but this was simply bad luck and would have punctured most anything I believe. From a handling perspective they inspire confidence, every bit as good if not better in cornering and braking vs. the One. I'm an aggressive descender and at 190cm, 95kg I really push cornering/braking limits and find the GP5000 grippy and predictable. I've not done a lot of riding with them in the wet but what I have done has been "no drama". Very impressed with these really and have already bought another set in 25C for another set of wheels. Highly recommended.
Larry Hutchinson
1000 more
Familiarity:

I've used it several times
I've ridden the conti 4000 series for quite a long time now. I've tried some other tires but have always come back, they are/were a great tire. I've only put a few hundred miles on the new 5000's and so far I do feel a difference, although very small. Very smooth ride for a clincher, as always, but super nice on the new version. Protection has been excellent but we'll see what a summer of riding brings. I'd expect them to be great, I expect a lot from conti now, they've set the bar high.
Kyle Br
Howie
May 30, 2019
Kyle, Can you confirm, or deny, the slight change to the 5000s "profile"? Im running into clearance issues with 25C tires. Im running 4000IIs and they come close to rubbing the top arch of my SRAM Red brakes. If I open the calipers a bit on a climb, or if the pads are new and the calipers need to be wider, the top of the tire will rub against the caliper. My LBS said the 5000s are designed to not be as tall as the 4000s. Any ideas?
Methodical
December 14, 2019
Howie, I don't know if you purchased these tires, but it's been confirmed that these run more true to size than the 4kIIs. I have a set of the 4KII 28mm tires and they are at about 32mm on my wheels. I'm about to go with the 5k 28mm. Did you buy the tires and if so, what did measure out to? Thanks...
The best got better
Familiarity:

I've used it several times
These are a nicer more supple road feel compared to the 4000's II's with more cut resistance. Ive logged about 400 miles here in NH so far this spring. The roads have debris everywhere. On my 4000 II's I would have had a couple small cuts or nicks here and there. Nothing of concern but I would find something. I just inspected both tires closely this morning on the new 5000's. After inspection I cannot find a single cut or nick after appx 500 miles. Better ride feel with more cut resistance is pretty cool. Not to mention they are slightly lighter to the previous gen tire. Really great tire as expected. I hope the long term wear is as good as the 4000's but obviously after 400 miles I cannot speak to that. Judging by the short term cut resistance I would expect them to wear at least as long, if not better as a 4000 II long term.
Evan W.
Active comfort actually works
Familiarity:

I've put it through the wringer
I've always admittedly been mostly a Conti tire rider on 4 seasons and 4000's. When the 5000 came out with the 'active comfort' claims I scoffed at a potentially gimmicky do-nothing technology. It works!!! The difference is immediately noticeable as you get that supple cotton tire feel. Logged over a 1000 miles on a set of 25's and bumped up to the 28's since they've become available just to try them. Even MORE comfortable! Still rolls crazy fast. Can't praise Conti enough for these. Can't wait to try the TL.
David
Bead failure
Familiarity:

I've used it several times
I just put these on a week ago. My previous Michelin power competition clinchers lasted about 3500 miles. I ride enve 6/7 wheels. Less than 60 miles later and I had a bead failure where the tire came out of my rims and caught in my brakes. Pretty nasty fall. But the bike and my body is ok. I would caution anyone looking at these to take a second look at other tires. Maybe it was a defective tire, but I won't be running these again.
Justin K.
Alexander Ortiz
April 29, 2019
Hi Justin, I would contact ENVE about this issue. They recently issued a product warning that some open tubulars are not safe to run on their carbon wheels because beads are tearing. I run ENVE 3.4 and the sharp edges on the wheels have been tearing the beads on the Vittoria Corsa tires I've been running. ENVE blames the tires manufacturers but I do think the ENVE wheel edges are quite sharp. I've switched to the more robust Schwalbe One tires and I've had no issues so far.
Christian M.
July 22, 2019
I think this is a Conti problem for sure, not a rim problem. I had a similar bead blow out on a Gatorskin two week ago on my Mavic wheels - same exact thing, no side wall cut and about 40 miles into my ride on a brand new tire...
Reid
July 25, 2019
I had a similar blow out with my conti's. New tire. Bead failure formed an "aneurysim" and blew out like a gun shot. Scared the crap out of me. I took the tire to my LBS and they direct exchanged the tire. Conti likes to find out why their tires blow out some times.