Description
The front derailleur has never really been near the top of the list of priorities for most component manufacturers; Tour de France victories have even been derailed (pun intended) by faulty front derailleur shifting . Not so for Campagnolo; for two decades, Campy's engineers relentlessly worked to perfect the most accurate and precise front derailleur in its fabled history. The Record 11 EPS v1 Front Derailleur achieves this through the use of Campagnolo's new Electronic Power Shift, or EPS. With EPS, Campagnolo has re-imagined the capabilities of the front derailleur, and has forever changed its expected function. The electronic revolution is here, and there's no going back.
The Record 11 EPS v1 Front Derailleur is a technological marvel. Like Campagnolo's Record 11 EPS Rear Derailleur, it operates on an electronic actuator comprised of a gear motor and an electronic sensor. Where it differs is in the details. The gear motor for the front derailleur's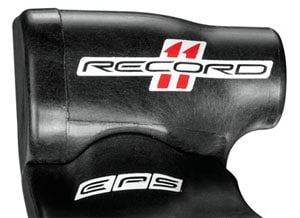 electronic actuator was developed with a Swiss company that manufactures electric motors for space missions to Mars. Really. It operates with a high over-torque transmission resulting in a high gear ratio for precise, strong pulls. The electronic sensor utilizes Magnetic Hall Sensor Resolver technology that both physically and digitally isolates the electronic sensor from terrain vibration. This isolation guarantees consistently precise function of the derailleur's positioning and shifting.
Differences between the Record and the Super Record versions of the EPS front derailleur are small. Record 11 has alloy chainguide plates instead of carbon, and steel motor mounts to replace Super Record's alloy mounts. The tradeoff is a slight weight gain, but you do shave a few dollars off the price.
Campagnolo has spent a great deal of time on the Record 11 EPS v1 front derailleur to guarantee precision by eliminating terrain vibration and maximizing rigidity. The frame-derailleur fixing system is comprised of an aluminum polymer blend, and has been co-molded with the derailleur body. The external derailleur rod, which works in conjunction with the electronic actuator, is held by a hollow hub and double wing with a double-finned pin passing fully through to achieve maximum stiffness. Additionally, the electronic actuator is housed in a cascade gearbox that minimizes vibration and allows movement to be transferred precisely. As for the monolithic derailleur body, it is constructed from a beautiful and efficient technopolymer-carbon blend that halts vibration and assures proper derailleur fork positioning.
Campy freaks can still spot the DNA of the mechanical Record in this EPS version, but of course with some high-tech twists. Most notably is the EPS exclusive Automatic Position Correction system. APC is an auto-trim feature that permits any chain line combination without cage rub or risk of throwing the chain. To accommodate chainring shifts from these unique cassette positions, Campagnolo developed Extra Stroke technology that momentarily over- or under-compensates the derailleur movement during shifting to avoid pitching the chain. This is further enhanced by Campagnolo's decision to retain mechanical Record's XPSS technology. Extreme Performance Shifting Systems utilizes eight up-shift sectors of the large chain ring and two down-shift sectors of the small ring to ensure the smoothest and most direct chain transfer possible. Campagnolo has seamlessly integrated necessary mechanical Record technology into EPS, but injects heightened performance every step of the way.
Another achievement of EPS is the capability for real-time user correction, and Campagnolo's attention to protecting componentry. You, as the rider, are given the power to perform Micro Adjustment to the rear derailleur on the fly by engaging Ride Mode from the Switch Mode button on the Record 11 EPS Ergopower Shift Levers. This enables the derailleur to make seven incremental adjustments, at 0.1mm per adjustment. The Record 11 EPS front derailleur is also IP67 compliant, a rigid international standard for electronics that requires protection of electronic components from water and dust alike. To give you an idea of how stringent this test is, every Campagnolo EPS component has to operate perfectly while submerged under water for 30 minutes.
Campagnolo's unwavering quest for perfection has won them loyal followers the world over. The Record 11 EPS Front Derailleur is the latest incarnation of this vision, and with it Campagnolo has delivered an exceptional front derailleur that exceeds the expectations of even the most die-hard of Campy fans. Smart, precise, and corrective, the Record 11 EPS Front Derailleur is a game changer for anyone seeking the ultimate in performance componentry.
Tech Specs
Material:
technopolymer-carbon
Compatibility:
Campagnolo EPS groupsets
Actual Weight:
Black, Braze-on: 132g