This carousel displays a list of buttons that updates the main product image when a button is clicked
Bianchi
Infinito
Infinito CV Disc Road Bike Frameset - 2018
Temporarily Out Of Stock
Item # BIA000V
Don't get too bummed. This item is on the way and will be available for purchase as soon as it rolls into the warehouse.
Can't wait? Consider one of the other Custom Road Bikes & Frames we have in stock.
View Similar Products
Description
All day, all conditions, all Celeste.
Rethink the idea of a race bike with the Bianchi Infinito CV Disc Road Frameset. Low and aggressive geometries have a place in racing under the right conditions and terrain, but certain courses need different horses. This frameset offers a more relaxed position with less reach and a slightly longer head tube. Combine that with a rangier wheelbase for increased comfort and it adds up to a bike that is ready for you to pilot on the longest days over challenging terrain.
Team Lotto-Jumbo chooses the Infinito for the toughest spring classics and conquering the cobbles of Roubaix, so you can rest assured that it will perform perfectly at the gran fondo you've dedicated this year's training towards. And while the World Tour hasn't fully embraced disc brakes, we'll gladly take the small weight gain for more powerful braking in all conditions—and the confidence that comes with it. Whether it's on damp dirt roads, fast descents leading into tight corners, or an urban avenue with inattentive motorists pulling out of streets, brakes with single-finger responsiveness and consistent engagement help keep us in the saddle rather than on the asphalt.
Bianchi's strategic use of vibration-damping Countervail technology pairs quite well with the geometry's endurance focus on rider comfort. Countervail, a patented material developed by Materials Science Corporation (MSC) and Bianchi, is a viscoelastic layer that's sandwiched between the high-modulus carbon layers to quell vibration and road noise without compromising stiffness. By reducing fatigue, riders and racers can keep their powder dry during a six-hour ride and have enough energy to launch an attack near the end.
The Infinito CV Disc also enjoys the same Carbon Nano Technology used in the construction of Bianchi's top-end aero race bike, the Oltre. This process uses nano-scaled particles to reduce the microscopic gaps between the resin and the carbon, increasing strength and fracture-resistance by a claimed 49% compared to standard epoxy resin. This construction gives us peace of mind over the rougher and more demanding terrain that this frameset is most likely to see.
Disc brakes are used regularly in other cycling disciplines, and after using them for some time now on the road, we're convinced of their merit. To be honest, it's a feature many of us (though not all) are insisting on in our own builds going forward. We're happy that Bianchi made the decision to build the Infinito with disc brake compatibility. The combination is perfect for its endurance mindset and—along with a 28mm tire clearance—it encourages exploration into mixed terrain. Sure, rim brakes are lighter, but the modulation and power of disc braking offset any weight penalty if your main focus is a comfortable ride with a safe return.
A comfortable endurance race frameset with disc brakes
Comfortable, and still racy, geometry is dialed for fondos
Carbon lay-up with Countervail to damp road noise
Stiff efficiency still suited for professional racing
Thru-axles increase responsiveness whether pedaling or braking
28mm tire clearance encourages venturing off the pavement
Bianchi's proves comfort and speed aren't mutually exclusive
For generations of fans and riders, Bianchi's signature celeste is the color of cycling
More Infinito builds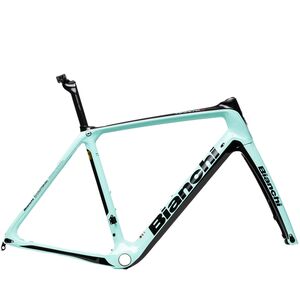 Bianchi
Infinito CV Disc Road Bike Frameset
5 out of 5 stars from 5 reviews
5
5
(5)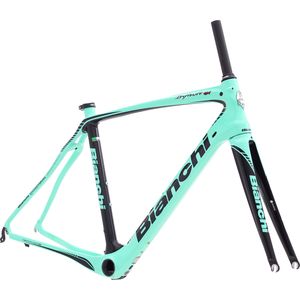 Bianchi
Infinito CV Road Frameset - 2019
Current price:

$2,625.00
Original price:

$3,500.00
Sale
25%
Off
View more Custom Road Bikes & Frames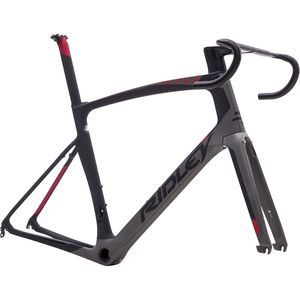 Ridley
Noah Fast Road Frameset
Current price:

$2,249.00
Original price:

$4,499.00
Sale
50%
Off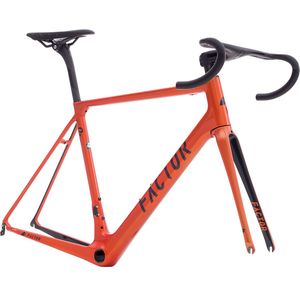 Factor Bike
O2 Road Frameset - 2018
Current price:

$2,899.00
Original price:

$4,999.00
Sale
42%
Off
5 out of 5 stars from 4 reviews
5
4
(4)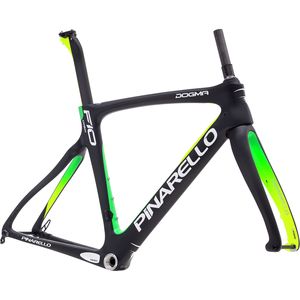 Pinarello
Dogma F10 Disk Road Frameset
Current price:

$3,798.00
Original price:

$5,999.00
Sale
37%
Off
5 out of 5 stars from 2 reviews
5
2
(2)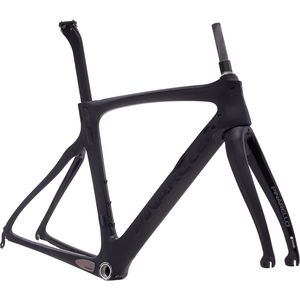 Pinarello
Dogma F10 Road Frameset
$3,798.00

-

$3,999.00
Sale
37%
Off
5 out of 5 stars from 1 reviews
5
1
(1)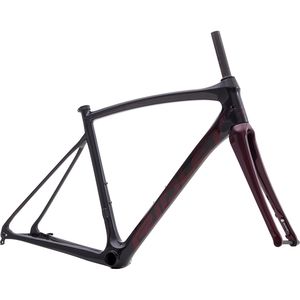 Ridley
Fenix SLX Disc Limited Edition Frameset
Current price:

$1,599.00
Original price:

$3,499.00
Sale
54%
Off
What do you think about this product?
Does this Bianchi frameset support caliper brakes as well? If not, then is there a Bianchi frameset in the endurance category that does?
Kumar K.
What is the stand over for a 53cm frame
dev100223393
>Rating:
February 26, 2019
The spec for the disc bike indicates a 12x135mm rear thru-axle. However, the build choices are all 12x142mm. Which is correct?
Hubert W.
Daniel
February 27, 2019
Hi Hubert, the frame is a 12x135mm thru axle which is a standard that didn't really stick so off the shelf options are a little slim. Our bike builder is not correct in this case, but hubs from DT Swiss, Industry Nine, Mavic in some cases, and a few other brand have adapters to allow them to fit.
>Rating:
December 18, 2018
Andy Clark's Review on the Infinito
Bianchi's Infinito CV Disc represents a high water mark for endurance road bikes. Fast and responsive, yet surprisingly comfortable, it's a compelling candidate for the one-bike quiver for those seeking impressive power transfer mated to all-day ride worthiness. There are few names in the bike industry that stir up my passion like Bianchi. When I was new to cycling, some of the first high-end road bikes I lusted after were the lugged steel, Celeste-green beauties ridden by my buddies. I've never owned one, they've always been slightly out of reach for one reason or another, and that elusiveness has definitely made my heart grow fonder. A few years ago, I got to spend some time on the first-generation Infinito. That was before all-road or gravel bikes were a thing. Since then, the landscape (and the way we ride across it) has changed dramatically, turning the quest for a bike that's a "quiver killer" into an obsession. And after a few months I realized the Infinito is about as close as I'll ever get to the one-bike garage. Bianchi imbued this frame with an interesting mix of carbon technology. The entire frame is constructed of the same carbon used in their Oltre and Specialissima, but it was the first in the line to mold a layer of their patented Countervail material in between the high-mod carbon layers. Countervail is a visco-elastic material, so it's almost like having an elastomer from a suspension fork between the two rigid layers. The result is uncanny. The Infinito is as smooth, quiet, and comfortable as any gran fondo bike, but when you're ready to rip some legs off, it responds like a thoroughbred race bike. I mean it, when it was time to attack or close a gap, I never thought "man, this thing is sluggish". I actually never thought anything at all. I just put my foot on the gas and the bike responded perfectly. And when the pavement got nasty, or ended, the Infinito took on a different persona- it's almost like I flipped off the race bike switch and pushed the gravel bike button. Granted, you can only fit 28s, so there are options for fatter tires out there, but on most of the fire roads I ride (which are part of the infamous Belgian Waffle Ride) I never found myself wanting anything different. The Infinito was sure-footed and stable, and it didn't beat me to death when the road got really choppy. The Infinito CV Disc is the first road disc bike I've ridden, so I took multiple trips to one of the twistiest roads in SoCal- Palomar Mountain's South Grade Road. It's a half-hour drive from my front door, and has the same elevation gain as Alpe d'Huez, with more switchbacks. And the pavement's pretty sketchy in parts, so it was a perfect testbed. I climbed and descended Palomar four times over the course of a few months, and on the last ride (because I'd learned the road) I really pushed it, going faster, braking later, and intentionally riding over the rough stuff. The Infinito didn't miss a step, and I'd say once you get used to the slightly slower steering it's handling and performance are strikingly close to the five-thousand-dollar uberframes I've owned. And man, it's just comfortable. I wanted to keep riding all day every time I clipped in. I don't know how they did it, but Bianchi really pulled a rabbit out of the hat with the Infinito. If you're a hard-core roadie that likes to hit the occasional long stretch of fire road, look no further. If you have questions about the Bianchi Infinito CV disc, please give us a call, or send an email to sales@competitivecyclist.com
Peter N
>Rating:
January 25, 2018
With A HED Belgium + wheelset will I encounter tire rub problems with a 28mm tire? Let's say I combine it with a Conti go4000s II 28mm. They are true to size they tend to blow up to 30mm even more at times. Would I have to use a 25mm to be safe? I'm hoping you say no. You'll be fine with that wheelset.
Ozzie M.
Hal Schnee
December 11, 2018
I realize that your question is from almost a year ago . . . I just purchased this frame. I'm using Reynolds AR41 wheels, which have a 21 mm internal width. I'm using exactly the tires you asked about: Continental GP4000 II 28 mm. The tires blow up to nearly 32 mm on these rims, and they work perfectly well in the frame. Bianchi claims a maximum tire clearance of 28 mm, but there is clearly a bit more room than the spec sheet says.