The marriage of jersey and jacket
Our first full-zip long sleeve jersey was made by Assos. It was a closeout, and we felt pretty savvy for the purchase. But, expectantly, the top lasted and lasted. It was our go-to long sleeve jersey for a decade, and a few years in, we realized that the jersey would've been a bargain at any price. That old jersey was a direct ancestor of this iJ.tiburu.4 Jacket.
In Switzerland, the tiburu is a spring and fall jacket -- they call it climaRange 4. Depending on where you live, it's a jacket that works from early fall, through winter, and into late spring. Further breaking down the funny-sounding name, the iJ stands for Insulator Jacket, meaning the material is fleecy and warm on the inside -- a heavy jersey if you will.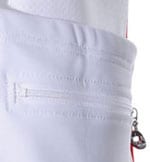 Because you have to strike a balance between being cool and hot, the jersey uses RX fabric for the front panels -- both the chest and the parts of the arms facing the wind. It also uses the lighter RXQ for the back and the inside of the arms. This mix helps protect the body from the wind while allowing some heat to escape where the wind can't get to you.
The iJ.tiburu.4 also takes advantage of a technology that we've only seen thus far in Assos' jerseys -- a rear stabilizer system that's been highlighted by the gripper across the back under the pockets. This means that the pockets won't bounce or sag when they're full. This a welcomed cross-over feature, and one that we hope to see more and more often in the future.
Also standard fare here are the three rear pockets with one extra zippered pocket on the right side for valuables. There are reflective tabs sewn on the seam that join the pockets to the top.
The Assos iJ.tiburu.4 Jacket are available in the colors Black Volkanga, Red Swiss, and White Panther. The jacket also comes in six sizes from Small to TIR.
Tech Specs
Material:
[front panel] Assos RX, [rear panel] Assos RXQ
Pockets:
3 rear, 1 rear zip
Recommended Use:
winter cycling
Manufacturer Warranty:
limited
Size chart
Assos
Men's Apparel
Shorts
XS
S
M
L
XL
XLG
TIR
Leg & Knee Warmers
0
I
II
Height

4ft 11in - 5ft 2in

(150 - 159cm)

5ft 3in - 5ft 6in

(160 - 169cm)

5ft 7in - 5ft 10in

(170 - 179cm)

5ft 11in - 6ft 1in

(180 - 185cm)

6ft 1in - 6ft 3in

(186 - 190cm)

6ft 3in - 6ft 5in+

(191 - 195cm+)

XLG but wider
Tops
XS
S
M
L
XL
XLG
TIR
Arm Warmers
0
I
II
Chest

35.4in

(90cm)

37.8in

(96cm)

39.4in

(100cm)

40.2in

(102cm)

43.3in

(110cm)

45.7in

(116cm)

46.5in+

(118cm+)
How to Measure:

For best results, take measurements over your underwear.

Chest:

Measure around the widest part of your chest.