Sale
$29.79
$148.95
80%
Off
Item # AAS0092Past Season Colors

Assos fuguGloves_S7 $148.95
Item #

AAS0092
Description
Warm and ready for winter roads.
Assos' fuguGloves_S7 are the full-on winter gauntlet. They do things that repurposed ski gloves can't do. In the cycling world, gloves are only made to accommodate the sweating that comes with prolonged aerobic activity, but the Assos fuguGloves_S7 do more than merely accommodate over-heating digits.
There are many problems with typical non-cycling winter gloves. One being that the fabric doesn't stretch well; which makes holding onto handlebars more difficult than it should be. Another is that the insulation is rather bulky, inhibiting motion and further increasing the difficulty of grasping the bars.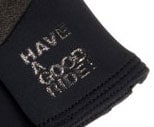 The typical winter glove's insulation makes for poor padding — it may initially feel ok, but it gets matted down over time.
Assos solves all these problems with the fuguGloves_S7. They protect your hands from chilly winds and rain with its strataGonLight fabric — a stretch nylon bonded to a waterproof and breathable membrane. This fabric demonstrates its ingenuity in how it closes its own pores in the cold, and then opens them up when it senses heat. The 'smart' system grants you more insulation and venting when you need it. Inside, there's a thin-layer of micro-fleece that works great for insulation and moisture wicking, as well.
The fuguGloves have strategic padding on the palms, as well as external reinforcing material in the high-wear areas. There's elastic at the wrist with a zipper just below. The zipper offers several functions at once. It eases entry and exit, it seals your jacket from the cold, and it allows venting to keep your hands from getting too warm.
The Assos fuguGloves_S7 are part of climaRange 6 — what Assos call winter. According to Assos estimations, you'll feel comfortable in these gloves in 32-46 degrees F (0-8/260 C) temperature ranges. Use Assos insulatorGloves as a base layer, and the FuguGloves should keep you warm for another several degrees colder. They come in the color Black Volkanga and sizes run from X-Small to X-Large.
Tech Specs
Material:
[palm ] 65% nylon, 35% polyurethane, [back] 23% polyurethane, 33% polypropylene, 30% nylon, 14% elastane
Recommended Use:
winter road cycling
Manufacturer Warranty:
limited lifetime
Size Chart
Assos
Gloves
0
I
II
XXS
XS
S
M
L
XL
XLG
Hand Circumference

6.7in

(17cm)

7.1in

(18cm)

7.9in

(20cm)

8.7in

(22cm)

9.1in

(23cm)

9.4in

(24cm)

10.2in

(26cm)
How to Measure:

Measure around the widest part of your hand, not including the thumb.