This carousel displays a list of buttons that updates the main product image when a button is clicked
Arundel
Mandible Water Bottle Cage
Item # ARU0004
Select options
Cancel

Select options

Matte, One Size ($74.95)

Glossy, One Size ($74.95)

Oil Slick Matte, One Size ($74.95)

Oil Slick, One Size ($74.95)

Oil Slick Green, One Size ($74.95)

Oil Slick Orange, One Size ($74.95)

Oil Slick Powder Blue, One Size ($74.95)

Oil Slick Blue, One Size ($74.95)

Oil Slick Red, One Size ($74.95)

Oil Slick White, One Size ($74.95)

White Out, One Size ($74.95)
Free Shipping on orders over $50
Item #

ARU0004
Description
Strong and fast enough for the Competitive Racing Team.
The Arundel Mandible Water Bottle Cage holds your bottle with two slender arms that create a smaller cross section yet provide up to 40% more bottle-grabbing power than other cages. The Mandible is a design perfectionist's dream: more strength in a smaller package. Arundel offers their minimalist cage with minimalist graphics: No colored decals here.
You can use the Mandible for road, mountain, cross, or triathlon. Arundel knew that their new Mandible cage couldn't be just another fanciful design with a new logo and a crazy name created for the sole purpose of adding another item in their catalog. The Mandible had to work, and work better than anything else available. Not only does the cage design increase holding power, Arundel lightened the structure by adding a foam core to the carbon cage. Most cages simply cut out the center to save weight. Typically, this process exposes the mounting bolts and arm edges and makes it hard to slip a bottle in or out. The Mandible's smooth, three dimensional form leaves nothing for the bottom of a bottle to catch on when you pull it out.
The Arundel Mandible Water Bottle Cage is available in four colors -- Gloss Carbon, Matte Carbon, Oil Slick, and White Out.
Carbon fiber
Sleek design with minimal graphics
View more Water Bottles & Cages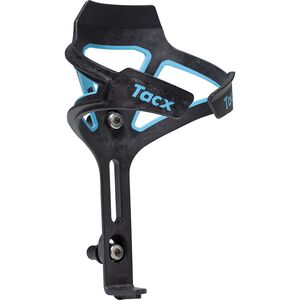 Tacx
Ciro Bottle Cage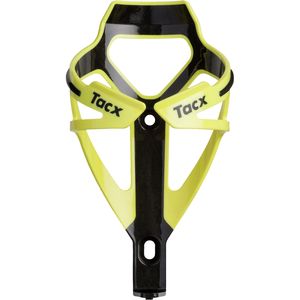 Tacx
Deva Bottle Cage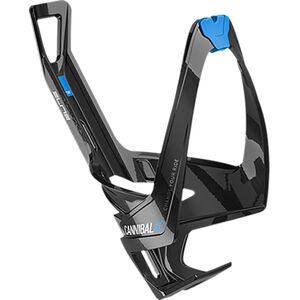 Elite
Cannibal XC Bottle Cage
$13.88

-

$21.99
Sale
37%
Off
What do you think about this product?
Necessary? Nope. Awesome? Yep!
Familiarity:

I've put it through the wringer

Fit:

True to size

Height

10` 11"
I've been crushing new Tour de Commute PRs since buying two of these. The (psychological) gains of dope cages (that no one else sees) is significant. In my testing, the Matte is 4.7% more efficient than the Oil Slick variations. This is likely caused by them not properly complimenting my Canyon frame, therefore reducing said psych gains. Alright- with the caveat that my previous Mandibles set were stolen, along with my bike, these have stood years of use and my new set looks exactly the same. Are they *really* necessary for any of us? Def not. Do they work? Sometimes a little too well but then, when bombing down the ridiculously pot-riddled tarmac that are Seattle streets or single track in the foothills, my bottles don't rattle like my teeth and I know they aren't going to fly off.
CascadeExplorer
Ramiro
April 19, 2020
Does it fit the newer Black Canyon bottles(Camel)?
Nice cages.
Familiarity:

I've put it through the wringer
The cages work really well in holding the bottles snug and it is easy to remove most of the time. I found after freezing a Camelbak bottle the bottle becomes snug and when it sweats as the bottle is defrosting the bottle is difficult to remove. Once the outside moisture has dissolved the bottle is much easier to remove.
Robert L.
Light but not great retention of bottle
Familiarity:

I've put it through the wringer
Lost two water bottles (standard Trek/Specialized ones) with these cages on road rides since Sept 2018. Going back to King cages because I've never lost a bottle with King, even during gravel races.
Michael K.
>Rating:
November 1, 2018
What's the difference between "Glossy" and "Oil Slick"?
Jason
Ian Gonder
November 2, 2018
Glossy will show the carbon weave Oil slick will not, it will just be solid black
>Rating: 5
October 27, 2018
A firm hold
Familiarity:

I've put it through the wringer
These water bottle cages are the best I've ever had! They look great, are sleek, and really hang on to your water bottles. No bottle has ever fallen out. I have these on both of my bikes.
Adele M.
Everybody's Favorite, Including Me.
Familiarity:

I've put it through the wringer
5 years after purchasing the Arundel Mandible cages, I'm still using the Mandible cages. They hold bottles on the roughest roads, look great, and weigh very little!
Mike Nelson
How much do these weigh?
Bryan Fobbus
Neal Forbes
May 22, 2018
Hey Bryan, The cage weighs 28 grams.
How many grams do the cage weigh? Thanks, DC
Donald Colbert
>Rating: 5
October 6, 2017
What's Exciting About Bottle Cages??
Familiarity:

I've put it through the wringer
Having fussed around with Elite and Spesh and finally got fed up losing another bottle I bit the bullet and bought two of these. These work! Easy in and easy out and securely hold. And they are beautiful! Oil slick version looks great. Yes they are expensive but you won't be disappointed.
Dr. Evil
>Rating: 5
September 15, 2017
Superb
Familiarity:

I've used it several times
These bottle cages are amazing, look good and the bottle will be well secure
Javier Meza
>Rating: 5
September 12, 2017
Gold Standard
They just... work. If you want cages that work without any gimmicks, these are the ones.
Tommy Liao
>Rating: 5
August 24, 2017
Great cages
Familiarity:

I've used it several times
Great cages, that securely hold bottles and look good. Love that you can get them in matte or gloss, and 3k or UD to match builds. Reasonably lightweight and work great.
Todd
COOL STUFF
Great looking cage that holds my bottles well. Any cage is light, buy it cause it does it's job and looks great doing it.
Robert M.
>Rating: 5
November 25, 2016
It just works
Familiarity:

I've put it through the wringer
I got tired of losing bottles on the horrendous roads of MA when my prior carbon cages lost their grip, and it became more than a bit dangerous when it happened during fast group rides. Enter the Mandible, which maintains a vice-like grip on my Podium Chill bottles while making them very easy to remove and replace without looking. Plus they look badass. Pricey, but it is the best-looking and best-performing cage around.
Cusewordsmith
>Rating: 5
October 8, 2016
Great for the trail.
Familiarity:

I've used it several times
Super tight gripping cages for the mountain bike. Light and look good. I use the side loader cages on my road bike. I am a big fan of Arundel products, and these cages are a good example.
Eric B.
>Rating: 4
August 31, 2016
The PR's Keep Coming
Familiarity:

I've put it through the wringer
I just can't believe how many trophies and PR's I am getting on Strava after purchasing two of the Matte bottle cages. Every gram counts now, so much so, I reduced the number of Skratch scoops I add to my bottles. Trust me, it makes a huge difference, the PR's don't lie. Now on to reality, and lowering the sarcasm dial... these cages are nice, have a great look and do the job. My two cages are a little tight for my liking, and actually pinch/deform my bottles; it reminds me of Lennie holding the rabbits in Of Mice And Men... if you never read the book, he kills him with his death grip. Yes I would buy them again, even though they are a bit snug.
Paul Cressey
>Rating: 5
August 24, 2016
Secure and light
Familiarity:

I've put it through the wringer
Awesome bottle cages. They're very secure, and my bottles have never come out even while riding on dirt or over potholes or bumpy roads. This was a problem with my previous cages (Elite Custom Race). It fits well for all types of bottles, including Camelbak Podium. It's easy to get the bottles in and out while riding. On top of that, they are light, look great and I got them on sale! What else could I ask for?
Pablo Bles
Grip
Familiarity:

I've used it several times
Bought even though I think it's crazy to spend so much for a carbon fiber bottle holder. Extremely strong grip on my Camelbak Podium bottle.
Eric K.
Everything they are cracked up to be
Familiarity:

I've put it through the wringer
Yes, this is just a bottle cage, but anyone who spends any time riding on less than good (ahem, Texas...) chip-seal roads knows that losing a bottle is more than a little inconvenient. I am thoroughly impressed with these rather bling bottle cages. Sure, they're a luxury item, but really no more expensive than other shiny carbon bottle holders, and they are SOLIDLY built. As hyped, they will hold a bottle through pretty much any situation. Highly recommended if you want some bling and don't want to lose bottles.
George H.
Light and Tight
Super light weight and holds bottles firmly. Oh... looks great too!
Marc C.