This carousel displays a list of buttons that updates the main product image when a button is clicked
Arundel
Dual Seatbag
Item # ARU0011
Select options
Cancel

Select options

Black, One Size ($21.95)

White, One Size ($21.95)

Blue, One Size ($21.95)

Grey, One Size ($21.95)

Pink, One Size ($21.95)

Red, One Size ($21.95)

Yellow, One Size ($21.95)
Free Shipping on orders over $50
Item #

ARU0011
Description
Dual Seatbag
We've tagged along with enough PRO training rides over the years to definitively notice one trend: They might be obsessive about the cleanliness of their bikes, about the mousse in their hair, about how little they can eat, about their wine collection and the # of V's under the hoods of their cars. But one thing PROs are near-universally not obsessive about is their seat bags. As a rule they're old, tattered, and stuff is half-hanging out of them because they get used hard and who, after all, gives much thought to replacing a seat bag?
And then came Arundel...
They've been a long-time sponsor of Team Garmin-Transitions, and they spare no expense in sponsoring individual riders as well. Arundel long ago earned a place high in the pantheon of accessory companies thanks to the exposure they've earned from their well-done product placement, not to mention the effusive word-of-mouth props they get on training rides all over America from riders of all levels. Their stuff works flawlessly, it holds up over time, and it looks handsome.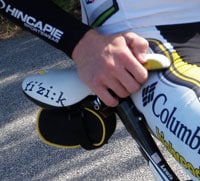 They've taken the same keen creativity they applied to their original creations -- bottle cages and bar tape -- and they've applied to that forgettable-but-essential necessity, the saddle bag. In the last year we've spied them on more-and-more PRO bikes all across the globe, and just like the guys who spend 20,000 miles per year on their bikes, this is the model you probably need, the Arundel Dual.
Arundel calls this bag the Dual because it's designed for carrying two tubes. As you may have noticed, seat bags have been shrinking over the years, as though the smaller the better. But some have gotten so small; you wonder how people can fit anything inside them.
The Dual should erase that wonder. You can fit two tubes, two CO2s and inflator, tire levers, and a thin tire boot inside the simple single cavity. Maybe even a few Allen keys if you go with light tubes.
For all that space, the Dual still has a minimal profile. There is a single Velcro strap that loops through the seat rails and around the bag. No second strap wearing through the finish of your seatpost. The bag is narrow enough to nestle in place without abrading the inside panels of your shorts. And there's a genuine leather patch stitched to the back of the bag to protect it from wear caused by rubbing the seatpost.
The Arundel Dual has 30 cubic inches of internal space and comes in black with Black piping. The dimensions are 5"x3"x2". Claimed weight is 62g.
Designed to carry two tubes, two CO2 cartridges, an inflator, and tire levers
Single-strap attachment
Reinforced wear patch
What do you think about this product?
>Rating: 5
January 11, 2021
Great bag for two tubes and more
Familiarity:

I've put it through the wringer
I have this bag on each bike I own. It snuggly holds two road tubes (up to 32mm), tire lever, multi-tool, and a CO2 cartridge. To get everything to fit, it's easier to pack the bag off the saddle and put the tubes in first. I like that the leather patch prevents the seat post from getting scratched. I also like how neatly it sits up under the saddle and away from my legs. I have found the bag to be durable, but I am not hard on things. I saw a couple of reviews mentioned the strap slips off. I am not sure how this is possible. I guess my tip to prevent this is to slide the long strap through the loop on the bottom, before passing the the strap through the metal loop.
Jonathan S.
Best bag I've owned.
Familiarity:

I've put it through the wringer
I bought the Dual because I didn't want a strap around my dropper post and was initially worried it wouldn't be secure enough. It is! The construction is super durable and not so heavy and the leather patch pushes on my post and protects the bag. It hangs on tight and the strap is as rugged as the pouch is. It is exactly the right size for a 27.5 tube, hanger, tools, levers, knife, first aid, etc.
Chris O.
>Rating: 5
January 6, 2019
More than a Saddle Bag
Familiarity:

I've put it through the wringer
I wasn't sure a few years ago when I bought a couple of these, the absence of a strap for the seat post seemed like it would be unstable. Not at all, it's stable with just the single strap. Fits the essentials, nothing more. BUT, these aren't just good as saddle bags. If you need a little more storage space on your bike, add a second up front. Since it just uses the one strap, you can mount it at the front or back of the frame for an extra bag (Mount on the top tube and either slide against the head tube or the seat tube). I've used it in this manner for almost a season, and it's great to have that extra storage space. On an aluminum or carbon frame, the bag is about as wide as the tubes, so it's not any penalty for aero.
Doug M
>Rating: 4
December 16, 2018
initial impressions
Familiarity:

I've used it once or twice and have initial impressions
fits one tube, one (admittedly large) multi-tool, 2 tire levers, a chain tool, & small front and rear bike lights. basically holds all i need for backup on my recreational rides, commutes, and when I'm working as a messenger
Jessica Collette
>Rating: 5
September 10, 2017
Perfect
Familiarity:

I've put it through the wringer
I can fit 1 tube, a multitool, 2 CO2s, and 2 levers with plenty of room. The attachment to the seat is solid and I like the absence of a seat tube strap so nothing rubs on my thighs
Roger F.
>Rating: 1
September 5, 2017
No Good
Familiarity:

I returned this product before using it
This unit does NOT hold a tube, no less anything else. And no attachments for lights. The attachment to the seat is not great. I sent it back and ordered a Silca and Jandd mountain wedge. The Jandd is larger and fits tube/CO2 x 2/tools and has slot for money. Good attachment. The silca is smaller if you want minimalist but fits tube/CO2 x 2/tools(comes with tools). Great attachment.
Rich
GL
September 7, 2017
I've used these for years. They hold; 2 road tubes, 2 levers, 2 CO2 cartriges plus valve head, a nice multi-tool and a few tire boot patches. No problem.
Fran C.
May 7, 2021
well sir, I don't know what you're trying to fit in there & find it hard to believe we're talking about the same bag. I've had this one for 3 years, I love it and I'm ordering a 2nd one for another bike! Not only can I fit 2 tubes, 2 CO2 cartridges and a CO2 dispenser in there but also a pair of tire levers, neoprene gloves and a small rubber patch to boot. The key is you have to make sure the tubes are rolled up super tight and held that way by a thick tight rubber band.
Great design
Familiarity:

I've put it through the wringer
I love this bag. It fits up under my seat really well. I have an aero seat post and Velcro straps that go around the post on most other brands tend to stick out. This baby is all safe and sound out of the way and has enough room to carry two tubes, a tire boot (a must if you ride solo out beyond civilization and cell service), two CO2's and the related nozzle, tire levers and a small patch kit. I carry a multi tool in my jersey pocket. I have not experienced the falling off that others have talked about, and I have used this bag on the 2017 Belgian Waffle Ride course (40 miles of dirt and single track/rock gardens/washboard to go with 100 miles of road). Yes, like any bag with a metal zipper, you will eventually experience reduced performance riding with it in the rain, dirt and wet conditions. Nobody expects a bag to last forever, do they? The last bag I had before this one (another quality brand) was retired due to a zipper that finally gave up the ghost after a marathon four days of riding in the rain and dirt, and that was after a good solid year of riding.
Byron D.
>Rating: 3
February 16, 2017
Not bad but not great
Familiarity:

I've put it through the wringer
Have used this bag for two seasons on my road bike. After that time the metal ring is completely rusted and the bag has a nice hole in the side of it from wear. Never hit the deck with it so the hole is just from friction while riding, granted it has been snugged down appropriately so it doesn't flop around. I couldn't fit 2 tubes and 2 CO2 cartridges no matter what I did. I rode with 1 tube, 2 cartridges, 2,4,5,6mm allen wrenches, tire lever, cash, inflator head and the bag was full. Oddly the strap was on the long side which I would paperclip the excess so it didn't flop around. I didn't find the bag overly well built. I think a bag could be made better.
c4p100547394
>Rating: 3
December 22, 2016
Perfect size, but don't overload it!
Familiarity:

I've put it through the wringer
I've had this saddle bag for about a season and a half and it's toast. I loaded it with 2 race tubes, 2 CO2 cartridges, levers, and multi tool, and found it would jiggle itself loose. There's no loop on the bag to keep the strap from riding up (toward the back of your bike) and sliding off. The bag never fell off the bike, but it was unnerving to have it come loose at 45MPH going down Bear Mtn. I bought it because of the reviews and it's better than many bags I've used, but it doesn't live up to the 5 star reviews that sold me on it. With tweaks, or some customization, it could be perfect.
Christopher T.
Roger F.
September 10, 2017
I don't know how this bag would slide off if installed correctly. I'll send a pic shortly
Kept falling off the bike
Familiarity:

I've used it several times
Not sure what the deal is with the Arundel bag...it kept falling off my bike, bouncing off the tire, then onto the road into traffic. Actually tried it on two bikes and it came off both. I tried both cinching the straps tight and alternatively letting them be a little loose, made sure the velcro was well-attached both ways...the bag came off anyway. There's only one way to thread the straps as far as I can tell, so I'm at a loss why this bag is getting such great reviews from other people. Didn't work at all for me. Going to give it away and try something else.
North K.
Mick McCrary
September 27, 2016
The same thing happened to me. The funny thing is that I read this review before buying the bag and thought about it while installing to be sure it was installed correctly. I thought I did. Now it's lost in the piney woods of east Texas. $20 bucks down the drain.
Just the Right Size
Familiarity:

I've put it through the wringer
I've been accused of having too many backpacks/saddle bags/top tube bags/fanny packs...pockets for snacks. BUT I had to give this bag from Arundel a try, after seeing the positive reviews. I've always had the saddle bags that strap both to the rails as well as the seatpost. I am now asking myself, why?! The simple and secure strap of the Arundel Dual is perfect and does not buckle outward like some bags tend to do. The capacity is perfect for road riding for me: just enough space for a tube, multi tool, CO2, and tire levers (with room to spare). The single big mouth zipper makes getting to flat-repair supplies quickly a snap, allowing you to get back on the road faster.
Hannah Dhonau
>Rating: 4
January 3, 2016
Arundel is just so classy
Familiarity:

I gave it as a gift but have feedback to share
I love Arundel's cages so when I needed a seat pack for a gift I looked to Arundel. This one works great. It's nothing special but it gets the job done and I like the way it looks.
Spencer Oliphant
>Rating: 5
October 20, 2015
Simple
Familiarity:

I've put it through the wringer
Like many product offerings from Arundel, the Dual Seatbag is simple and effective. Fit two tubes, tire levers, and patch kit with ease, with a strap that is easy to attach and remove. Overall make and durability are on par with with my expectations for Arundel. Very well put together saddle bag, that has lasted months and looks to last many more.
Trevor J
>Rating: 4
October 15, 2015
Arundel Dual: So Far, So Good
Familiarity:

I've used it several times
I carry 2 25c tubes, levers, a small chain tool and a bag with bandaids, wipes and a quick link. It is a squeeze, but it fits. The size of the Dual allows for my tail light to be mounted underneath it and to be seen clearly. The bag does not move and seems to be secure despite having only one strap. I was concerned about the one strap mount, but two friends who ride with the Dual assured me that they have never had problems with it. I found it easiest to remove the bag when I did have a flat. The one strap mount made removal and remounting quick and easy. Four stars because I can't comment on durability yet and because the short side of the strap could be a snick longer.
Richard G.
>Rating:
February 22, 2015
do u think u could fit [2] 700 x 23/25 tubes, levers, patches and multi tool?
William C.
Ernesto D.
February 22, 2015
Yes that's what I have in my bag
William C.
February 22, 2015
thanx mang
William C.
January 9, 2016
i keep 2 tubes, crank bros multi, boot, spare link and patch kit and a 2032 batt :)
>Rating: 5
November 23, 2014
Not Perfect, but Damned Good
Familiarity:

I've put it through the wringer
I'm on my third Dual seat bag. The first was left in the broom wagon of a long race where you were expected to be able to fix flats on your own, about four years ago. The second lasted until about six months ago when the bag gave way where the straps are sewn - it had been through numerous wet/dry cycles over the years, and that took its toll over time. The third is currently attached to my Look 585, and will be heading out again today...with a good chance of undergoing another wet/dry cycle. I'm going to buy two more so I can have one for each wheelset on respective bikes: box section aluminum, 40mm carbon, and 50mm carbon, each needing a different valve stem length.
Revchuck
>Rating: 5
September 21, 2014
So far so good
Familiarity:

I've used it several times
I have owned, and broken, two clip-style seat bags so far so I decided to try one with a simple strap attachment instead. So far this bag has survived half a season and a handful of races with flying colors. The strap can be a little difficult to feed through your seat rails but once on feels secure, even without a secondary strap to attach it to the seatpost. This bag also holds more than I expected. Though a tad tight, it holds a 29" tube, CO2 cartridge with inflator, a multi-tool, SRAM powerlinks, and a car key.
Aaron Bender
Can a seat bag be beautiful and durable?
Familiarity:

I've put it through the wringer
As seat bags go, this one is beautiful. Well constructed, minimal profile w a very clean tailored look about it. I have the dual w the red piping.. Matches my bike perfectly and does not detract from the bikes racy profile. It's a tight fit around the seat rails, and would have liked a bit more Velcro strap to work with, but it stays in place even over tough roads. Very tight fit inside, if u intend to carry two tubes, levers and air. I personally could only fit one in there comfortably w all the other necessities. All in all, love the bag. If you pack the kitchen sink, perhaps not the right choice for you. If your bike has to look good and u are conservative w your necessities it's perfect!
Lorraine M.
They don't last
Familiarity:

I've put it through the wringer
I've been through two of them now, and they don't hold up very well. The first one ripped at the seams on the straps. The second simply ripped along the side of the bag. I do fill this full, but I don't overstuff it.
Patrick S.
Tried many others and this is the best!
Familiarity:

I've put it through the wringer
I started encountering the issue with my shorts being worn down on the inner thighs from the saddle bags I was using. The dual solved that problem immediately, but it also looks much better than the typical bags, because of it's narrow profile. The size is perfect for me too. Can fit a 700x23 tube, two CO2 cartridges and nozzle, patch kit and levers, tool, quick link, and cash. I'm gonna buy another cause it is sooooo good. Thanks Arundel!
Aaron S.