Out of Stock
Item # ZIP0107
Don't worry though, we have a lot more Drop Handlebars in stock than that.
Zipp Service Course SL Handlebar $0.00
Item # ZIP0107
Description
Don't call it a comeback.
The 13th element hasn't lost its place as a high performance structural material. With their Service Course line of components, Zipp invests technological development in aluminum to a degree you'd think they'd reserve strictly for their legendary arsenal of carbon products. With the Zipp Service Course SL Alloy Handlebar you'll find many of the details that make Zipp carbon handlebars so exquisite, yet the more modest material gives it a proportionally modest cost.
The Service Course SL uses the same shaping for the Short and Shallow version as used in the SL Carbon Fiber Handlebar that we sell. It's built with round tops that taper downward in a smooth and constant manner from the 31.8mm clamp area to a 24.2mm diameter at the top bend. The drop angle is only 20 degrees. What's the net effect? You can position your shift/brake levers in the high-and-Belgian style we prefer here at Competitive Cyclist. And you'll get a smooth transition from the bar onto the drops.
In addition, the Short and Shallow bar has a dual radius curve in the drops. You'll benefit with the longer, flatter hand surface. We'd be tempted call it an anatomic bend,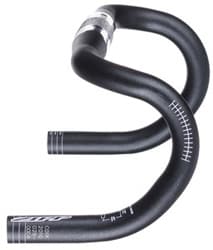 but be aware that the bend shape is, thankfully, subtle and not overly curvy like many anatomic bars were in the past. The 84.5mm reach plus the short radius behind the clamp area make it easy to get the crook of your hand "locked" into position for a solid feel in the drops, with an easy reach to the brake levers. The drop is 128mm and makes the lower portion of the handlebars more accessible.
Zipp also produces the Service Course SL Alloy Handlebar in a Traditional Bend with an 87.5mm reach and 130mm drop. If you detest anatomic bars of any sort, but are looking for a bar with a modest drop, then this is the bar for you. With a slightly steeper drop angle than the Short and Shallow version, this Traditional Bend will give you a bit more curve in the transition to the hoods.
The Zipp Service Course SL Alloy Handlebar is available in the two bends mentioned above and comes in four widths from 40 to 46cm (measured outside-outside). It's worth a mention as well that the drops on these bars angle out at 2° to make your wrists more comfortable for long days in the saddle.
Note: Bar width measured outside-to-outside
Tech Specs
Material:
proprietory ZTL-71 alloy
Width:
40 cm, 42 cm, 44 cm, 46 cm
Drop:
(short & shallow) [84.5 mm], (traditional) [87.5 mm]
Reach:
(short & shallow) 128 mm, (traditional) 130 mm
Compatible Components:
clip-on compatible
Recommended Use:
road racing
Manufacturer Warranty:
2 years
Reviews & Community
What do you think of the
Zipp
Service Course SL Handlebar
? Share a...
Posted on
Decent Handlebar
Went with the short and shallow. The length of the bottom is nice and long which provides a good grip for sprinting. This piece completes the full Zipp cockpit, and, though I did not go with any carbon pieces in the trio, it is still fairly light. Aluminum is also a bit less fuss with torque specs which I like. Would definitely go with Zipp for another cockpit. Good metal.
Unanswered Question
Posted on
Is it possible that the reach and drop are...
Is it possible that the reach and drop are reversed in the product specs? They seem like they are.
Jeff