WILIER
IZOARD XP
The Wilier Izoard XP is deceptively similar to the Cento1 at a glance, perhaps close enough even to fool the learned observer. So should the Izoard XP make Cento1 owners a bit jealous? If you look at the price tag, it might. Where the ProTour-proven Cento1 commands a premium, the Izoard XP is specifically aimed at the racer on a budget. Though the paint scheme is simpler than the Cento1, the Izoard XP still carries itself with obvious Italian flair. And for a frame whose foremost intent is to deliver maximum performance-per-dollar, the fact that it's this gorgeous is a delightful bonus.
Like the Cento1, the Izoard XP is built with full carbon monocoque construction. It's made exclusively from Toray carbon. In this case, T-700SC (medium modulus/stiffness) and M30J (high modulus/stiffness) fibers makes up the bulk of the laminate. In the typical calculus of carbon fiber, the stiffness and tensile properties of the highest grades (such as the 46 Ton carbon in the Cento1) allows frame manufacturers to use less material to achieve requisite rigidity and strength. By using T-700SC and M30J in the Izoard XP, Wilier is sacrificing nothing in terms of its ride quality and durability. Rather, they just use more material to achieve it, and this adds a few grams. The lower modulus carbon fiber is also significantly less expensive. Considering the beauty and the race-worthiness of the Izoard XP, the value is easy to see.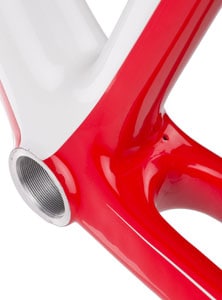 Is there a better road racing frameset priced below $2,000? We can think of one or two that look equally stunning, but lack in the stiffness and lightness of the Izoard. And we can think of one or two that provide equal performance, but in comparison look like a dog. In this price range, the Izoard XP shines beyond all options. Its patented molding process and the carefully-thought-out wall thicknesses and carbon layup choices befit a frameset with a heftier price tag.
One other note about the Izoard XP: It's named after the Col d'Izoard, arguably the most legendary pass in the French Alps. More so than in any other place, it's where Marco Pantani turned himself into a bike racing immortal (racing, no less, on a Wilier frameset). For all the technology behind the Izoard XP, its name reminds of the gigantic heritage of the Wilier brand.
The Wilier Izoard XP is available in Red and Yellow and comes in six sizes from X-Small to XX-Large. It requires the use of a 31.6mm seatpost, a 34.9mm clamp-on front derailleur, and an English bottom bracket. Like any bike with a sloping top tube, we suggest that you focus on the effective top tube length in determining the correct frame size. It comes standard with a Wilier Monocoque carbon fork with an aluminum steerer.
Buy or Configure Complete Bike
2013 Wilier Izoard XP Pricing
Frameset

Campagnolo

Shimano

SRAM

$1675
Super Record 11 EPS
8548
Dura Ace 9070 Di2
6986
Red 22
5713
Super Record 11
6442
Dura Ace 9000
5439
Force
3805
Record 11 EPS
7210
Ultegra 6770 Di2
4477
Rival
3427
Record 11
5154
Ultegra 6700
3678
Chorus 11
4385
2013 Wilier Izoard XP Geometry
Size

Seat Tube


(c-t

)

Effective Top Tube


(eTT)

Stack


(S)

Reach


(R)

Head Tube


(HT)

Head Tube Angle


(HT°)

Seat Angle


(ST°)

XS
47.0
51.5
51.1
37.9
11.0
72.0
74.5
S
50.0
52.5
51.8
38.2
11.5
72.0
74.5
M
53.0
53.8
54.8
38.6
14.5
73.0
74.5
L
55.0
55.7
56.2
38.9
16.0
73.0
73.5
XL
58.0
57.0
58.5
39.3
19.5
73.0
73.0
XXL
61.0
58.5
60.1
40.1
20.0
73.5
73.0