Yeti Cycles ASR-5 C - 2012 $0.00
Item #

YTI0104
Description
Inside their Golden, Colorado facility, they call the Yeti ASR-5 Carbon the "cheater bike." It's lighter than most cross-country bikes, yet has five glorious inches of rear wheel travel to keep you grounded for all out attacks on the backside of the mountain as your friends try to beat you back down the hill. The sneaky part is that this bike has that rare combination of all-mountain capable suspension with feathery light weight—4.75lbs to be exact—to ease the burden of long climbs.
The high modulus carbon fiber monocoque front triangle is optimized for stiffness. Its unyielding structure and 68 degree head angle are what give the ASR-5 Carbon the steering precision and stability it's known for. The low slung top tube acts as a sturdy attachment point for the Fox RP23 (View our set-up video) rear shock and allows plenty of standover clearance for unexpected dismounts. The combination 1-1/8" top and 1.5" bottom headset cups used in the tapered headtube strike a perfect balance between weight, durability, and steering precision. They have built upon the success of the ASR platform and designed this bike to be just as responsive, yet have more suspension travel at 127mm. What Yeti has created may arguably be the best bike on the market for weight conscious, performance minded riders that are looking for a little more travel than a standard race bike.
Yeti again employs carbon fiber for the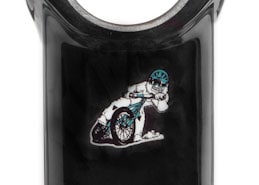 rear triangle. The whole unit is molded as one piece with massive chainstays, defining its lightweight and flex-free behavior. Each of the suspension pivots houses sealed cartridge bearings for a smooth ride, and lightweight pivot hardware provides a respectable weight. Even though it has five inches of wheel travel, the ASR-5 Carbon is no couch ride. Yeti's single pivot Active Suspension is tweaked on this bike to deliver a firm feel that allows for very efficient pedaling. Those that favor coasting over pedaling traits and a softer, more sensitive suspension may look towards the Yeti 575. This bike features interchangeable dropouts and comes standard with those designed for a quick release rear axle. For an additional charge, dropouts are available that will accept Shimano style 12x142mm thru-axles.
The Yeti ASR-5 Carbon is available in five sizes from X-Small to X-Large and comes in two colors—Black and White. It requires the use of a 34.9mm clamp traditional, bottom pull front derailleur and a 30.9mm seatpost. It uses a standard thread-in 73mm bottom bracket and a traditional 1-1/8" - 1.5" tapered headset. Yeti recommends either a 120mm or 140mm front fork.
For information on Yeti's 5 year warranty on the ASR-5 Carbon click here.
US Yeti dealers are prohibited from shipping Yeti bicycles to any country other than Canada, Mexico or the US.