Wilier Zero.7/Campagnolo Super Record 11 Complete Bike - 2012 $0.00
Item # WLY0002
Description
The Wilier Zero.7/Super Record 11 Complete Bike looks the part of the high tech project bike with its matte finish and top shelf componentry. A close look will reveal some, but not all of the structural details that make the Zero.7 such an astounding performer on the road.
The massive down tube and seat tube juncture at the bottom bracket shell begs for attention. The beefiness here is a byproduct of the BB386 EVO bottom bracket system. Where a typical road bottom bracket shell (BB30 included) is 68mm wide, BB386 EVO is a full 18.5mm wider. The down and seat tubes intersect the shell at greater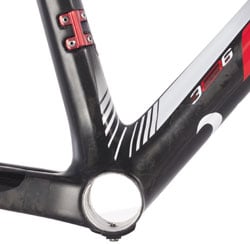 diameter, giving it greater surface area as a whole. The result is a lighter, stiffer frame with no power-robbing flex.
Before you roll your eyes at yet another BB standard, know this: BB386 can be used with any crankset on the market except for BB30. The shell dimensions of 46mm ID and 86.5mm width might sound familiar. A Pressfit30 shell uses the same 46mm ID. This means that Wilier's BB386 uses an existing, easy-to-source bearing assembly. The 86.5mm width is the same as a standard BB86 pressfit shell. This ensures compatibility with any typical external bearing crankset using either a 24 or 30mm spindle.
What you can't see is that Wilier employs a Special Elastic Infiltrated (SEI) film within the composite lay-up. While this technology has been used in the aeronautical and automotive industry, Wilier has pioneered its use in racing bicycles.
The SEI Film enables three things: 1) It increases impact resistance by 35% over a laminate composed of carbon fiber alone. 2) It increases inter-laminar shear strength by 18%. This is significant when the flame is flexed, particularly in acute flexure (read: crash into something). The film acts to damp the shear movement and retain the adhesion between layers, preserving the strength of the frame. 3) It increases flexing strength by 12%. This translates to a stiffer laminate with better stress-strain response, and you'll have a bike frame with more resistance to cracking. A very tangible benefit is that the SEI film also increases the vibration damping of the frame. You'll be more comfortable over rough roads on the Zero.7.
The SEI film also reduces the need for some of the intermediate modulus carbon that would typically be used to blend with the ultra-stiff 60 ton high modulus material. This reduction in material means a lighter weight bike. The Zero.7 gets Mistubishi's MR60H carbon in the areas of highest stress. With its incredible strength, less can be used. And again, less material equals a lighter more responsive bike. Wilier specs a resin system that includes zinc oxide nanospheres. These tiny particles serve as structural filler in the void space between the carbon fibers, saving weight and increasing strength.
The 1-1/8" to 1-1/4" tapered head tube is reminiscent of that found on the Cento1. Similarly, it's rounded on top and squared off on the bottom. The squared head tube mates to a squared fork crown, with the goal of providing outstanding steering precision. Whether descending a mountain at speed or sprinting out of the final corner of a criterium, the Zero.7 is stable and easy to keep on a line.
The Zero.7 is available here as a complete bike with a full Campagnolo Super Record 11 gruppo. The only drivetrain component that didn't come from Vicenza is the FSA BB386 EVO compact crankset. Wilier's global approach to the design of this bike extends from the technical aspects of the frame materials all the way to the aesthetic touches that make it so beautiful to behold. They've included Campagnolo Bora One wheels with custom logos to match the frame, and they're shod with Vittoria Corsa Evo CX tubular tires. The custom finish work continues on the Selle Italia SLR Kit Carbonio saddle, Ritchey Superlogic Carbon seatpost, and FSA K-Force handlebar and stem combo.
The Wilier Zero.7/Super Record 11 Complete Bike is Matte Carbon with Red accents and is available in Medium and Large.

Tech Specs
Frame Material:
carbon fiber
Fork Material:
carbon fiber
Shifters:
Campagnolo Super Record 11 Ergopower
Front Derailleur:
Campagnolo Super Record
Rear Derailleur:
Campagnolo Super Record
Crankset:
53/39 t FSA K-Force
Bottom Bracket:
FSA BB386
Cassette:
12-25 t Campagnolo Super Record
Brake Calipers:
Campagnolo Super Record Skeleton
Handlebar:
FSA K-Force carbon fiber
Saddle:
Selle Italia SLR Kit Carbonio
Seatpost:
FSA K-Force carbon fiber
Wheelset:
Campagnolo Bora One
Recommended Use:
cycling, training, racing
Manufacturer Warranty:
5 years on frame
View more Pre-Configured Road Bikes
Geometry chart
Wilier
Geometry Chart
Zero.7

Seat Tube

(c-t)

Effective Top Tube

(eTT)

Stack

(S)

Reach

(R)

Head Tube

(HT)

Head Tube Angle

(HTo)

Seat Tube Angle

(STo)

Chainstay

XS
46.5cm
51.5cm
50.3cm
37.8cm
10.5cm
71.3o
75.0o
40.3cm
S
48.5cm
52.8cm
52.0cm
38.2cm
12.0cm
72.0o
74.5o
40.4cm
M
50.5cm
53.7cm
54.6cm
38.5cm
14.3cm
73.0o
74.5o
40.5cm
L
52.5cm
55.5cm
55.5cm
39.0cm
15.4cm
73.0o
73.5o
40.7cm
XL
55.5cm
57.0cm
57.2cm
39.5cm
17.1cm
73.0o
73.0o
40.9cm
XXL
59.0cm
58.5cm
59.0cm
40.0cm
18.8cm
73.5o
72.5o
41.0cm
Community & Reviews
What do you think of the
Wilier
Zero.7/Campagnolo Super Record 11 Complete Bike - 2012
? Share a...