Wilier Zero.7 Road Bike Frame $0.00
Item # WLY0012
Description
Italian exotics have always tapped deeply into our senses. Seriously, who didn't have a 308 GTS or a Countach on their wall as a youngster? And if you grew up on two wheels, Bimota and Aprilia offerings were just as lust worthy. The Wilier Zero.7 Road Bike Frame carries on this tradition, though its matte finish is understated in comparison to the sort of flashiness we're used to from Italian designers. It looks more like a high tech project bike, which isn't far from the truth. A close look will reveal some, but not all of the structural details that make the Zero.7 such an astounding performer on the road.
The massive down tube and seat tube juncture at the bottom bracket shell begs for attention. The beefiness here is a byproduct of the BB386 EVO bottom bracket system. Where a typical road bottom bracket shell (BB30 included) is 68mm wide, BB386 EVO is a full 18.5mm wider. The down and seat tubes intersect the shell at greater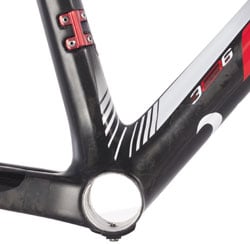 diameter, giving it greater surface area as a whole. The result is a lighter, stiffer frame with no power-robbing flex.
Before you roll your eyes at yet another BB standard, know this: BB386 can be used with any crankset on the market except for BB30. The shell dimensions of 46mm ID and 86.5mm width might sound familiar. A Pressfit30 shell uses the same 46mm ID. This means that Wilier's BB386 uses an existing, easy-to-source bearing assembly. The 86.5mm width is the same as a standard BB86 pressfit shell. This ensures compatibility with any typical external bearing crankset using either a 24 or 30mm spindle.
What you can't see is that Wilier employs a Special Elastic Infiltrated (SEI) film within the composite lay-up. While this technology has been used in the aeronautical and automotive industry, Wilier has pioneered its use in racing bicycles.
The SEI Film enables three things: 1) It increases impact resistance by 35% over a laminate composed of carbon fiber alone. 2) It increases inter-laminar shear strength by 18%. This is significant when the flame is flexed, particularly in acute flexure (read: crash into something). The film acts to damp the shear movement and retain the adhesion between layers, preserving the strength of the frame. 3) It increases flexing strength by 12%. This translates to a stiffer laminate with better stress-strain response, and you'll have a bike frame with more resistance to cracking. A very tangible benefit is that the SEI film also increases the vibration damping of the frame. You'll be more comfortable over rough roads on the Zero.7.
The SEI film also reduces the need for some of the intermediate modulus carbon that would typically be used to blend with the ultra-stiff 60 ton high modulus material. This reduction in material means a lighter weight bike. The Zero.7 gets Mistubishi's MR60H carbon in the areas of highest stress. With its incredible strength, less can be used. And again, less material equals a lighter more responsive bike. Wilier specs a resin system that includes zinc oxide nanospheres. These tiny particles serve as structural filler in the void space between the carbon fibers, saving weight and increasing strength.
The 1-1/8" to 1-1/4" tapered head tube is reminiscent of that found on the Cento1. Similarly, it's rounded on top and squared off on the bottom. The squared head tube mates to a squared fork crown, with the goal of providing outstanding steering precision. Whether descending a mountain at speed or sprinting out of the final corner of a criterium, the Zero.7 is stable and easy to keep on a line.
The Wilier Zero.7 Road Bike Frame is available in six sizes from X-Small to XX-Large, and in the colors Black/red and Giallo Lampre.

Tech Specs
Frame Material:
60T carbon fiber, SEI Film (Special Elastic infiltrated)
Fork Material:
carbon monocoque
Steer Tube Type:
tapered carbon fiber
Replaceable Rear Derailleur Hanger:
yes
Head Tube Diameter:
1-1/4 to 1-1/8in tapered
Headset Included:
yes, Ritchey WCS
Bottom Bracket Type:
BB386EVO
Front Derailleur Mount:
braze-on
Seat Collar:
Wilier clamp
Extras:
Ritchey Superlogic Seatpost
Recommended Use:
road cycling and racing
Manufacturer Warranty:
5 years
Geometry chart
Wilier
Geometry Chart
Zero.7

Seat Tube

(c-t)

Effective Top Tube

(eTT)

Stack

(S)

Reach

(R)

Head Tube

(HT)

Head Tube Angle

(HTo)

Seat Tube Angle

(STo)

Chainstay

XS
46.5cm
51.5cm
50.3cm
37.8cm
10.5cm
71.3o
75.0o
40.3cm
S
48.5cm
52.8cm
52.0cm
38.2cm
12.0cm
72.0o
74.5o
40.4cm
M
50.5cm
53.7cm
54.6cm
38.5cm
14.3cm
73.0o
74.5o
40.5cm
L
52.5cm
55.5cm
55.5cm
39.0cm
15.4cm
73.0o
73.5o
40.7cm
XL
55.5cm
57.0cm
57.2cm
39.5cm
17.1cm
73.0o
73.0o
40.9cm
XXL
59.0cm
58.5cm
59.0cm
40.0cm
18.8cm
73.5o
72.5o
41.0cm
Reviews & Community
What do you think of the
Wilier
Zero.7 Road Bike Frame
? Share a...
Compiling options for this bike.
It'll be just a moment...