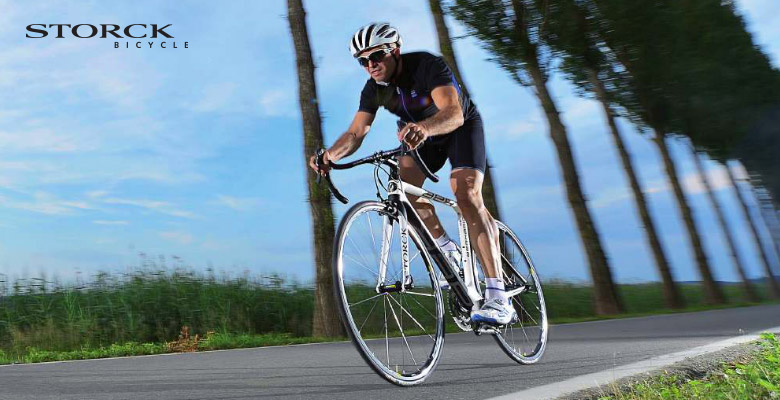 Markus Storck built a reputation of continually holding his own through innovative, lasting bicycle and component designs. He has become one of the select few 'cult' manufacturers in Germany, continually dominating test reports and being known as a designer well ahead of his time. Take, for example, the 1 1/8in Scenario Pro headset. Originating in mountain bike production, this sizing was highly unusual in the road market. Today, this dimension has risen to the world standard for racing bikes. And when did Storck begin implementing this? 1995. He also developed the complementary Stiletto full-carbon fork that same, brand-launching, year. It weighed a mere 300 grams, immediately set new standards with its lightweight design and stiffness, and is still being produced in unchanged form today.
Storck began his upward trajectory as a bicycle developer at young age. When his parents decided to take over a shop in Frankfurt, Germany, in the late '60s, he was an integral part of the business. At the time, customers' tastes were beginning to evolve and the range of brands the Storcks carried -- Bianchi, Raleigh, Colnago, Giani Motta, and Peugeot -- were no longer enough to satisfy customers' demanding requests. It was during this time his father began ordering custom-built frames from manufacturers Technobull in Germany and Romani in Italy. Along with individualized graphics and styling, the Storcks developed customer-specific frame geometries, which enabled their son Markus to gain experience as a developer and designer while he was still very young. He contributed his own suggestions for frame design, visual appearance and geometry of the bicycles, which ultimately led him to develop his own products.
Shortly after establishing his own company, Bike-tech, at the age of 22, Storck began networking with manufacturers and dealers worldwide, ultimately leading him to Gary Klein. Storck was enthused by Klein's new oversized aluminum frames of the time (1986), realizing there was tremendous potential to not only distribute the company's bikes in Germany, but also to improve their design. The partnership flourished, proving to be lucrative for both sides, until Klein sold the company to Trek in 1995. It was a pivotal moment for Markus Storck -- standing on the podium of Eurobike that same year and accepting the first place award for Klein's Attitude mountain bike. He called a Trek representative onto the stage, passed the award over, and decided that from then on he would produce bikes under his own name.
Today, Storck frames continue to set new standards for their high quality and timeless design. Numerous stiffness-to-weight-ratio test awards and design prizes stacked up over the years stand as a testament to the company's experience with carbon composites and tubing technology. From the successful carbon fiber Storck Scenario models C 1.1 and C 0.9 introduced in 2004, to the current flagship Fascenario 0.6 G2, Storck continues to set new standards in what is attainable through implementing a technical foundation rooted in product testing. After all, nothing is left to chance at Storck. Engineers employ visual control of all product dimensions with the company's special frame alignment table and are able to check every frame in detail using their own modern EFBe derived testing equipment. Dynamic loading durability tests simulate pedaling forces, rider weight and jumps, with frame rigidity at the head tube and bottom bracket measured statically. Storck's testing procedures conform to the newest and strictest EU testing norms and standards, which have resulted in creating some of the lightest, most rigid, and durable frames and forks currently available.