Summertime, easy riding.
There are many good reasons why the Sidi Ergo 3 Vent Carbon Shoes are present at everything from your local amateur crit to professional stage races. Among other enhancements, Sidi took the legendary Ergo 2 Shoes, shaved some weight off them, and added four-season adaptability by incorporating an ingenious on/off venting system. In summary, the functionality and comfort of these shoes make them wildly popular. So it's true that we're not the only place you can buy them from. However, we're offering them in three Euro Edition color schemes you can only get from us. Comfort, power transfer, and lightness are perhaps the most important shoe considerations, but an added touch of style never hurts, right?
Sidi re-engineered the sole of the Sidi Ergo 3 Vent Carbon Shoes to allow for an open/closed venting system. The sole shares the same construction method that they developed with their Carbon Lite sole, yet they've taken out 38 grams in the process. Even with the weight savings, you'll get the same kind of stiffness and razor-sharp power transfer you've grown to expect from Sidi. Like Garneau's Ergo Air system, the vent inlet is at the toe. However, Sidi's system can be opened or closed depending on the temperature and your preferences. This, you can do on the bike if necessary. The airflow moves underneath and through the insole to cool your feet in sweltering summer temps.
While the sole is important, the closure system can make or break a shoe for us. The Ergo 3 has the same three component arrangement as previous Ergo shoes -- Ratcheting Caliper Buckle, Techno II Buckle, and Velcro Strap. The Ratcheting Caliper Buckle is mated to Sidi's Soft Instep Closure System strap that more evenly spreads the upward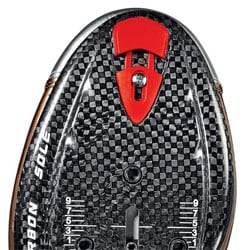 stroke pedaling forces across the top of your foot. The buckle on the outside of the foot provides a maximum of two clicks per uptake along with single-click releases, meaning that you can precisely tension the pressure of the strap, even during a race. The Techno II Buckle allows you to micro-adjust strap pressure, so the fit of your upper won't be too loose or too tight. No other system so precisely and so gently provides a custom fit. The Velcro strap on the toe is reinforced with integrated locking teeth to absolutely, positively resist slippage during crucial all-out efforts.
Sidi adds their improved Heel Security System (HSS) to keep your foot positively planted in the shoe. It's an adjustable, rigid composite band that closes the shoe more securely over your heel to anchor it in place around your Achilles. So no matter how much power you're pouring into the pedals, your heel will stay in place inside the shoe. It's a detail that allows you to cinch down the straps of your shoes less tightly -- giving you more comfort along with more security.
With a degree of engineered flex in the Vent Carbon Sole and a secure and slip-free heel, you won't have to worry about hot spots. And you don't have to worry about heat in the rest of your feet, either, thanks to the Ergo 3's combination of Lorica microfiber and ballistic mesh -- giving you comfort, fit, ventilation, and durability.
The Sidi Ergo 3 Vent Carbon Euro Edition Shoes are available in Black/black vernice, Red/red vernice, and White/green vernice. They come in half sizes from 39-48. All the small parts on the Ergo 3 Shoes are fully replaceable. It's nice to know that you can wear your Sidi shoes for a decade's worth of riding. As wear and tear (and accidental damage) happens to your shoes, Sidi will be there to nurse them back to health.
Tech Specs
Closure:
hook-and-loop strap, micro-buckle, Techno II buckle
Recommended Use:
cycling, racing, hot summer rides
Cleat Compatibility:
3-hole road
Size chart
Cycling Shoes
Men's

| US SHOE SIZE | 5.5 | 6 | 6.5 | 7 | 7.5 | 8 | 8.5 | 9 | 9.5 | 10 | 10.5 | 11 | 11.5 | 12 | 12.5 | 13 | 13.5 | 14 |
| --- | --- | --- | --- | --- | --- | --- | --- | --- | --- | --- | --- | --- | --- | --- | --- | --- | --- | --- |
| Chrome | 37.5 | 38 | 39 | 39.5 | 40 | 41 | 41.5 | 42 | 43 | 44 | 44.5 | 45 | 46 | 47 | | 47.5 | | 48 |
| Diadora | 38 | 39 | 39.5 | 40 | 40.5 | 41 | 42 | 42.5 | 43 | 43.5 | 44 | 44.5 | 45 | 45.5 | 46 | | | |
| DMT | 38 | | 39 | | 40 | 41 | 42 | 42.5 | 43 | 43.5 | 44.5 | 45 | 45.5 | 46 | | 47 | 48 | |
| Five Ten | 37 | 38 | 38.5 | 39 | 40 | 40.5 | 41 | 42 | 42.5 | 43 | 44 | 44.5 | 45 | 46 | 46.5 | 47 | | |
| Fi'zi:k | 38 | 39 | 39.5 | 40 | 40.5 | 41 | 42 | 42.5 | 43 | 43.5 | 44 | 44.5 | 45 | 45.5 | 46 | | | |
| Gaerne | 38 | 39 | | 40 | | 41 | 42 | 42.5 | 43 | 44 | 44.5 | 45 | | 46 | 47 | 48 | | |
| Giro | | | 39 | 40 | 40.5 | 41 | 42 | 42.5 | 43 | 43.5 | 44.5 | 45 | 45.5 | 46 | 46.5 | 47 | 48 | |
| Lake | 39.5 | 40 | 40.5 | 41 | 41.5 | 42 | 42.5 | 43 | 43.5 | 44 | 44.5 | 45 | 45.5 | 46 | 46.5 | 47 | 48 | |
| Louis Garneau | 39 | 39.5 | 40 | 40.5 | 41 | 41.5 | 42 | 42.5 | 43 | 43.5 | 44 | 44.5 | 45 | 45.5 | 46 | 46.5 | 47 | 48 |
| Mavic (US/EU) | 5.5 / 38 | 6 / 38.7 | 6.5 / 39.3 | 7 / 40 | 7.5 / 40.7 | 8 / 41.3 | 8.5 / 42 | 9 / 42.7 | 9.5 / 43.3 | 10 / 44 | 10.5/ 44.7 | 11 / 45.3 | 11.5 / 46 | 12 / 46.7 | 12.5 / 47.3 | 13 / 48 | 13.5 / 48.7 | |
| Northwave | 37 | | 38 | 39 | 40 | 40.5 | 41 | 41.5 | 42 | 42.5 | 43 | 44 | 44.5 | 45 | 45.5 | 46 | 47 | 48 |
| Pearl Izumi | 38 | 39 | 39.5 | 40 | 41 | 41.5 | 42 | 42.5 | 43 | 44 | 44.5 | 45 | 46 | 46.5 | 47 | 48 | 48.5 | 49 |
| Shimano | 38.5 | 39.5 | 40 | 40.5 | 41 | 41.5 | 42 | 43 | 44 | 44.5 | 45 | 45.5 | 46.5 | 47 | | 49 | | 50 |
| Sidi | | 39 | 40 | | 41 | | 42 | 43 | | 44 | 45 | | 46 | 47 | | 48 | | 49 |
| Six Six One | 38 | 38.5 | 39 | 40 | 40.5 | 41 | 42 | 43 | 43.5 | 44 | 44.5 | 45 | | 46 | 47 | 48 | 49 | 50 |
| Suplest | 37 | 38 | | 39 | 40 | 41 | | 42 | 42.5 | 43 | 43.5 | 44 | 44.5 | 45 | | 46 | | 47 |
| Vans | 37 | 38 | 38.5 | 39 | 40 | 40.5 | 41 | 42 | 42.5 | 43 | 44 | 44.5 | 45 | 46 | | 47 | | 48 |
| US SHOE SIZE | 5.5 | 6 | 6.5 | 7 | 7.5 | 8 | 8.5 | 9 | 9.5 | 10 | 10.5 | 11 | 11.5 | 12 | 12.5 | 13 | 13.5 | 14 |