Shimano Di2 Remote Sprinter Shifters $0.00
Item #

SHI0531
Description
Shimano's Di2 Remote Sprinter Shifters function with Dura-Ace Di2 to put the controls for your rear derailleur within easy reach of your thumbs when you're tucked into the drops in an all-out 40mph sprint. You'll have immediate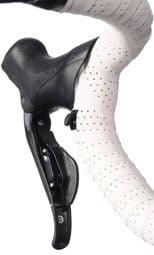 access and the freedom to select gears mid-sprint in case you misjudged it out of the last corner or if it's a long one with elevation gain or loss.
The Sprinter Shifters work like Shimano's Bar End TT shifters in that they plug into the Dura-Ace Di2 wiring harness to add remote function to the Di2 STI Levers. The key difference is that each Sprinter button only functions to move the rear derailleur up or down in the gear range. The system is designed to put one button on each side of the handlebar, and it's your preference -- left or right for gear up or gear down. Each rapidfire shift is just a light click away. And like the other shifter versions, these require the lightest touch, a bit like operating the mouse on your computer.
The Shimano Di2 Remote Sprinter Shifters must be used in conjunction with Shimano's Dura-Ace Di2 STI Levers to function. They cannot be run on their own, nor will they work with Ultegra Di2. The set comes as one unit with the two buttons tied into the same harness. The wires can be run discreetly underneath the bar tape, and Shimano includes a cutting guide for the window in the tape, necessary for the protrusion of the shifter buttons.
Tech Specs
Compatible Components:
Shimano Di2
Recommended Use:
shifting the rear from the drops
Manufacturer Warranty:
3 years