Santa Cruz Bicycles Tallboy Carbon - 2012 $0.00
Item #

SNZ0215
Description
At 5 pounds, the Santa Cruz Tallboy is one of the lightest, if not the lightest full-suspension 29er available -- by a pound or two in most cases. But light is only just that, and it's only worth something if it's paired with handling and toughness -- and the full-carbon Tallboy has plenty of each. Handling is a function of a number of things working in harmony -- geometry, stiffness and suspension design. The 100mm travel Tallboy keeps things tight, and climbs like a rocket thanks to a responsive, compact 17.5" chainstay on each of the medium through XXL sizes. This works to keep the wheelbase in check and allow for a more stable 71 degree head angle. All this and room for a 2.5" tire. Bring on the twisty singletrack!
With their third carbon bike, it's clear that Santa Cruz is supremely confident in their composite fabrication processes. Given our experiences with the Blur XC Carbon and Blur LT Carbon, so are we. Frankly, they're nothing short of amazing. Why? Santa Cruz recognized that the frame couldn't just be light, just be stiff, or just be strong. It had to be all three. That was their target, and they blew it out of the water. They achieved it through three unique carbon processes:
1) One-piece lay-up and curing. By laying up the front triangle at once, as opposed to assembling joints that require bonding or wrapping, Santa Cruz eliminates excess material and weight. As you might imagine, this is a very costly process as each size requires dedicated tooling.
2) Continuing fibers around tube junctions. The resulting structure distributes loads and absorbs impact energy better because the one-piece layup process allows for continuous fibers that wrap between tubes. Just like with the Blur XC Carbon, there is nary a rivet or bond to be found. Yes, we did say it absorbed impact better.
3) Net shape lay-up and fiber compaction. The one-piece lay-up and curing process allows Santa Cruz to control the outside shape, the inside shape, and to compact the fibers during the lay-up. The frame looks as good if not better on the inside as it does on the outside -- there's nothing there except carbon. Sweet, smooth carbon.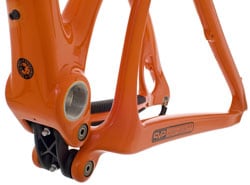 The result is an über-stiff carbon chassis, paired with the new generation of VPP. It's the same Virtual Pivot Point Design (VPP) that graced the recent redesigns of the Blur XC and Blur LT -- completely different than the prior iteration. The totally redesigned upper and lower links flatten out the shock rate and provide a more active feel to the early end of the axle path. It allows the rear wheel to move up and back as you ride over a bump. It balances the downward force of your pedaling with the pulling force of the chain through its link configuration and axle path. The resulting movement makes it even easier to roll over a bump, or through a dip.
The VPP design also prevents pedal-induced compression and lock-out, and the suspension doesn't change whether or not you're in the saddle. Whether it is rolling through rock gardens, climbing water bars, descending stairs, or riding on lumpy fire roads, the suspension is active and responsive, even driving the rear wheel into the ground when pedaling furiously, enhancing the bike's traction and climbing characteristics. Pair that with the natural advantages of the bigger wheels on a 29er, and you've got a helluva ride.
They added a carbon fiber upper link to both shave weight and enhance lateral stiffness. Easily-serviceable grease ports were added to the aluminum alloy lower link (grease gun and grease included). The pivots now have beefy 15mm locking axle-pins. They run on intricately-sealed bearings with one-way purging seals that should last the life of the frame, and don't creak or loosen. For the people who want every lightweight feature addressed, Santa Cruz topped it off with titanium bolts in all the places that made good sense. What does this all mean? You can ride the you-know-what out of it, and rest easy.
The Tallboy yields 100mm of plush VPP suspension thanks to a Fox Float RP23, a lightweight, reliable shock that is easy to adjust and doesn't have too many confusing fine-tuning options. The three position Propedal lever provides a platform option to maximize efficiency during extended out-of-the-saddle climbing.
To enhance stiffness and tracking, the frame utilizes the same mixed tapered headset -- 1.5" lower race with a 1-1/8" internal upper race -- as the Blur LTc. It accepts 100 or 120mm travel forks with standard 1-1/8" or tapered steerers. Owing to the cross-country design, the frame has ISO brake mounts that can take up to 185mm rotors.
The Santa Cruz Tallboy is available in Gloss Blue, Matte Carbon/red, Matte Carbon/silver, and Orange/White in medium through XXL sizes. It requires a 30.9 seatpost and a 34.9mm traditional top pull front derailleur. The right dropout has a replaceable derailleur hanger. There are braze-ons for both a down tube water bottle cage and an under the down tube water bottle cage. The frame has a two year warranty against manufacturing defects, while the bearings are guaranteed for life.
US Santa Cruz dealers are prohibited from shipping Santa Cruz bicycles outside of the United States.
Virtual Pivot Point (VPP) suspension design eliminates pedal bob while maintaining a plush response to trail obstacles

Tapered head tube adds front end stiffness, and accommodates the use of newer forks with tapered steerer tubes

Replaceable derailleur hanger keeps a little accident from being atrociously expensive

Integrated chainstay wrap provides protection against chain slap

Grease ports and locking collet axle heads provide simple, user-friendly maintenance


Tech Specs
Frame Material:
carbon fiber
Rear Shock:
Fox Float RP23
Recommended Fork Travel:
100 - 120 mm
Head Tube Diameter:
ZS44/EC49 Mixed Tapered
Bottom Bracket Type:
73 mm English
Front Derailleur Mount:
34.9mm clamp-on
Seatpost Diameter:
30.9 mm
Seat Collar:
34.9 mm Santa Cruz QR
Accessory Cable Stops:
seat dropper
Replaceable Rear Derailleur Hanger:
yes
Recommended Use:
big-wheeled cross country
Manufacturer Warranty:
5 years on frame
sizing chart
Bike size by rider height
|
Geometry chart
Santa Cruz Bicycles
Geometry Chart
Tallboy1 and Tallboy1 C
Seat Tube
(c-t)
Effective Top Tube
Stack
Reach
Stand Over
Head Tube Length
Head Tube Angle
Seat Tube Angle
Bottom Bracket Height
Chainstay
Wheelbase
M
17.7in
23.0in
24.1in
15.6in
29.1in
3.9in
71.0o
73.0o
12.8in
17.5in
42.6in
L
19.5in
24.0in
24.1in
16.6in
29.9in
3.9in
71.0o
73.0o
12.8in
17.5in
43.6in
XL
21.0in
25.0in
24.5in
17.5in
30.6in
4.3in
71.0o
73.0o
12.8in
17.5in
44.7in
XXL
22.5in
25.9in
24.9in
18.3in
31.0in
4.7in
71.0o
73.0o
12.8in
17.5in
45.6in
Good day to you guys! do you have Medium...
Good day to you guys! do you have Medium available and do you ship this sweet frame to Courtenay BC. Please respond... will be waiting. Many thanks!
It would appear to me that at the time of this posting, the only available size that BC has in stock is an XXL. As for whether or not BC ships this frame to Courtenay, British Columbia, they do not; unfortunately, there are a number of brands that Backcountry stocks which, due to restrictions imposed by the manufacturers whose products BC purveys, they cannot ship outside the United States. I've included a shortened URL of those brands if you want to check it out (http://tinyurl.com/lg4ybt2). Sorry to be the bearer of bad news.
what rear shock should i replace mine with...
what rear shock should i replace mine with as i want to completly lock my shock out


Don't know about complete lockout, but I use the latest Fox Float CTD shock. It's pretty stiff in climb mode and a good upgrade over the older RP23 shock.
Awesome!
Upgraded from my Blur XC Carbon to 29" wheels. I LOVE the Tallboy. I'm actually quite surprised how much I prefer it over the Blur. It's light, it's stiff and it's fast. The latest frames have a 142mm rear axle which makes things stiff, but check with customer service so you know what you're getting and you get the right rear wheel. I'm running mine with a 156 Q-factor crank, which seems to be now approved by Santa Cruz in the latest revision,.