Out of Stock
Item # SNZ0247
Don't worry though, we have a lot more Downhill & Freeride in stock than that.
Santa Cruz Bicycles Nomad $0.00
Item # SNZ0247
Description
What do you call something that sets the bar when it gets better? The standard's replacement? "New and improved" doesn't begin to explain.
This is our predicament with the Santa Cruz Nomad. Since its introduction, the original Nomad defined the all-mountain category and forced the industry to react. Like any paradigm-changing design, the reason it caught on wasn't that it was different, but because the differences opened our eyes to a new kind of ride. "Shreddable" is a word for the world that unfolded before our eyes as we realized the possibilities that the Nomad offered.
The redesigned Nomad offers even more possibilities. Along with shorter chainstays and a new front triangle, Santa Cruz has tweaked the Nomad's Virtual Pivot Point (VPP) suspension design to minimize chain growth by some 15 to 20%. The revised pivot locations have also produced a flatter suspension rate curve. The result is a suspension that is always active and smooth. The beginning of the stroke will be supple and responsive to small bumps, yet you'll be able to use every last one of the 160 millimeters of travel at the end of the stroke without a harsh bottoming sensation. If that wasn't enough, the instant center of the rear suspension now sits lower, which improves stability and traction under braking loads.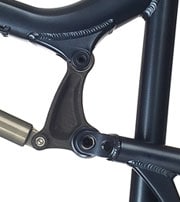 The rear swingarm is attached to the frame with two links -- the VPP lower link, and a molded carbon upper -- and oversized 15mm pivots with locking axle-pins. The pivots run on sealed bearings with one-way purging seals. Like all Santa Cruz bikes, the bearings have a lifetime warranty. The big pivots and sealed bearings make for a bike that is laterally stiff, and the pivots won't creak or loosen. The lower link has easily-serviceable grease ports for easy maintenance (grease gun and grease included), ensuring your suspension will stay smooth for a long while. Leaving no detail overlooked, the Nomad features titanium pivot hardware to shave every last gram.
The standard shock with the Nomad is the large volume Fox RP23 -- a lightweight air shock that has become a worldwide favorite. Or for a $216 upcharge, you can opt for a Fox DHX RC4 Coil shock for race-worthy tune ability.
This frame builds into a bike that is light enough for all mountain riding, but has the travel and geometry for a more aggressive intent. Worry not though, the front end is all about having the bulk to resist the forces that pull apart lesser frames, but not at the expense of weight -- the Nomad was lightened up by a couple ounces for 2009, tipping the scales at just 6.9 pounds.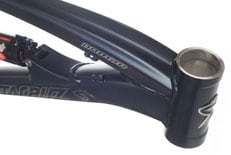 Set on a 67-degree angle, the head tube is externally-butted and designed to work with 1.5" headsets and forks from 160-180mm travel. The oversized, hydroformed 6000-series aluminum top tube and down tube provide plenty of surface area for beefy welds. ISCG-05 tabs make for easy chainguide installation. For those who are uncertain of the conditions they are to face, tires up to 2.7" in width can fit in back. And braking shouldn't be an issue as the Nomad accepts rotors up to 203mm.
The Santa Cruz Nomad is powder coated in your choice of Bare aluminum, Black, Lime, Red, White, Sea Bright Blue, or Chocolate. It requires a 30.9mm seat post, and 34.9mm top swing top pull front derailleur (see notes below). The bottom bracket shell is 73mm wide. And perhaps best-of-all, the right dropout has a replaceable derailleur hanger with a built-in bottle opener. The frame has a two year warranty against manufacturing defects, while the bearings are guaranteed for life.
Please Note: Due to cable routing and space considerations, current SRAM front derailleurs will not work with the Nomad Carbon. For 2 x 10 drivetrains, we suggest using a Shimano XTR Double Front Derailleur FD-M985. For 3 x 10 drivetrains, we suggest the XTR Triple Front Derailleur FD-M980.
US Santa Cruz dealers are prohibited from shipping Santa Cruz bicycles outside of the United States.
View more Downhill & Freeride Bikes