Santa Cruz Bicycles Highball Carbon - 2012 $0.00
Item #

SNZ0193
Description
Greyhound, Moscow Mule, and Screwdriver are some names for highball drinks that seem appropriate as metaphors for the Santa Cruz Highball. It's a full-carbon hardtail (the first for Santa Cruz) that answers the call for a lightweight hard-charging race bike with their logo on the downtube. The folks at Santa Cruz have been practicing their craft with carbon fiber for their latest round of full suspension designs, and here they put their knowledge and experience to good measure to create a superlight, race-ready 29er hardtail.
The advantages of the bigger wheels are hard to dismiss when your number one priority is speed. The larger diameter hoops have a reduced approach angle in comparison to smaller 26" wheels. This is the key to their fast, smooth rolling capability. This is also why the Santa Cruz hardtail had to be a backwards evolution of their light yet plush Tallboy 29er full suspension bike. The Tallboy was something of a revelation for Santa Cruz and for us here at Competitive Cyclist. The demand has nearly outstripped availability. As a 29er and being one of our best selling mountain bikes ever, it's certain that they've got big wheels dialed.
The technology is anything but backwards. Santa Cruz employs all the same molding techniques among their carbon fiber frames to make them superior to alloy. They achieve groundbreaking strength and stiffness through three unique carbon processes: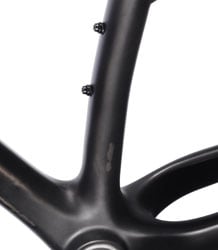 (1) By using a one-piece lay-up for the front triangle, as opposed to assembling joints that require bonding or wrapping, Santa Cruz eliminates excess material and weight. (2) This one-piece process incorporates continuous fibers around the tube junctions, resulting in a structure that can distribute loads and absorb impact energy better. (3) Their net shape lay-up and fiber compaction ensures that Santa Cruz can control the outside shape as well as the inside shape and that the layup is compacted to promote an optimum cloth/resin ratio. The frame looks as good on the inside as it does on the outside. Even the cable and hose guides are incorporated into the original layup. There's nary a rivet to be found.
To enhance stiffness and tracking, the Highball utilizes the same mixed tapered headset as the Blur LT Carbon and Tallboy. This headset format offers benefits and a few options that are worth considering. The zero stack upper bearing assembly has a minimal stack height to allow you to get the handlebars low enough for a proper cross-country position. And while we might normally pair this frame with a traditional 1.5" lower cup that would accept a tapered steerer, there is always the option of running a zero stack lower bearing assembly with a straight 1-1/8" steerer to steepen the head angle a bit if that's the way you like it. As is, with a traditional cup on the bottom, the Highball has a 70.5° head angle.
The Highball tubes don't stray too far from simple rounded shapes. To us, it means that the design and engineering team at Santa Cruz were bent to make this thing all business. While its demure styling has its own quiet appeal, it's obvious that the Highball is all about function. And that purpose has to do with putting the power to the ground. The chainstays and seat tube are a great example, where they've been optimized for supreme uphill traction and a nimble feel in twisty singletrack. The shortish 17.3" stays are possible because Santa Cruz put a subtle bend in the seat tube a few inches above the bottom bracket for more rear tire clearance. If you'd noticed the 71° seat angle in the geometry chart, this is the reason. Fear not, your normal seat position and range of adjustment will not be affected compared to how you'd ride with a standard 73° angle. The slacker seat angle was chosen to account for the curvature in the seat tube.
The Santa Cruz Highball is available in Medium through XX-Large sizes and two colors -- Gloss Carbon Red and Matte Carbon Grey. It has a tapered head tube (44mm to 49mm ID) and requires a mixed tapered 1-1/8" to 1.5" headset. It also takes a 30.9mm seatpost and a high clamp, top-pull front derailleur. The QR compatible rear dropouts have ISO disc brake tabs.
For those of you intent on using SRAM XX, know that the Highball has ample clearance to run the narrower Q156 crank.
Please Note: The frame has a two year warranty against manufacturing defects. US Santa Cruz dealers are prohibited from shipping Santa Cruz bicycles outside of the United States.
Proprietary one-piece layup ensures the maximum amount of stiffness coupled with the lightest weight possible
Short chainstays make for a nimble, quick-handling race frame
Two water bottle mounts keep hydration close at hand—none of that backpack business for you
Designed around a 100-millimeter fork but will accept up to a 120-millimeter

Tech Specs
Frame Material:
carbon fiber
Recommended Fork Travel:
100 - 120 mm
Rear Axle:
10x135 mm quick-release
Head Tube Diameter:
ZS44/EC49 Mixed Tapered
Bottom Bracket Type:
73 mm English
Front Derailleur Mount:
34.9mm clamp-on
Seatpost Diameter:
30.9 mm
Seat Collar:
Santa Cruz non-QR
Replaceable Rear Derailleur Hanger:
yes
Recommended Use:
mountain biking, racing, XC
Manufacturer Warranty:
5 years on frame
sizing chart
Bike size by rider height
|
Geometry chart
Santa Cruz
Geometry Chart
Highball Carbon

| | Seat Tube | Effective Top Tube | Stack | Reach | Stand Over | Head Tube | Head Tube Angle | Seat Tube Angle | Bottom Bracket Height | Chainstay | Wheelbase |
| --- | --- | --- | --- | --- | --- | --- | --- | --- | --- | --- | --- |
| M | 17.5in | 23.0in | 25.0in | 15.4in | 29.1in | 3.9in | 70.5o | 73.0o | 12.0in | 17.3in | 42.3in |
| L | 19.5in | 24.0in | 25.0in | 16.4in | 30.6in | 3.9in | 70.5o | 73.0o | 12.0in | 17.3in | 43.3in |
| XL | 21.0in | 25.0in | 25.3in | 17.3in | 31.3in | 4.3in | 70.5o | 73.0o | 12.0in | 17.3in | 44.3in |
| XXL | 22.5in | 25.9in | 25.7in | 18.0in | 32.5in | 4.7in | 70.5o | 73.0o | 12.0in | 17.3in | 45.3in |