Santa Cruz Bicycles Heckler D AM Complete Bike - 2012 $0.00
Item #

SNZ0223
Description
The Santa Cruz Heckler D AM Complete Bike is a brawnier, longer-travel version of the Superlight. Sporting 150mm of rear suspension travel and a geometry that's better suited aggressive riding, the Heckler lets you ride terrain that'll stuff shorter travel bikes. Add in the ability to take a 2.5in tire and a 203mm brake rotor and the Heckler's a hell of a versatile machine. While it can be built up as a cross-country or freeride bike, the Santa Cruz Heckler is best suited as an all-mountain, all-day adventure machine.
The Heckler frame is crafted from shaped 6069 aluminum tubing. This includes extensive hydroforming and tube butting to optimize the strength, stiffness, and weight of the Heckler. The rear triangle is asymmetric, which does two things: it increases stiffness to provide excellent tracking with smooth suspension action, and it helps to suppress chain slap for a quieter ride. Santa Cruz has always used single-pivot suspension designs, favoring them for their simplicity, reliability, and plush action – in this application they put extensive time into finding the ideal pivot location to offer a perfect balance of pedal-ablity and bump compliance. A Fox Float RL keeps suspension motion under control, and features rebound and preload adjustments to offer a tailored ride. This rear shock also has a lockout to provide efficient, bob-free climbing.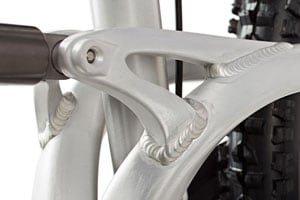 Up front, a Rock Shox Sektor R places the Heckler's geometry in the all-mountain segment, leveling bumps with 150mm of plush action. The D AM build kit consists of a Shimano 10-speed drivetrain with the duties split between Deore for the crank, cassette, and shifters, and SLX for the rear derailleur. The Easton EA30 handlebar, stem, and seatpost are all sensible alloy bits, and are a nice foundation for the Lizard Skin Charger grips and WTB Volt Sport saddle. WTB FX rims are laced to Shimano M525 hubs with 14 gauge DT spokes. Aggressive Maxxis High Roller 2.35in tires round out the wheel package, and Avid Elixir 1 brakes with a 185mm front rotor bring it all to a stop.
The Santa Cruz Heckler D AM Complete Bike is powder coated in your choice of Clear, Black, Lime or Galaxy Blue. Perhaps one of its finest details is the integrated bottle-opener on the replaceable derailleur hanger. It's nice to know that Santa Cruz pays attention to the little things. The Heckler frame has a two year warranty against manufacturing defects, and the bearings are guaranteed for life.

Tech Specs
Suspension:
full suspension
Headset:
1.125 - 1.125 in FSA Orbit UF
Fork:
RockShox Sektor Sector R Solo Air
Spokes:
14 gauge DT Swiss
Front Derailleur:
Shimano M660 SLX
Front Derailleur Mount:
34.9 mm direct-mount
Rear Derailleur:
Shimano M662 SGS (SLX) 10spd
Chain Rings:
42 / 32 / 24 T
Bottom Bracket:
Shimano Deore
Brake Levers:
Avid Elixir 3
Brake Calipers:
Avid Elixir 3
Handlebar:
Race Face Ride XC
Grips:
Lizard Skin Charger
Stem Length:
[large] 90 mm
Cassette:
11 - 34 T Shimano HG50
Tires:
Maxxis High Roller
Tire Size:
2.35 in x 26 in
Seatpost:
Race Face Ride XC
Seatpost Diameter:
30.9 mm
Recommended Use:
all mountain
Manufacturer Warranty:
2 years on frame
sizing chart
Bike size by rider height
|
Geometry chart
Santa Cruz Bicycles
Geometry Chart
Bronson
Seat Tube
(c-t)
Effective Top Tube
Stack
Reach
Stand Over
Head Tube Length
Head Tube Angle
Seat Tube Angle
Bottom Bracket Height
Chainstay
Wheelbase
S
16.0in
21.8in
23.0in
14.8in
28.5in
3.5in
67.0o
73.0o
13.6in
17.3in
43.6in
M
17.0in
23.0in
23.4in
15.9in
28.4in
3.9in
67.0o
73.0o
13.6in
17.3in
44.8in
L
18.5in
24.0in
23.4in
16.9in
28.8in
3.9in
67.0o
73.0o
13.6in
17.3in
45.9in
XL
20.0in
25.0in
24.1in
17.6in
29.9in
4.7in
67.0o
73.0o
13.6in
17.3in
46.9in
MIss my Heckler
Finding myself with a Blur LTc a Nomad and a Heckler and no money for parts, something had to go.... I had to sell my second and most perfect Heckler. I find that pedalling the heckler with its single pivot is much more efficient when hammering than the VPP. But the Vpp takes the edge on climbs and downhills as a stable floaty platform. The Heckler makes it easy to wheelie drop anything. It is so balanced and predictable and a great bike for someone looking to get to be a better biker. I thought I'd always have a Heckler, and someday hope to get another. It works best with a 140-150mm fork. I had a revelation, but a Fox 32 float or talas would be an upgrade. You can put 203mm rotors on it, and build it sub 25 lbs, or put a coil on there and hit some sh1t. VPP is overrated if the Heckler goes away the simple single pivot has its problems on the rollers with stinkbugging, but overall kills it in snappy and predictable rebound. Great great indestructable bike with a bottle opener as frosting on the cake. As soon as there's room in my wallet for three bikes again, there's room for the heckler in my stable.