Santa Cruz Bicycles Blur XC Carbon - 2012 $0.00
Item #

SNZ0251
Description
The 4.1 pound Blur XC Carbon was the first carbon fiber bike for Santa Cruz, and when they worked on its design, the goals were simple: it had to be light, it had to pedal flawlessly, it had to be stiff, and it had to be strong… like no fine print strong. It takes cross country race bikes to the next level with its 100mm (4 inches) of rear suspension travel -- creating one of their strongest frames to date and knocking a full pound from its aluminum predecessor. This year, it gets the same tapered headtube as its longer travel carbon Blur siblings.
The Blur XC Carbon employs their Next Generation Virtual Pivot Point Design (VPP). The totally redesigned upper and lower links flatten out the shock rate and provide a more active feel to the early end of the axle path. The suspension allows the rear wheel to move up and back as you ride over a bump, and it balances the downward force of your pedaling with the pulling force of the chain through its link configuration and axle path. The resulting movement makes it even easier to roll over a bump, or through a dip. The VPP design also prevents pedal-induced compression and lock-out, and the suspension doesn't change whether or not you're in the saddle. Whether you're rolling through rock gardens, climbing water bars, descending stairs, or riding on lumpy fire roads, the suspension is active and responsive, even driving the rear wheel into the ground when pedaling furiously, enhancing the bike's traction and climbing characteristics.
The Blur XC has a carbon fiber upper link that shaves weight and enhances lateral stiffness. It's counterpart on the bottom is alloy, and it has easily-serviceable grease ports (grease gun and grease included).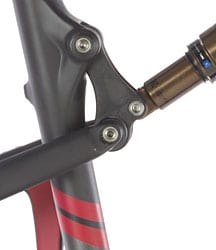 The pivots for both links have beefy 15mm locking collet axle-pins so they won't creak or loosen, and they run on intricately-sealed bearings that should last the life of the frame. For the people who want every lightweight feature addressed, Santa Cruz topped it off with titanium bolts in all the places that made good sense. What does this all mean? Practice your victory salute.
The Blur XC Carbon comes stock with the latest Fox RP23 rear shock with Kashima Coat and Adaptive Logic Boost Valve. Just like its effect on Fox forks, Kashima Coat creates a slicker more durable finish on the shock shaft. This allows the rear suspension to respond to bump input with greater sensitivity. This rear shock has user adjustable rebound damping and a two position lever that now selects from climb mode (comparable to the #3 Propedal setting on last year's RP23) to Propedal with selections from 0 (open for super plush descending) to 2 (medium damping) for the low speed compression side of things.
With the growing marathon market in mind, the frame is designed to work with forks with up to 120mm of travel. The rear triangle is designed to accept tires up to 2.35" in diameter. Owing to the cross-country design, the frame has ISO brake mounts that can take up to 185mm rotors.
The Santa Cruz Blur XC Carbon is available in Black/grey/red and White/black/gold. It has a tapered headtube (44mm ID top and 49mm ID bottom) that accepts a mixed tapered headset, and it can be used with 1-1/8" straight or 1.5" tapered forks up to 120mm travel. It also requires a 30.9mm seatpost and a 34.9mm traditional top pull front derailleur. The right dropout has a replaceable derailleur hanger, and there are water bottle mounts on both sides of the down tube. It accepts most tires up to 2.35" and up to a 185mm rotor on the ISO brake mounts on the rear.
Santa Cruz offers this frame with a two year warranty against manufacturing defects, while the bearings are guaranteed for life.
Please Note: US Santa Cruz dealers are prohibited from shipping Santa Cruz bicycles outside of the United States.

sizing chart
Bike size by rider height
|
Geometry chart
Santa Cruz Bicycles
Geometry Chart
Blur XC

Seat Tube
(c-t)
Effective Top Tube
Stand Over
Head Tube Length
Head Tube Angle
Seat Tube Angle
Bottom Bracket Height
Chainstay
Wheelbase
S
16.7in
(42.4cm)

21.8in
(55.4cm)

28.2in
(71.6cm)

4.2in
(10.7cm)

69.5 deg
73.0 deg
12.8in
(32.5cm)

16.6in
(42.2cm)

41.5in
(105.4cm)

M
17.7in
(45.0cm)

23.0in
(58.4cm)

28.7in
(72.9cm)

4.3in
(10.9cm)

69.5 deg
73.0 deg
12.8in
(32.5cm)

16.6in
(42.2cm)

42.8in
(108.7cm)

L
19.5in
(49.5cm)

24.0in
(61.0cm)

29.2in
(74.2cm)

4.7in
(11.9cm)

69.5 deg
73.0 deg
12.8in
(32.5cm)

16.6in
(42.2cm)

43.8in
(111.3cm)

XL
21.0in
(53.3cm)

25.0in
(63.5cm)

29.7in
(75.4cm)

5.1in
(13.0cm)

69.5 deg
73.0 deg
12.8in
(32.5cm)

16.6in
(42.2cm)

44.8in
(113.8cm)

What A great bike
Familiarity:

I've put it through the wringer
This is my first FS bike. Reviewed lots of on line reviews before pulling the trigger. Competitive Cyclist had a awesome deal. This bike is light and climbs like a mountain goat. Down the mountain is confident and fast. Flow tracks are my favourite as the bike curves into the track with flick-able fun. Twenty-niner seem so much heavier and not geared as well. Twenty-sixer has been the standard for the last twenty five years I have been riding. Bottom line...This is a fun bike.