Santa Cruz Bicycles Blur LT Carbon w/ CTD Kashima - 2012 $0.00
Item #

SNZ0270
Description
Along with its little brother, the Blur XC Carbon, the Santa Cruz Blur LT Carbon w/ CTD Kashima redefines what you might've thought possible for mountain bike frames with regards to achieving that just-right blend of strength, stiffness, and light weight. While some might doubt the use of carbon fiber for rough and tumble MTB frames, it's only because they haven't ridden one. Rest assured, this bike is strong and stiff, and it's a vast improvement over their aluminum Blur LT in many respects.
It's lighter, stiffer, and stronger than anything you've ever ridden. You can have your cake, and eat it too.
Santa Cruz achieved the strength and stiffness through three unique carbon processes: (1) By using a one-piece lay-up for the front triangle, as opposed to assembling joints that require bonding or wrapping, Santa Cruz eliminates excess material and weight. (2) This one-piece process incorporates continuous fibers around the tube junctions, resulting in a structure that can distribute loads and absorb impact energy better. (3) Their net shape lay-up and fiber compaction ensures that Santa Cruz can control the outside shape as well as the inside shape and that the layup is compacted to promote an optimum cloth/resin ratio. The frame looks as good on the inside as it does on the outside -- there's nothing there except sweet, smooth carbon. And just like the Blur XC Carbon, there are no riveted or bonded-on cable and hose guides, as they're incorporated into the original layup.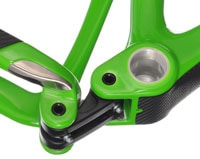 The über-stiff carbon chassis is paired with the latest generation VPP rear suspension. It's the same Virtual Pivot Point Design (VPP) that graced the recent redesigns of the Blur LT and Nomad -- completely different than the prior iteration. The totally redesigned upper and lower links flatten out the shock rate and provide a more active feel to the early end of the axle path. It balances the downward force of your pedaling with the pulling force of the chain through its link configuration. The resulting movement makes it even easier to roll over a bump, through a dip, or to soak up ledge drops.
The VPP design also prevents pedal-induced compression and lock-out, and the suspension doesn't change whether or not you're in the saddle. Whether you're rolling through rock gardens, climbing water bars, descending stairs, or riding on lumpy fire roads, the suspension is active and responsive, even driving the rear wheel into the ground when pedaling furiously, enhancing the bike's traction and climbing characteristics.
They added a carbon fiber upper link to both shave weight and enhance lateral stiffness. Easily-serviceable grease ports were added to the aluminum alloy lower link (grease gun and grease included). The pivots now have beefy 15mm locking axle-pins. They run on intricately-sealed bearings with one-way purging seals that should last the life of the frame, and don't creak or loosen. For the people who want every lightweight feature addressed, Santa Cruz topped it off with titanium bolts in all the places that made good sense.
The VPP suspension of the Santa Cruz Blur LT Carbon w/ CTD Kashima yields 140mm of smooth travel damped by a Fox air shock -- a lightweight, reliable shock that's easy to adjust and offers a three position Propedal feature that allows you to "tune" the shock on the fly to be super active or stiffer for climbing, sprinting, etc.
Given its all-mountain intent, the frame is designed to handle best with forks from 140mm to 160mm of travel, though it's strong enough for most any. The rear triangle is designed to accept many 2.5" tires and offer generous clearance on 2.35" widths -- though we all know that no two tire brands measure the same.
The Santa Cruz Blur LT Carbon w/ CTD Kashima frame comes in Small, Medium, Large, and X-Large. It has a unique tapered headtube requiring a mixed tapered headset with a 1-1/8" semi-integrated at the top and 1.5" traditional at the bottom. It requires a direct-mount front derailleur and a 30.9 seat post. The ISO brake tabs will accommodate a max rotor size of 185mm. The frame has a two year warranty against manufacturing defects, while the bearings are guaranteed for life.
US Santa Cruz dealers are prohibited from shipping Santa Cruz bicycles outside of the United States.

Tech Specs
Suspension Linkage:
Virtual Pivot Point
Recommended Fork Travel:
140 mm - 160 mm
Rear Shock:
Fox CTD Kashima
Seatpost Diameter:
30.9 mm
Front Derailleur Mount:
direct-mount
Manufacturer Warranty:
[frame] 2 years, [bearings] lifetime
sizing chart
Bike size by rider height
|
Geometry chart
Santa Cruz Bicycles
Geometry Chart
Blur LT C

Seat Tube
(c-t)
Effective Top Tube
Standover
Head Tube Length
Head Tube Angle
Seat Tube Angle
Bottom Bracket Height
Chainstay
Wheelbase
S
16.5in
(41.9cm)

21.5in
(54.6cm)

28.2in
(71.6cm)

3.9in
(9.9cm)

68.1 deg
71.5 deg
13.8in
(35.1cm)

17.0in
(43.2cm)

41.7in
(105.9cm)

M
17.0in
(43.2cm)

22.5in
(57.1cm)

28.7in
(72.9cm)

4.3in
(10.9cm)

68.1 deg
71.5 deg
13.8in
(35.1cm)

17.0in
(43.2cm)

42.8in
(108.7cm)

L
19.5in
(49.5cm)

23.5in
(59.7cm)

29.4in
(74.7cm)

4.7in
(11.9cm)

68.1 deg
71.5 deg
13.8in
(35.1cm)

17.0in
(43.2cm)

43.8in
(111.3cm)

XL
20.5in
(52.1cm)

24.5in
(62.2cm)

30.1in
(76.5cm)

5.5in
(14.0cm)

68.1 deg
71.5 deg
13.8in
(35.1cm)

17.0in
(43.2cm)

44.8in
(113.8cm)

Santa Cruz Bicycles Blur LT Carbon w CTD
This is my 6th Santa Cruz mountain bike. I have had a first gen Nomad, two second gen Nomads, a Super Light, and a Blur lt 2 Aluminum. But by far this bike blows the rest out of the water! This frame out of the box is a piece of art in its own regards. Light as a feather with all the travel of a true all mountain bike. I have ridden this beast all over the place, it climbs like a billy goat and descends like a bat out of hell! Over all a perfect bike for your cross country guy to the ski lift trails. 5/5!