Ridley X-Night - 2013 $0.00
Item #

RID0055
Description
Cyclocross, true cyclocross, creates paradoxical demands on your bike like no other cycling discipline. On the one hand, your bike will need to withstand rocky and rutted courses, g-outs into deep mud, and the aggression of sand inside all the moving parts. On the other, you'll essentially clean-and-jerk your bike over your shoulder 20 or 30 times per race. Strength is a priority, but weight matters because you feel every last gram of it as the race wears on. With the X-Night, Ridley offers a solution for the 'cross paradox.
The X-Night frame is built as a monocoque in order to maximize its strength, its impact resistance (in case you miss when you try to bunny hop a barrier), and its resistance to torsional flex. Ridley employs the same 'Sharp Edge Design' tubing configurations they perfected with the Damocles and first-generation Noah road bikes. In comparison to traditional round tubes, this tubeset gives the X-Night a strength-to-weight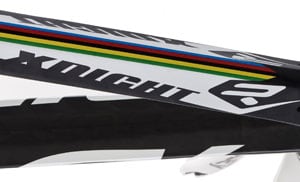 ratio that's unmatched in the cyclocross marketplace. It's also unmistakably sexy, and the choice of the top riders on the Ridley sponsored teams. Names like Nys, Stybar, Pauwels, and Meeusen sound familiar? Under one generation and the next, the X-Night has been ridden to numerous World and National Championships along with countless Superprestige wins.
Ridley uses a blend of 30 and 24 ton carbon to create the X-Night frame. This is part of what makes it tough enough to handle the rigors of racing on the world stage. It's also worth noting that the ride qualities on the road are reminiscent of the similarly shaped Damocles, one of our all-time favorite bikes. This translates into surprising comfort over broken pavement and gravel roads. One superb detail of the X-Night is its 4ZA Oryx carbon fiber 'cross fork. The steerer is tapered to allow the use of a 1.5in lower bearing and larger crown to decrease flex in the steering system. It has a stiffness and lightness that mirrors the qualities you get from the frame, and it allows the X-Night to track through technical courses with unmatched precision.
There are a few key details that we appreciate, since this is a hardcore 'cross bike. Ridley chose to run full-length cable housing for both derailleurs and the rear brake. The housing simply glides through in-molded sleeves within the frame tubes. Setup is a breeze, and the protection afforded by the closed system keeps you shifting accurately race after race no matter how sloppy the conditions. The clever routing of the front derailleur cable allows use of a normal road bike bottom pull derailleur instead of using a pulley on the back of the seat tube that could get full of mud and grit. You'll also find that it uses a Pressfit 30 bottom bracket shell. While you can use any crank with this system, you'll maximize stiffness with a BB30 crankset. Once again, with mud and sand being a pervasive issue, the extra heel clearance on a BB30 crank will help preserve your components and your shoes. The last standout feature is the CNC'ed dropout design. Rather than a having a wimpy replaceable derailleur hanger, the X-Night uses a bolt-on dropout that is far stiffer to provide telepathic rear shifting even when your derailleur and cassette are loaded with muck.
The Ridley X-Night is White/black and is available in five sizes from 50 to 58cm. It comes with a full carbon fork and FSA 1-1/8 to 1.5in tapered integrated headset. It requires a 34.9mm clamp-on bottom pull front derailleur and a 31.6mm seatpost.
Please be aware that the X-Night frame geometry was designed to strike that fine balance between standover height and room for your elbow to pass if you prefer to grab the downtube as you shoulder the bike. Because of this, please be aware of the sizing and focus on the top tube length when you consider your purchase. You'll likely want to go shorter here than your standard road bike sizing. The X-Night, like all cyclocross bikes, will have a higher top tube than modern road bikes with sloping geometry. Please don't be alarmed about this. If you have questions about fitting a 'cross bike, please feel free to call and speak with one of our sales staff.
If you place an order for an X-Night please provide us with your bottom bracket to saddle rail measurement. This will allow us to cut the seatmast to your exact specifications.
sizing chart
Bike size by rider height
|
Geometry chart
Ridley
Geometry Chart
X-Night

Seat Tube

(c-c)

Seat Tube

(c-t)

Top Tube

(c-c)

Stack

(S)

Reach

(R)

Stand Over

Head Tube Length

(HT)

Head Tube Angle

(HTo)

Seat Tube Angle

(STo)

Bottom Bracket Drop

Chainstay
Wheelbase
50
50.0cm
68.0cm
53.0cm
52.8cm
37.8cm
83.5cm
12.0cm
72.0 deg
74.0 deg
5.7cm
42.5cm
100.8cm
52
52.0cm
71.0cm
53.5cm
54.8cm
37.3cm
85.0cm
13.9cm
72.0 deg
73.0 deg
5.9cm
42.5cm
100.9cm
54
54.0cm
74.0cm
54.5cm
56.8cm
37.7cm
87.0cm
15.8cm
72.0 deg
73.0 deg
6.1cm
42.5cm
101.9cm
56
56.0cm
77.0cm
56.0cm
58.6cm
38.7cm
88.5cm
17.8cm
72.0 deg
73.0 deg
6.1cm
42.5cm
103.5cm
58
58.0cm
80.0cm
57.5cm
60.5cm
39.2cm
90.5cm
19.7cm
72.0 deg
73.0 deg
6.1cm
42.5cm
104.5cm