Ridley Noah FB Road Bike Frame $0.00
Item #

RID0031
Description
Ridley touts the Noah FB Road Bike Frame as being the 'fastest bike in the world.' It's a lofty, if not subjective claim, and one that is obviously powered by its respective rider. But Ridley is not without merit or confidence, as the FB eschews the industry's stiffer/lighter arms race in favor of something a little more quantifiable. The original Ridley Noah was one of the industry's first road bikes largely designed around aerodynamics. This new Noah FB is a culmination of three tireless years on the drawing board and in the in wind tunnel -- research that will go towards giving gutsy solo breakaway pilots every possible advantage they need to win. And one huge quantifiable advantage of the Noah FB is the power savings -- a full 20 fewer watts are required to average a 40km/h (just under 25 mph) breakaway. If those are 20 extra watts that your competitors are expending, guess who gets to the finish line first?
The Ridley Noah FB shares the same carbon fiber blends (50, 40, and 30-ton carbon fibers), geometries and proven aero features as its Lotto-Belisol team-issue iteration, including that of an aero downtube, internal cable routing, an aero seat tube that extends into an integrated seat mast, plus a deep rear wheel cut-out. But what drastically sets the Noah FB apart from the standard Noah, as well as many other aero bikes, is its use of Ridley's radical new front and rear integrated Fast Brake (hence, 'FB') system, making it faster than the standard Noah, and faster than the competitors.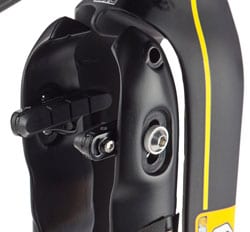 The FB brakes are not unlike the linear-pull brakes seen on TT bikes, but with significantly greater power modulation. Both FB calipers hide completely out of the wind behind the slotted 4ZA F-Splitfork and rear seat stays, respectively. In addition to the aerodynamic benefits of these hidden brakes, the lack of a brake caliper actually helps further reduce the frame weight and adjustment complications, thanks to a simple cable-actuated lever near the handlebars.
True to the Noah line, the FB also utilizes Ridley's slotted front fork, which focuses on one specific issue of bicycle aerodynamics: according to Ridley, your wheels produce eight times more drag where they pass through your fork and seat stays due to the turbulence of the colliding air masses there. The Noah is built to minimize this drag thanks to its use of long, slotted airfoils built into both the fork legs and the seat stays. These airfoils redirect oncoming air away from the turbulent areas near the wheels.
The story of the Noah doesn't stop at fork innovations to improve aerodynamics. Ridley used oil mapping in the wind tunnel to isolate spots of turbulent airflow. And where structural limitations kept them from re-sculpting the frame, they applied a textured surface treatment for boundary layer control. Ridley calls it 'F-Surface,' also affectionately referred to as "aero paint." These thin strips of texture are amazing: they purposely trigger a known amount of turbulence that re-energizes lost boundary layers, ultimately re-establishing laminar flow and minimizing drag. In other words, they carefully create an airflow mess in order to make an unprecedented cleanliness. Airflow control is why you see vortex generators on aircraft wings, and why you see dimples on golf balls. And it's exactly what Ridley does with their F-Surface paint.
The Ridley Noah FB Road Bike Frame comes in five sizes from X-Small to X-Large and is available in one color: FAST. Given its semi-compact geometry, we strongly suggest that you focus on the effective top tube length as you make a determination of the proper size. And whether you so choose to build your Noah FB up with a SRAM, Shimano, or Campagnolo groupset, Ridley has assured us that the FB brakes are fully compatible with all three. The Noah FB requires a PressFit BB30 compatible bottom bracket and a braze-on front derailleur. It includes a 120 gram seat clamp assembly that allows an 18mm range in saddle height and comes with 1mm micro-spacers for small adjustments. Ridley also offers an aftermarket clamp that provides 40mm of height adjustment. Please provide us with your BB-Saddle Rail height in the "Comments" section of our order form so we can properly cut down the seatmast for delivery.

Tech Specs
Frame Material:
carbon fiber
Fork Material:
carbon fiber
Steer Tube Type:
tapered carbon fiber
Bottom Bracket Type:
PF30
Front Derailleur Mount:
braze-on
Recommended Use:
road racing
Manufacturer Warranty:
5 years on frame
sizing chart
Bike size by rider height
|
Geometry chart
Ridley
Geometry Chart
Noah RS 2012

Seat Tube

(c-t)

Effective Top Tube

(eTT)

Stack

(S)

Reach

(R)

Head Tube

(HT)

Head Tube Angle

(HTo)

Seat Tube Angle

(STo)

XS
48.0cm
52.5cm
53.0cm
37.5cm
13.0cm
72.0o
74.0o
S
51.0cm
54.5cm
54.5cm
38.5cm
14.5cm
73.0o
73.5o
M
54.0cm
56.5cm
57.5cm
39.0cm
17.5cm
73.5o
73.0o
L
57.0cm
58.5cm
60.2cm
40.0cm
20.5cm
73.5o
72.5o
XL
60.0cm
60.0cm
62.5cm
40.5cm
23.0cm
74.0o
72.5o
Unanswered Question
Hi, What is the difference between this...
Hi, What is the difference between this 2012 frame vs. the 2013 model? Is this 2012 frame and 2013 in stock?
Unanswered Question
Hey Guys!, Do we know if this frame...
Hey Guys!,



Do we know if this frame will fit the newer wide rims?, 23-25 wide like HED or Shimano 9000? Thank you!
Is the bike still available in stock? What...
Is the bike still available in stock? What is the available sizes of this model?
Hello Jose,



If you navigate back to the top of the page, you will see that we have the Large size Frame in the "Fast" color still remaining in stock. You would just need to hit "Add to Cart" We only have one frame left, so if you do want this item, you best move quickly!