Out of Stock
Item # RID0001
This model is no longer in stock.
Don't worry though, we have a lot more Custom Road Bikes & Frames in stock than that.
Ridley Noah $0.00
Item # RID0001
Description
'Fast' just got a lot faster.
Mathematically, your odds in a solo breakaway aren't particularly favorable. The Ridley Noah is a carefully calculated equation designed to improve those odds. Incorporating a number of Ridley's FAST Concept technologies, the Noah has been tested to reduce power input needed by up to 15 watts in a 50km/h (just over 30 mp/h) breakaway. The less power you need to maintain your breakaway speeds, the greater your ability to conserve more energy to stay away from the field longer. That makes your odds for the top spot on the podium a little better.
While most bicycle companies would be content to rely on their tubesets for an aerodynamic advantage, Ridley's research and development on their flagship Noah go far beyond tube shapes and bike geometries. The latest generation of Ridley's groundbreaking Noah shares the same proven aero features as its earlier iterations — including an aero downtube, internal cable routing, an aero seat tube that extends into an integrated seatmast, and a deep rear wheel cut-out. What sets the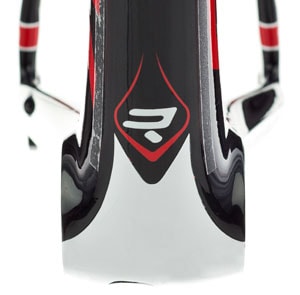 Noah apart from other aero bikes is its use of Ridley's R-Flow technology. As we all know by now, drag increases exponentially with airspeed, which means small changes to reduce your drag will have a disproportionately positive impact as your speed increases. R-Flow technology focuses on one specific issue of bicycle aerodynamics. According to Ridley, your wheels produce eight times more drag where they pass through your fork and seat stays due to the turbulence of the colliding air masses there. The Noah is built to minimize this drag thanks to its use of long, slotted airfoils built into both the fork legs and the seat stays. These airfoils redirect oncoming air away from the turbulent areas near the wheels.
The story of the Noah doesn't stop at R-Flow. Ridley used oil mapping in the wind tunnel to isolate spots of turbulent airflow. And where structural limitations kept them from re-sculpting the frame, they applied a textured surface treatment for boundary layer control. Ridley calls it 'R-Surface,' also affectionately referred to as 'aero paint.' These thin strips of texture are amazing; they purposely trigger a known amount of turbulence that re-energizes lost boundary layers, ultimately re-establishing laminar flow and minimizing drag. In other words, they carefully create an airflow mess in order to make an unprecedented cleanliness. Airflow control is why you see vortex generators on aircraft wings, and why you see dimples on golf balls. And it's exactly what Ridley does with their R-Surface paint.
The Ridley Noah comes in five sizes from X-Small to X-Large and is available Black/White/Red. Given its semi-compact geometry, we strongly suggest that you focus on the effective top tube length as you make a determination of the proper size. The Noah FB requires a press-fit BB30-compatible bottom bracket and a braze-on front derailleur. It includes a 120 gram seat clamp assembly that allows an 18mm range in saddle height and comes with 1mm micro-spacers for small adjustments. Ridley also offers an aftermarket clamp that provides 40mm of height adjustment. With the frame weight at less than 1200 grams, comparisons with other bikes are favorable for the Noah, as you save some weight for the seatmast/clamp assembly. In the end, there's virtually no weight penalty. Given the aerodynamic upsides of the Noah, the fact that weight is a non-issue makes it that much more appealing. Please provide us with your BB-Saddle Rail height in the "Comments" section of our order form so we can properly cut down the seatmast for delivery.
Oversized tube shapes add stiffness along with aerodynamic efficiency, so all of your output translates into speed
Internal cable routing maximizes the frame's aero properties
R-Surface paint treatment reduces drag by 4%
SRAM Red gruppo provides pro-level shifting and power transfer
Deda aluminum handlebars and stem provide confident stiffness for the sprint
Fulcrum wheels get you riding fast right away
Full-carbon construction is light, stiff, and strong
Integrated seat mast offers perfect fit, without compromising on weight or stiffness

Tech Specs
Frame Material:
carbon fiber
Headset:
1.125 x 1.125 in internal
Steer Tube Type:
carbon fiber
Fork Material:
carbon fiber
Wheelset:
Fulcrum Racing 5
Front Derailleur:
SRAM Red
Front Derailleur Mount:
braze-on
Rear Derailleur:
SRAM Red
Chain Rings:
53 x 39 teeth PowerGlide SRAM
Crank Arm Length:
(medium) 172.5 mm
Handlebar Width:
(medium, center-to-center) 42 cm
Stem Length:
(medium) 110 mm
Cassette:
12 - 25 teeth PG-1070 SRAM
Seatpost:
integrated mast
Seatpost Length:
(extension above top tube) 225 mm
Seat Collar:
Ridley post-mount assembly
Measured Effective Top-Tube Length:
(medium) 56.5 cm
Recommended Use:
Cycling, racing
Manufacturer Warranty:
(frame and fork) 10 years, (paint) 2 years
Reviews & Community
What do you think of the
Ridley
Noah
? Share a...
rawr
Member since
Posted on
stiff, light, and ready to race. this bike will eat people trying to pass it, best to be on top of it i say. this bike is for the racer elite, as well as those who want to feel like their mcewen every saturday morning. my favorite bike.
my height is 5.5" is small the right size...
Member since
Posted on
my height is 5.5" is small the right size for me?
Member since
Ridley Noah Breakdown
Member since
Posted on
Todd from Ridley giving some info on the Noah
Compiling options for this bike.
It'll be just a moment...