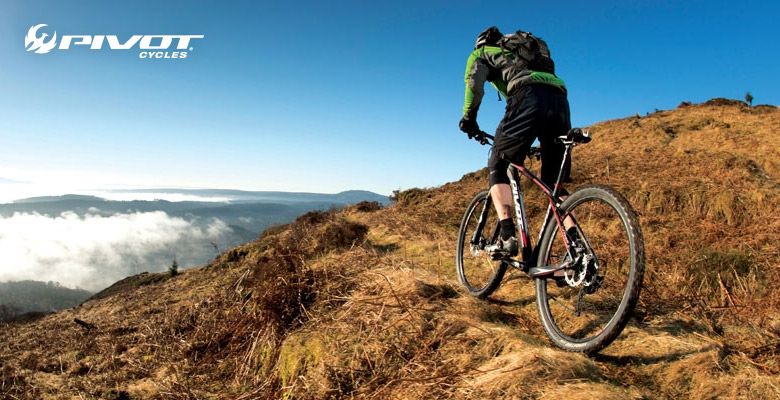 From time to time, a company is as well known for the man leading it as it is for the products that it creates. We'd hesitate for just a second to make the comparison to Henry Ford, Lee Iacocca, or Steve Jobs, but these men spring to mind as charismatic leaders whose drive for success was only eclipsed by their innovation, solutions, and passion for the companies that they steered. Chris Cocalis is a similar visionary, and he's the man behind Pivot Cycles.
Cocalis started Titus Cycles in 1991, nurturing its growth until 2006 when he sold to a partnering company. Not long after, Chris resurfaced with Pivot Cycles and as a US distributorship for BH Bicycles. When we saw a Pivot for the first time, we thought "Titus." In reality what we recognized was Cocalis' influence on both the current and the older bikes. But these aren't just re-badged, re-hashed old designs. The most recognizable change is the rear suspension. All Pivot full suspension bikes use DW-Link rear suspension. And like Ibis and Turner designers, Cocalis partners with Dave Weagle, the man behind DW-Link, in order to optimize the placement of the pivots and the links. With each Pivot bike model, Cocalis has an idea of how he'd like the bike to ride, and he meshes that vision with Weagle's mathematical parameters to achieve the correct level of anti-squat from the rear suspension.
The anti-squat on Pivot Cycles is worth more than a mention. In fact, it's the principle tenet of the bikes, and it shapes the way that they ride. More so than any other suspension design, DW-Link counteracts rider input onto the rear suspension. As the greatest portion of the vehicle's mass (rider and bike), the rider has a profound effect on the way that a suspension works (or doesn't work) on the trail. Weagle designed the DW-Link to resist squat in the suspension as the rider accelerates, which causes a weight shift onto the rear wheel. Instead, a Pivot bike will remain stable and accelerate with snappy precision. Another benefit is increased traction and control in all conditions. In our experience, Pivot bikes with DW-Link rear suspension give you what you want without, only without any compromise. That is, you can have pedaling efficiency right alongside active bump compliance on technical trails.
Cocalis is a man known to have a bit of "healthy" paranoia, knowing that something better is always coming. This is why Pivot Cycles never rests with the status quo. While all of its bikes were first created in aluminum, Pivot has taken the time necessary to develop a carbon version of the Mach 5.7 that truly provides advantages over its predecessor. Stiffer, lighter, stronger. This is always the goal with Pivot Cycles. According to inside sources, Cocalis also possesses a sense of detail that enables him to "tune-in" to the bikes he tests in order to determine which provides the best rider experience. Where the average bike nut might not sense a difference, Cocalis is able to discern the finest pleasures, or offenses, from a working prototype.
With a Pivot mountain bike, you can be sure that all of the work and attention to detail yield a ride that's unmatched in any terrain or condition.