Pivot Phoenix DH Mountain Bike Frame $0.00
Item # PIV0005
Description
It's no secret that part of the early success of the dw-link rear suspension design was due to Sam Hill's domination of the most technical courses on the world cup circuit. His track record would've led to an assumption that his dw-link equipped bike was tailor made for ultra-gnarly DH courses. This was only half true. His dw-link bike also pedaled with efficiency that rivaled bikes with far less travel. The Pivot Phoenix DH Mountain Bike Frame is built with this tradition in mind, and it has 207mm (8.15") of travel thanks to the dw-link rear suspension. Ride the lift or ride your bike -- your choice. Either way you get to the top, the Phoenix can handle anything the descent throws your way from savage braking bumps to giant drop-offs and sweeping, white knuckle berms.
Downhill racing requires that certain capabilities of the bike be incredibly fine tuned. Take the properties of the rear shock for example. Too much damping and the wheel cannot follow the ground. The result would be loss of traction and control. At the highest level, a skid or missed line could be the difference between the top of the podium and 10th place. This is not a problem on the Phoenix thanks to the dw-link rear suspension. As you pedal and accelerate, there is significant weight shift towards the back of the bike. The anti-squat built into the geometry of the dw-link counteracts this to keep the bike stable. This way, your pedaling effort isn't wasted as up and down movement at the shock. The solution to controlling the rider's effect on the rear suspension was found with the placement of the pivots and the length of the links rather than simply adding more low-speed compression damping which would hamper the performance of the rear suspension. With dw-link you can have serious bump compliance right alongside pedaling efficiency.
Pivot's frame designers worked with Dave Weagle, the mastermind behind dw-link, to optimize the link placement as well as the shock location. The FOX RC4 Kashima Coated coil shock is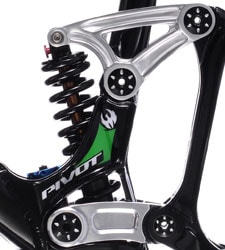 placed as low as possible inside the front triangle to maintain a low center of gravity. This helps the stability of the bike at high speed along with the 64° head angle. One thing we love about the design is that the pivot locations for both links originate from the same 3D hollow forged and CNC machined structure. Because of this, you can be sure that the pivot axles and bearing assemblies are in the same plane for silky-smooth suspension movement. The rear triangle uses a similar forged and CNC machined piece for the uprights that houses the pivots for the rear ends of both links. Smooth is always good, but so is durability. To make sure that the Phoenix can stand up to regular abuse on the downhill track, Pivot designers specify EnduroMax double row bearings for the lower link. The Phoenix uses extra-beefy 16 and 17mm pivot axles on the upper and lower links, respectively. The size makes them stiff and strong; being made of aluminum keeps the weight down.
The Phoenix has a straight 1.5-inch head tube that allows you to use any steerer dimension you like. Plus, it comes with the Cane Creek Angleset that will allow you to tune the steering characteristics to your exact preferences. You'll get cups that allow a range of adjustment from 63-degree to 65-degree in half degree increments to suit particular courses or personal preferences. The FOX RC4 rear shock offers a similar level of adjustability. It is coil sprung and offers separate high and low speed compression damping adjustments along with a rebound adjustment and their adjustable Boost Valve bottom-out control.
The Pivot Phoenix DH Mountain Bike Frame is available in Small, Medium, and Large in Black or White powdercoat. It has a 1.5-inch straight head tube with a 49mm ID on top and bottom. It comes with a Cane Creek Angleset with three top cups -- 0-degree, 0.5-degree, and 1.0-degree. You'll need a 30.9mm seatpost, and it has an 83mm bottom bracket shell and an ISCG 05 chainguide mount. It's designed for single chainrings only as there's no provision for a front derailleur. The bolt-on rear dropouts are configured for use with a 12 x 150mm thru-axle (axle included). The left dropout has IS tabs for the brake mount, and it comes with a seatpost quick release clamp.
US Pivot dealers are prohibited from shipping Pivot bicycles outside of the United States and US territories.

Tech Specs
Suspension:
full-suspension
Rear Shock:
FOX Racing Shox RC4 Kashima
Head Tube Diameter:
1.5in
Headset Included:
yes, Cane Creek Angleset
Bottom Bracket Type:
83 mm threaded
Seatpost Diameter:
30.9 mm
Rear Axle:
12x150 mm thru-axle
Recommended Use:
downhill
Manufacturer Warranty:
3 years on frame
sizing chart
Bike size by rider height
|
Geometry chart
Pivot Cycles
Geometry Chart
Phoenix DH

Seat Tube

(c-t)

Effective Top Tube

(eTT)

Stack

(S)

Reach

(R)

Stand Over

(SO)

Head Tube Length

(HT)

Head Tube Angle

(HTo)

Seat Tube Angle

(STo)

Bottom Bracket Height

(BBH)

Chainstay

(CS)

Wheelbase
S
15.6in
22.4in
23.5in
14.1in
29.0in
4.4in
64.0o
65.0o
13.6in
17.3in
44.7in
M
17.0in
23.4in
23.75in
14.9in
29.0in
4.7in
64.0o
65.0o
13.6in
17.3in
45.7in
L
18.0in
24.3in
23.9in
15.8in
29.0in
4.9in
64.0o
65.0o
13.6in
17.3in
46.7in
Do you plan to carry the 2015/2016 Pivot Pheonix Carbon DH bike?
Responded on
Hey Stephen,



Unfortunately we won't be stocking the 2015/16 Phoenix.



Ben