Pivot Mach 5.7 $0.00
Item #

PIV0003
Description
There is riding for fun, and there are fun rides. These are two very different things. The Pivot Mach 5.7 is a bike that makes every ride fun, even if you take your riding seriously. It's no secret either. This is a bike that's won Bicycling Magazine's Editor's Choice Award for Best 26" Trail Bike, against stiff competition we might add. What it does for you is offer 145mm (5.7") of dw-link rear suspension that glides over rocks, roots and ruts, yet still remains firm while hammering out of the saddle. And it provides active braking -- meaning the suspension can still cycle while modulating the brake -- providing you unparalleled control in the sketchiest of terrain.
Firm, efficient pedaling and serious bump compliance? It's possible to have both thanks to the dw-link suspension with its anti-squat characteristics. When you're on your bike, the center of mass is somewhere near your belly button. Every time you accelerate (ie. pedal forward), this mass shifts rearward, loading the rear suspension. The dw-link counteracts this transfer to minimize your impact on the rear suspension.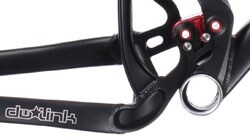 This is why Pivot is able to get such a lightly damped tune on the Kashima Coated RP23 rear shock from Fox. With the dw-link controlling unwanted suspension squat, the lightly damped shock can respond with ultra-sensitivity to the demands of the trail. As a result, the Mach 5.7 is capable of soaking up big square edged hits and minute trail chatter alike. Perhaps the best trait of dw-link rear suspension is how well it absorbs bumps while climbing at low speeds. This means more comfort and better traction.
Compared to the Mach 5, the Mach 5.7 has a few key differences that push it towards all-mountain capability. It has a more relaxed head angle, from 69° to 67.6° here. This makes the Mach 5.7 more stable at speed, and dropping into steep rocky chutes is a simple point-and-shoot affair. And because it's intended for steeper terrain, the head tube is a bit taller as well. Getting your bars higher will give you more control on the downhills, and if you're worried about the climbing position, we'd recommend a travel adjust fork. Problem solved. The Mach 5.7 has a flatter spring curve. So even though the difference in travel between the two bikes is fairly small, the 5.7 has a plusher ride and a more bottomless feel at the end of the stroke.
Pivot frames are known for being stiff -- all the better as a platform for high performance suspension. They build the Mach 5.7 from hydroformed 6000 series aluminum tubing and 3D hollow aluminum forgings. The production processes for these raw materials both help to align and strengthen the grain structure of the alloy. It's stiffer than the Mach 5 in part because it gets bigger diameter tubes in the front triangle. The rear end also gets two c-shaped struts, one on each side. This adds stability so that the rear wheel tracks perfectly through gnarly technical sections of trail and through tacky, sweeping turns. A resultant benefit of the double braced rear triangle is the removal of the seat stay bridge for better tire clearance.
There are a few other details that emphasize the efforts towards optimizing frame stiffness. One of the easiest to see is the BB92 pressfit style bottom bracket. The extra width in the shell does two things -- 1) It allows the frame designers to spread the forged lower seat tube yoke and increase the width of the lower dw-link, increasing stiffness and resistance to torsional flex in the link. All this comes without sacrificing front derailleur functionality. 2) It also provides better support for the bottom bracket bearings. Speaking of sealed cartridge bearings, the forged and CNC machined aluminum lower link contains eight of them -- two at each corner. This increases the durability of this workhorse component, stretches service life, and optimizes suspension function. The upper link is made of carbon fiber for strength and light weight, and since it sees less stress than its lower counterpart, Pivot relies on four bearings here to do the job of keeping the suspension operating smoothly.
The Pivot Mach 5.7 is available in anodized Black or Blue and in White powdercoat. It comes in five sizes from X-Small to X-Large. It has a low direct mount and requires an E-type Shimano or Low direct SRAM front derailleur, and you'll need a 30.9mm seatpost. The tapered head tube requires a semi integrated (zero stack) tapered headset with 44mm top and 56mm lower cup diameters. Pivot recommends a 140 - 150mm fork. The Mach 5.7 has a post-type disc brake mount and uses a 12 x 142mm thru-axle (included) for the rear wheel.
US Pivot dealers are prohibited from shipping Pivot bicycles outside of the United States and US territories.