Pivot Mach 429 Mountain Bike Frame - 2012 $0.00
Item #

PIV0001
Description
The Pivot Mach 429 Mountain Bike Frame - 2012 should be stamped -- High Speed Approved -- somewhere on its anodized aluminum tubes. While it looks like it could simply be the race-proven Mach 4, only revamped and optimized for 29" wheels, the truth is more complex. It was designed expressly for big wheels, and that meant a thorough reworking of the geometry that extended from tube lengths and angles to the actual layout and size of the links for the 100mm (4") DW-Link rear suspension. But like its smaller-wheeled brethren, the Mach 429 is versatile enough to line up in your local expert class cross-country event or to simply carry you down an unseen singletrack faster and farther than ever before.
The Mach 429 is a super-efficient race machine because it pedals well without inducing strange or wasted motion in the rear suspension. At the same time, it has deceptively plush travel that just makes it a fun bike to ride. Though these characteristics might seem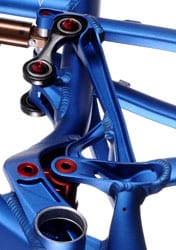 to be mutually exclusive, the DW-Link suspension makes it all possible because of its anti-squat characteristics. By virtue of Newton's Third Law of Motion, when something accelerates, its mass is transferred rearward. The DW-Link counteracts this transfer to minimize your impact on the rear suspension. This is why Pivot is able to get such a lightly damped tune on the 7. 5" x 2.0" Kashima Coated RP23 rear shock from Fox. With the DW-Link controlling unwanted suspension squat, the lightly damped shock can respond with ultra-sensitivity to the demands of the trail. As a result, the Mach 429 delivers a comfortable ride and awesome climbing traction. It floats over rocks, roots and ruts, yet it still remains firm while hammering out of the saddle. In short, the Mach 4 adapts to virtually any situation you throw it in.
While many 29ers are too flexy, Pivot made it a point to improve this aspect of the frame. Pivot builds the Mach 429 frame from hydroformed 6000 series aluminum tubing and 3D hollow aluminum forgings. The production processes for these raw materials both help to align and strengthen the grain structure of the alloy. Compared to the Mach 4, the tubes in the front triangle are bigger around, though also shaped differently, to add torsional stiffness. The rear triangle also gets a new structure. It does without a brake bridge on the seat stays, and it gets a vertical strut on both sides between the links. This gives the Mach 429 the same kind of stability and precision as the 26" bike.
There are a few other details that emphasize the efforts towards optimizing frame stiffness. One of the easiest to see is the BB92 PressFit style bottom bracket. The extra width in the shell does two things -- 1) It allows the frame designers to spread the forged lower seat tube yoke and increase the width of the lower dw-link, increasing stiffness and resistance to torsional flex in the link. All this comes without sacrificing front derailleur functionality. 2) It also provides better support for the bottom bracket bearings. Speaking of sealed cartridge bearings, the forged and CNC-machined aluminum lower link contains eight of them -- two at each corner. This increases the durability of this workhorse component, stretches service life, and optimizes suspension function. The upper-link is made of carbon fiber for strength and light weight, and since it sees less stress than its lower counterpart, Pivot relies on four bearings here to do the job of keeping the suspension operating smoothly.
Looking at the specs, you'll see that the Mach 429 is an amalgamation of the best new "standards" the industry has to offer. The PressFit BB92 is one example. And bringing up the back end in style is the 12x142mm thru-axle. It adds security and stiffness, and it's as easy and nearly as fast to release as a standard, wimpy quick-release.
The Pivot Mach 429 Mountain Bike Frame - 2012 is available in anodized Black or Blue and in White powdercoat. It comes in four sizes from Small to X-Large. It has a low direct mount and requires an E-type Shimano or Low-direct SRAM front derailleur, and you'll need a 30.9mm seatpost. The tapered head tube requires a semi integrated (zero stack) tapered headset with 44mm top and 56mm lower cup diameters. Pivot recommends a 100mm fork with the Mach 429, but they say freely that you can run a 120mm fork if you want to slow the steering a bit and have more travel for rocky trails. Unlike the Mach 4, the Mach 429 has post-type disc brake tabs and uses a 12x142mm thru-axle (included) for the rear wheel.
US Pivot dealers are prohibited from shipping Pivot bicycles outside of the United States and US territories.

Tech Specs
Suspension:
full-suspension
Rear Shock:
FOX RP23 CTD Kashima
Recommended Fork Travel:
100 - 120 mm
Rear Axle:
12x142 mm thru-axle
Replaceable Rear Derailleur Hanger:
yes
Head Tube Diameter:
1.5in
Headset Included:
[upper cup], 44mm, [lower cup], 56mm
Bottom Bracket Type:
BB92
Front Derailleur Mount:
Shimano E-Type
Seatpost Diameter:
30.9 mm
Compatible Components:
dropper post
Recommended Use:
all-mountain and trail riding
Manufacturer Warranty:
3 years on frame
sizing chart
Bike size by rider height
|
Geometry chart
Pivot Cycles
Geometry Chart
Mach 429
100mm Travel Fork

Seat Tube

(c-t)

Effective Top Tube

(eTT)

Stack

(S)

Reach

(R)

Stand Over

(SO)

Head Tube Length

(HT)

Head Tube Angle

(HTo)

Seat Tube Angle

(STo)

Bottom Bracket Height

(BBH)

Chainstay

(CS)

Wheelbase
S
17.0in
23.0in
23.4in
15.7in
29.25in
3.9in
70.0o
72.8o
12.8in
17.95in
43.5in
M
18.5in
24.0in
23.6in
16.7in
29.5in
4.0in
70.2o
72.8o
12.8in
17.95in
44.4in
L
20.0in
24.75in
24.4in
17.2in
30.25in
4.75in
70.6o
72.8o
12.8in
17.95in
45.0in
XL
22.0in
25.75in
25.6in
17.8in
31.0in
6.0in
70.9o
72.8o
12.8in
17.95in
45.9in
120mm Travel Fork

Seat Tube

(c-t)

Effective Top Tube

(eTT)

Stack

(S)

Reach

(R)

Stand Over

(SO)

Head Tube Length

(HT)

Head Tube Angle

(HTo)

Seat Tube Angle

(STo)

Bottom Bracket Height

(BBH)

Chainstay

(CS)

Wheelbase
S
17.0in
23.0in
23.7in
15.4in
29.6in
3.9in
69.0o
71.8o
13.1in
17.95in
43.8in
M
18.5in
24.0in
23.9in
16.3in
29.8in
4.0in
69.2o
71.8o
13.1in
17.95in
44.7in
L
20.0in
24.75in
24.6in
16.8in
30.6in
4.75in
69.6o
71.8o
13.1in
17.95in
45.3in
XL
22.0in
25.75in
25.7in
17.4in
31.3in
6.0in
69.9o
71.8o
13.1in
17.95in
46.2in
The Best Full-Suspension Aluminum Frame
Familiarity:

I gave it as a gift but have feedback to share
I own this frame, purchased through Pivot from a local dealer, built up with full XT. The bike is responsive, responsive, and even more responsive. During seated climbs you absolutely forget that it's fully-suspended. Combined with Fox suspension components, you're getting a bike that can be set up to climb with a stiffness relatively close to a hard tail, but with the added benefit of being able to open the suspension up and rip downhills with all the confidence of the Mach 5.7 or Mach 6. With the Fox CTD option added to this frame, you'll feel more connected to the descent, even with 29 inch wheels underneath your platform.



Say it with me: D. W. Link. Then do an internet search. Then go buy this frame so that you can have this World-Cup-level linkage underneath you while climbing and descending. If you can't win with this bike, well, you get it. And let's not forget that this bike is plain FUN to ride. Holy Guacamole!