Compiling options for this bike.
It'll be just a moment...
Pivot Firebird $0.00
Item # PIV0002
Description
Imagine yourself faced with the impossible task of choosing one bike to take on a month-long trip to the mountains. What would it be? Time and again, our experience tells us that more is better -- more suspension that is. With 167mm (6.6") of rear wheel travel, the Pivot Firebird would look to be a formidable descender. That is the case, but what's surprising is how it feels equally capable when the trail turns back up the hill. In the end, it's a trail machine for all occasions.
The dw-link rear suspension makes it all possible by combining anti-squat geometry with a custom valved rear shock. What you get is a bike that's fun to ride in most any terrain because the suspension can do what it's supposed to do -- let the wheel follow the ground. This gives you more control and traction. Up or down the mountain, this is what will make the Firebird your favorite, and you won't have a tough time with the decision to rack it for your trip.
As the greatest percentage of the vehicle's (rider plus bike) mass, we exact profound effects on the suspension as we pedal or shift our weight around on the bike through a variety of trail conditions. It's just simple physics -- when something accelerates, its mass is transferred rearward. The dw-link rear suspension actively works to counteract this effect. This is why Pivot is able to get such a lightly damped tune on the 8.5 x 2.5" Kashima Coated RP23 rear shock from Fox. With the dw-link controlling unwanted suspension squat, the lightly damped shock can respond to the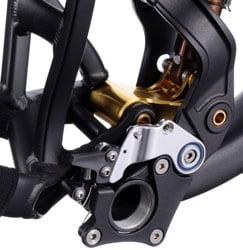 trail surface with ultra-sensitivity. The anti-squat is the real reason why it pedals so well without unwanted motion in the rearend, but the light damping it affords gives the wheels the freedom to track the surface of the trail. Low- or high-speed bumps are no problem for the Firebird. This way you'll have comfort, traction, and control in any situation.
Pivot builds the Firebird frame out of hydroformed 6000 series aluminum to provide a stiff, stable platform for the suspension to do its work. They also make use of 3D hollow forged aluminum for select pieces of the frame. Both processes align the grain structure and strengthen the material for its intended purpose. This makes the Firebird frame strong enough to endure serious downhills, yet it's light enough to build an all-out trail shredding weapon capable of assaults on your local marathon XC races. The 67.1° head angle tailors this versatility of the Firebird. Stable without being slow is how we'd describe it.
A few other details stand out on the Firebird. It uses a standard 73mm English-threaded bottom bracket shell. This gives you options for chainguide mounting, even though it has ISCG 05 tabs as well. Pivot designed it with a floating front derailleur to maximize function throughout the travel range. This makes shifting more precise at all times, since the "sweet spot" in the derailleur cage will follow the chain as the suspension cycles up and down. And Pivot relies on sealed cartridge bearings to make it all silky smooth. The forged and CNC machined aluminum lower link contains eight of them -- two at each corner. This increases the durability of this workhorse component, stretches service life, and optimizes suspension function. The upper link is made of carbon fiber for strength and light weight, and since it sees less stress than its lower counterpart, Pivot relies on four bearings here to do the job. And to keep weight to a minimum, the pivot axles are all made from aluminum.
The Pivot Firebird is available in anodized Black or White powdercoat, and it comes in Small, Medium, and Large. It uses a straight 1.5" head tube (49mm ID on top and bottom) that allows you to use any steerer dimension you like. Plus, you can run the Cane Creek Angleset that will allow you to tune the steering characteristics to your exact preferences. It has a low direct mount and requires an E-type Shimano front derailleur, and you'll need a 30.9mm seatpost. The dropouts take a 12 x 142mm thru-axle (axle included) and have post-style disc brake mounts. The Firebird is compatible with 160mm or 180mm front forks. Choose the former if you trend towards XC/trail use, or go big if you love the rough stuff.
US Pivot dealers are prohibited from shipping Pivot bicycles outside of the United States and US territories.