Pinarello Prince Carbon/SRAM Force Complete Bike $0.00
Item # PIN0123
Description
Pinarello has kept their legendary Prince name in circulation for well over a decade. The first-generation Prince was a Dedacciai SC61.10a aluminum bike. It was introduced just after Jan Ullrich won the '97 Tour de France (on a Pinarello), and it is best known for being the bike that spawned the aluminum-main-frame-mated-to-carbon-seatstays craze of the late 90's. The Prince sold like wildfire, partly thanks to the originality of its construction, and partly thanks to the fact that Erik Zabel won 4 consecutive Green Jerseys in the Tour de France racing on one. Even though Pinarello was a smaller company back then, it was in a sense their salad days: they sponsored 3 of the biggest Division 1 pro teams -- Telekom (now T-Mobile), Banesto (now Caisse d'Epargne), and Fassa Bortolo (now defunct for reasons we've previously discussed here.) The PR these sponsorships generated was massive, as proven by the torrid pace of Prince sales across the globe for almost 6 years.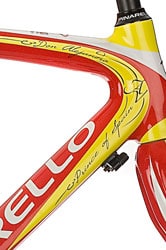 The second-generation Prince was known as the Prince SL. Introduced in 2003, it pushed the alu/carbon hybridization to its absolute limit. Gone was the SC61.10a aluminum in favor for Dedacciai's super-strong, super-hard SLX1X aluminum alloy. This tubeset change saved a 1/2lb in comparison to the standard Prince. And even more distinctive was the fact that the Prince SL was built with an Onda fork and seatstay -- the swooping S-curve design standard on all of Pinarello's top-dollar frames to this day. The Onda design looks stunning, and it adds a kiss of smoothness to a bike otherwise designed for pure power transmission. The race pedigree of the SL was no less storied than that of the first-generation Prince. It took its first UCI 1.1-class victory in the cobbled horror known as Ghent-Wevelgem. Team Telekom's Andreas Klier manhandled his breakaway companions in a three-man sprint after 204km of wind, kinderkopt, and pain. Shortly thereafter, his teammate Alexandre Vinokourov earned a solo victory in cycling's most under-appreciated one-day classic, the Amstel Gold Race. Throughout the summer and fall of 2003, the Prince SL was ridden to a seemingly endless string of podium finishes under stars such as Michele Bartoli. This track record continued well into 2004, as Fassa Bortolo reinforced their reputation race by race as Italy's most feared squadra.
Two years after the introduction of the Prince SL, though, a generational shift in materials technology took place. Serious cyclists began to shun steel and aluminum in favor of the benefits of carbon fiber. Carbon was lighter; carbon was better at absorbing high-frequency vibration; carbon had a superior fatigue life; and (perhaps most importantly) carbon had a Death Star-like sinister appearance that -- as the cliche goes -- looked fast standing still. Pinarello helped lead the charge in '05 with the introduction of their F4:13 carbon fiber frame, which they soon followed up with the Paris Carbon. Pinarello took the lessons they learned in developing these bikes and matched them up with recent developments in composites technology. The end result was a cost-is-no-object carbon thoroughbred so refined they couldn't resist the temptation to give it their most beloved name: the Prince Carbon, the third-generation Prince they've designed to outstrip the greatness of the two generations that preceded it.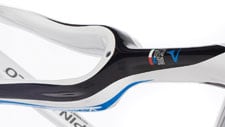 The Prince Carbon is built from carbon fiber sourced strictly from Japanese textile giant Toray, a supplier to virtually every aerospace company worldwide. Pinarello raves how Toray's quality control and testing protocols are as intensive as you'll find anywhere in the composites industry. Pinarello chooses 50HM1K carbon for the Prince Carbon -- a high-modulus carbon that has a tensile strength of 50 tons per square cm (50HM), and an exterior weave of 1000 weaves per crossing (1K). This allows Pinarello to use substantially less material while still maintaining optimum strength and rigidity. Sprint in a 53x12 or launch an out-of-the-saddle attack on a climb and the last thing you'll feel will be frame flex. Higher quality carbon also allowed Pinarello to build their lightest-ever frameset: The unpainted weight of a Prince Carbon is sub-900g. And as you'd expect from such high-end carbon, the Prince Carbon has remarkable smoothness at high speed.
Pinarello explains that in their development of the Prince Carbon they gained a new level of insight on how tension and compression forces affect a bike under power. A frame manufacturer has to exactly identify tension and compression zones in a frame in order to optimize the orientation of the carbon fibers. Beyond fiber orientation alone, Pinarello structurally ribs the walls (not unlike what you originally saw in the Paris Carbon) to further enhance performance and ride quality. Pinarello used extensive computer modeling to ensure that the ribbing properly follows areas of compression in the head tube, fork, seat stays, plus portions of the seat tube and the BB. Unlike any previous Pinarello, you'll feel stability, resistance to flex, and an absorption of road shock. This research led Pinarello to overhaul their signature 'waved' Onda fork. The Prince utilizes an Onda FPX fork, which, unlike the standard Onda fork, is constructed with a second 'wave' into that distinctive 'S' shape. This redesigned shaping serves to further reduce vibrations and increase comfort on any road surface. In addition, the FPX is also completely built from the same 50HM1K carbon to reduce weight.
The Pinarello Prince Carbon is built with the SRAM Force groupset, minimizing the amount of time you'll need between pulling it from the box, and chasing the podium at your first race. Due to the closeout nature of this listing, colors and respective sizes of the Pinarello Prince may be limited. You may choose from four sizes, in five colorway options.
View more Pre-Configured Road Bikes
Geometry chart
Pinarello
Prince
Size
44
46.5
50
51.5
53
54
55
56
57.5
59.5
Effective Seat Tube
17.3in
(44cm)
18.3in
(46.5cm)
19.7in
(50cm)
19.5in
(51.5cm)
20.3in
(53cm)
20.9in
(54cm)
21.7in
(55cm)
22.1in
(56cm)
22.6in
(57.5cm)
23.4in
(59.5cm)
Actual Seat Tube
18.1in
(46cm)
19.1in
(48.5cm)
20.5in
(52cm)
21.1in
(53.5cm)
21.7in
(55cm)
22.1in
(56cm)
22.4n
(57cm)
22.8in
(58cm)
23.4in
(59.5cm)
24.2in
(61.5cm)
Top Tube
19.8in
(50.3cm)
20.3in
(51.5cm)
20.7in
(52.5cm)
21.1in
(53.5cm)
21.5in
(54.5cm)
21.7in
(55cm)
22in
(55.7cm)
22.2in
(56.5cm)
22.6in
(57.5cm)
23.1in
(58.7cm)
Seat Angle
74.4deg
74.4deg
74deg
73.7deg
73.7deg
73.4deg
73.4deg
73deg
73deg
72.4deg
Setback
4.7in
(11.8cm)
4.9in
(12.4cm)
5.4in
(13.8cm)
5.7in
(14.5cm)
5.9in
(14.9cm)
6.1in
(15.4cm)
6.2in
(15.7cm)
6.4in
(16.3cm)
6.6in
(16.8cm)
7.1in
(18cm)
Fork to Bottom Bracket
22.2in
(56.5cm)
22.6in
(57.5cm)
22.6in
(57.5cm)
22.75in
(57.75cm)
23in
(58.3cm)
23in
(58.3cm)
23.25in
(59cm)
23.3in
(59.2cm)
23.5in
(59.6cm)
23.8in
(60.5cm)
Chain Stay to Bottom Bracket
16in
(40.6cm)
16in
(40.6cm)
16in
(40.6cm)
16in
(40.6cm)
16in
(40.6cm)
16in
(40.6cm)
16.1in
(40.8cm)
16.1in
(40.8cm)
16.1in
(40.8cm)
16.1in
(40.8cm)
BB Height
10.6in
(27cm)
10.6in
(27cm)
10.4in
(26.5cm)
10.4in
(26.5cm)
10.4in
(26.5cm)
10.4in
(26.5cm)
10.4in
(26.5cm)
10.4in
(26.5cm)
10.4in
(26.5cm)
10.6in
(27cm)
Fork Rake
16.9in
(43cm)
16.9in
(43cm)
16.9in
(43cm)
16.9in
(43cm)
16.9in
(43cm)
16.9in
(43cm)
16.9in
(43cm)
16.9in
(43cm)
16.9in
(43cm)
16.9in
(43cm)
Steering Angle
70deg
70.5deg
71.4deg
72deg
72.5deg
72.8deg
72.8deg
73.2deg
73.7deg
73.4deg
Head Tube
4.5in
(11.5cm)
4.7in
(12cm)
4.9in
(12.5cm)
5.1in
(13cm)
5.7in
(14.4cm)
6in
(15.2cm)
6.4in
(16.3cm)
6.7in
(17cm)
7.24in
(18.4cm)
8.3in
(21cm)