Compiling options for this bike.
It'll be just a moment...

Pinarello Graal Electronic $9,050.00
Item #

PIN0117
Description
"The Sweet Science" should refer to time trialing. There is something exquisite about the rigors of going contre le montre, thanks to the subtle nature of inflicting the-world-is-gonna-end pain on oneself via a personal mind-body tourniquet. It is masochism at its most graceful. Racing against the watch is where you employ every legal wind-cheating, time-saving trick you have up your skin-tight sleeve. Go for the big gains first, and then move on to the increasingly marginal, all in an attempt to leave no effort wasted, no blood vessel unharmed. Pinarello's Graal Electronic is a striking example of both the big and the small, and since they're all here, you don't have to think about which ones you want. The frameset has them all.
A time trial bike is about aerodynamics, but as this is a Pinarello, it also has to be about the ride. Maybe that's why Pinarello named it Graal, which translates Grail, as in Holy Grail. Maybe that's why it's the time trial ride of Team Sky, a squad that is fixated on racing the clock, and has had the success at both individual and team time trials to show the fixation is not mere dreaming.
The Graal employs Toray 60HM1K carbon fiber cloth, the same 60-ton High Modulus stuff with the 1k carbon-weave finish that you find on the Dogma 2. The frame also relies on the same EPS foam form molding technique that gives the Dogma its complex, wrinkle-free final shape. Because this bike is primarily about time trialing, there is an aggressive 75.5-degree seat angle and vertical seat post for better positioning over the bottom bracket and a slack head angle to make steering easy.
The frame has been designed through Computational Fluid Dynamics (CFD) to slice through the wind. You can see this in every single frame tube. Start at the head tube. It's been shaped to have the air flow smoothly over it and past the top tube. The fork legs have been shaped for aerodynamics, from the leg shape to the integrated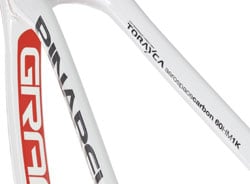 brake on the back of the fork crown. Those triangles you see on the down tube aren't just paint, but actual shaping to smooth out airflow. The bottom bracket juncture is similarly designed, as is the seat tube that shrouds the rear wheel but doesn't hug it too closely. For better airflow, Pinarello ended up covering the gap between the rear monostay and the frame. The result is you need an extra-long 5mm Allen wrench, like six inches long, to mount the rear brake.
The rear stays are about both aerodynamics and ride. The right stay is different on the Electronic frameset compared to the mechanical. That is because the stay has been designed to mount a Shimano Di2 battery completely inside it.
The frame comes standard for for Shimano Di2 shifting. Campagnolo's EPS system won't work for a few reasons. First, Campagnolo hasn't introduced time trial shifters, and we don't see them bringing such shifters to market this year. The Movistar team might have been on Campy electric all of last year, but they only used it for road stages; their bikes were set up for Campy mechanical in time trials. As Campagnolo is all about testing their gear thoroughly before selling it, there's no way you'll see Campagnolo EPS time trial shifters until Movistar and other Campagnolo-equipped ProTour teams get time to test it in competition.
The seat post is not merely aero-shaped on the Graal. It is integrated all the way down to the custom, rearward-facing two-bolt clamp that secures it. This clamp doesn't sit atop the seat post mast, but flows from the top tube.
Because the designers at Pinarello know that handlebars play in important part in not only positioning, but aerodynamics, they designed their own carbon fiber integrated handlebars, called the Anura, and include them with the Graal. These bars are designed to look great to the rider, custom to the spectator, and barely noticed by the wind. Cables, whether mechanical or electric, run inside the bars. The Anura measures 41cm center-to-center, and come with an integrated extension measuring, depending on frame size, 90, 105, or 120mm. The extension clamps to a tailpiece that smoothes out airflow, too.
The Anura handlebars come with extensions bolted on to a base plate that can be raised or kept low and have the arm rests built up, or a combination of both. The clamps for the extensions are 84mm center-to-center, with the arm rest mounts at 130mm. There are two wider base plates that can sourced if you prefer wider bars. The standard extensions are S-bends, though L-bend bars with a 23mm curve are available, too. Both bars can be adjusted for length and yaw. The armrests can be set at four different widths and moved fore or aft. Spacers can be inserted under the base plate, the armrests or both.
The Pinarello Graal Electronic comes in Black on Black and White with Red. The steerer tube is tapered from 1 1/4" at the lower race 1 1/8" at the upper race. The bottom bracket is Italian-threaded. The braze-on front derailleur mount takes up to 55-tooth chain rings easily. The seat post comes with the frameset, and the front brake is made by TRP and comes mounted to the back of the fork crown. There are six sizes.
View more Custom Triathlon Bikes & Frames
sizing chart
Graal size by rider height
|
Geometry chart
Fuji Bicycles
Geometry Chart
Altamira LTD

Seat Tube

(c-t)

Effective Top Tube

(eTT)

Stack

(S)

Reach

(R)

Standover

(SO)

Head Tube

(HT)

Head Tube Angle

(HTo)

Seat Tube Angle

(STo)

Bottom Bracket Drop

(BBD)

Chainstay Length

(CS)

Wheelbase

44
44.0cm
51.5cm

51.7cm

36.3cm
72.1cm

12.0cm

72.0 deg
75.0 deg
6.9cm
40.5cm
97.1cm
47
47.0cm
53.0cm

52.8cm

37.0cm
74.1cm
13.0cm
72.5 deg
74.5 deg

6.9cm

40.5cm
97.7cm
50
50.0cm
54.5cm
54.0cm
37.0cm
76.0cm
14.0cm
73.0 deg

73.5 deg

6.9cm

40.5cm
97.6cm
53
53.0cm
56.0cm
56.0cm
37.9cm
78.3cm
16.0cm

73.5 deg

73.5 deg

6.9cm

40.5cm
98.6cm
55
55.0cm
57.5cm
58.0cm
38.9cm
80.1cm
18.0cm

73.5 deg

73.5 deg

6.9cm

40.5cm
100.1cm
58
58.0cm
59.0cm
60.1cm
39.7cm
82.1cm
20.0cm
74.0 deg

73.5 deg

6.9cm

40.5cm

101.0cm
Posted on
Do the graal can be wired with manual...
Do the graal can be wired with manual campagnolo cables and shifters and breake levers _¿

Do this includes the Handlebars _¿

Regards

thank you
Responded on
No, this frame is made for electronic only groupsets. The holes for manual cables are not present on this frame and the holes that are made are only for electronic wires. You can see the difference in hole position and style between the regular frame and this frame if you compare pictures.