Temporarily Out Of Stock
Item # PIN0090
Don't get too bummed. This item is on the way and will be available for purchase as soon as it rolls into the warehouse.
Can't wait? Consider one of the other Pre-Configured Road Bikes we have in stock.

Pinarello FP DUE Shimano Ultegra Complete Road Bike - 2012 $0.00
Item # PIN0090
Description
Smart can lead to joyous, and we see it when looking at the Pinarello FP Due/Shimano Ultegra 6700 Complete Bike. One of the annoying aspects of American culture is the supposition that the idiots are the only ones who can experience life to its fullest. While we appreciate the idea that wisdom can be found in surprising places, the genius of Forrest Gump is hogwash. It's not the old Socratic saw of 'the unexamined life not being worth living,' but if you fully understand something down to the granular level, you can then use that knowledge to get the most joy out of that thing. The Pinarello FP Due is a smart bike, but the smarts are forgotten once a leg is swung over and you experience the zing of the ride. At this point, your smarts have been turned into joy.
One way to start discussing the Due is to start with the frame's evolution. In naming conventions, this is the successor to the older FP2. But in terms of performance, this owes not only to the 2, but also to the now-absent Pinarello Prince. The frame is molded from plies of 24HM12K carbon-fiber. It's a 24-ton high-modulus cloth with the 12K finish wrap and all, but unlike the older FP2 and closer to the Prince, this bike is asymmetric in the stays and the fork. These asymmetries better fight the single-sided torque of driving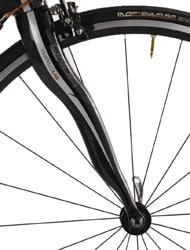 the bike from the right side. Both the stays and the fork employ Pinarello's Onda design, aka waves, to add comfort to the ride. The steerer tube is also tapered with a more-dramatic flare for greater lateral stiffness, starting at 1-1/8" at the upper bearing and expanding to 1.5" at the lower. So you get comfort where you need it and stiffness where it helps with the ride and steering stability.
The geometry is racy without being a backbreaker. You'll see a slightly relaxed seat tube angle and slightly taller head tube relative to Pinarello's ProTour-level Dogma2. Pro racing bikes aren't always the most comfortable, and those of you who want a bike that's a little more so will find this geometry perfect.
This version of the Due is built up with what is one of the more sensible groups in the market these days -- Shimano Ultegra. The STI levers, derailleurs, and cassette are all from the Ultegra line. Pinarello uses their MOst components to fill in the rest -- B-Max Force brakes, Jaguar XA anatomic bars, Tiger Au Painted stem, Jaguar XA seat post, Ocelot saddle. The MOst components are finished to complement the frame colors, adding a nice custom touch to the bike. The wheels are Shimano WH-R01, with 24mm deep rims and conventional hubs to keep maintenance easy. Cranks, stem, and bars are sized according to the frame. The cranks are compact with 50/34 rings, and the cassette is a wide-range 11-28.
The Pinarello FP Due/Shimano Ultegra 6700 Complete Bike comes in Black-on-black, Red and White/black/silver. There are seven sizes available from 44 to 59cm.
Compact crankset and gearing give you more big-ring versatility in the flats, letting you save the little ring for those brutal, 'hors categorie' climbs

Most seatpost, saddle, and cockpit ensure all-around comfort and perfectly coordinated Italian panache


Tech Specs
Frame Material:
24HM12K carbon fiber
Fork Material:
24HM12K carbon fiber
Shifters:
Shimano Ultegra
Front Derailleur:
Shimano Ultegra
Rear Derailleur:
Shimano Ultegra
Crankset:
50/34 t Shimano 105
Bottom Bracket:
Shimano 105
Crank Arm Length:
[55cm] 172.5 mm
Cassette:
11-28 t Shimano
Handlebar:
Most Jaguar XA aluminum
Handlebar Width:
[55cm] 42 cm
Stem Length:
[55cm] 130 mm
Seatpost:
Most carbon fiber
Recommended Use:
road race
Manufacturer Warranty:
2 years
View more Pre-Configured Road Bikes
Geometry chart
Pinarello
Geometry Chart
FP Due

Seat Tube

(c-t)

Effective Top Tube

(eTT)

Stack

(S)

Reach

(R)

Set Back

(SB)

Head Tube

(HT)

Head Tube Angle

(HTo)

Seat Tube Angle

(STo)

Bottom Bracket Drop

(BBD)

Chainstay

(CS)

44
46.0cm
50.5cm
51.1cm
35.5cm
11.8cm
12.0cm
70.2
74.4
6.7cm
40.6cm
47
49.0cm
52.8cm
52.3cm
37.4cm
12.95cm
12.5cm
71.0
74.0
7.2cm
40.6cm
51.5
53.0cm
53.7cm
53.1cm
37.8cm
14.5cm
13.1cm
71.7
73.5
7.2cm
40.6cm
53
55.0cm
55.0cm
55.6cm
38.3cm
15.2cm
15.3cm
72.7
73.3
7.2cm
40.6cm
55
57.0cm
56.0cm
57.0cm
38.5cm
16.1cm
16.8cm
72.8
73.0
7.2cm
40.8cm
57
59.0cm
57.5cm
58.2cm
39.2cm
17.1cm
18.5cm
73.0
72.5
6.7cm
41.0cm
59
61.0cm
58.5cm
60.4cm
38.9cm
18.2cm
20.8cm
73.0
72.0
6.7cm
41.0cm
Community & Reviews
What do you think of the
Pinarello
FP DUE Shimano Ultegra Complete Road Bike - 2012
? Share a...