Pinarello FP 0 Kid's Complete Bike $0.00
Item #

PIN0093
Description
Marriage, job, and wicked hangovers are some of the better-known slings & arrows of modern American life, the sorts of things that should keep you from today's interval session or tomorrow's crit. But once you make the discovery (conscious or not) that, by God, life is unlivable if you don't view yourself – at your essential core – as a bike racer, seemingly nothing will interfere with your daily rendezvous with pain-on-two-wheels. We say seemingly, though, because there's one complication that might indeed kill that elemental need to ride: fatherhood. We're not talking newborns here, not even toddler stage. Most moms stay in control-freak mode through the early years, and that should suit you fine because it gives you sufficient time for training & road trips to races. But when kids hit 6 or 7…that's when everything changes. Daddy, your kids are true little humans by then. It's full-on interaction, and they need you as Dad in a way that goes beyond your paycheck or your ability to make their breakfast. By 6 or 7 it's interactive with far richer complexity and joy. There's real dialogue there and, for once, engagement is a two-way street. It's a blast, and as far as we're concerned, there's an importance to it – not to diminish the importance of what you're doing when they're 2 and they're babbling and your wife's maternal instincts save the day every day – that dads can easily sync into.
This is when training and racing will probably start to make less sense to you. The long hours on the bike seem less gratifying than what you'll get from 30 minutes riding with your child. The fact that you're riding together – sharing the act that for so long defined your sense of self-hood – it's an act of love like little else. Given its power, don't blow it by letting your child ride knobby-tired trash. Teach them selflessness, teach them generosity, teach them empathy, and teach them to have zero tolerance for crappy bikes. If you love our beautiful sport, and if you love your child, this is the only bike you'd ever permit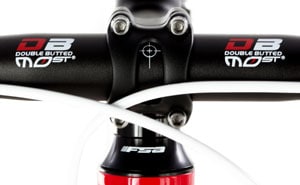 them to ride from ages 7-14. The Pinarello FP0 will be the bedrock lesson of their life: Even if their legs and lungs top out at Cat 3-quality, looking PRO is every bit as important as actually being fast. This is a kids bike, sure, but its Pinarello style comes through stunningly.
The FP0 is made from triple-butted 6061-T6 aluminum, basically the same stuff pros were winning the Tour de France on in the late 90's. The fork is made from the same 6061 alloy and is painted to match. The drivetrain package is Shimano 2300 8-speed, and the saddle, seatpost, bar, and stem are all Pinarello MOst. Since the Formula wheels are 24" they'll fit kids from age 7 or 8, all the way 'til they're ready for a grown-up sized road bike when they're 14-ish. This bike is serious business, and all you'll need to add is a bottle cage and pedals. The FP0 is available in White/blue or White/red.
Curved fork blade creates a smooth ride, but not at the cost of crisp handling
Kenda Kone EP7 tires are slightly wider for increased contact with the pavement to maintain optimal grip
Junior-range gearing gives offers the ability to climb telephone poles without injuring developing muscles and joints

Tech Specs
Frame Material:
6061 T6 aluminum
Headset:
1.125 - 1.125 in
Front Derailleur:
Shimano 2300
Front Derailleur Mount:
31.8
Rear Derailleur:
Shimano 2300
Bottom Bracket:
cartridge
Handlebar:
Most double-butted
Stem:
Most 4B (four-bolt)
Seatpost Diameter:
31.8 mm
Measured Effective Top-Tube Length:
47.5 cm
Manufacturer Warranty:
2 years on frame
sizing chart
Bike size by rider height
|
Geometry chart
Pinarello
Kui Kids
Size
39
Effective Seat Tube
15.4in
(39cm)
Actual Seat Tube
16.3in
(41.5cm)
Top Tube
18.3in
(46.5cm)
Seat Angle
75.5deg
Setback
3.8in
(9.7cm)
Fork to Bottom Bracket
20.5in
(52cm)
Chain Stay to Bottom Bracket
13.8in
(35cm)
BB Height
9.8in
(25cm)
Fork Rake
17.7in
(45cm)
Head Angle
72.5deg
Head Tube
3.8in
(9.7cm)